After several years of laying out and editing our other contributors' Firefest reviews, this year I decided that we should really experience the event firsthand. The line-up was excellent, with 18 bands I was already familiar with and many of them being my long-time favourites. So, as soon as the ARfm "Firefest announcement special" was aired, we started to arrange things that needed arranging - flights, hotels, tickets, days off work...In the end everything got sorted out, and very early on Friday morning we headed to Helsinki, from where we flew to Frankfurt, spent a few hours there and then continued to Nottingham.
As we approached the downtown Nottingham area in the bus, I noticed that one guy with a Tyketto shirt boarded the bus. "This guy must be going to the Firefest" I said, and a little later approached him to ask for directions, as we weren't sure whether the stop we had intended to use was the right one. He was going to Firefest indeed (what a surprise!), and turned out to be a nice and helpful guy who showed us where our hotel was. We promised to see him at the show, but unfortunately didn't come across him anymore. So here's a public thank you to Andy from Nottingham, hope you enjoyed the show!
As we checked ourselves in at the hotel, it became obvious that there were a lot of "Firefesters" there. Lots of band tees and rocker-type of clothes and people who seemed excited and happy about the weekend just about to start. This continued throughout the weekend not only in Rock City, but on the streets of Nottingham. It felt like we were part of a secret club... "hey, there's another Firefester, cool, hi..." All that was missing was a secret handshake! I've heard about the Firefest atmosphere, and it was everything it was said it would be and then some.
Back to the business... thanks to our schedule we missed the first band of the festival, Lionville. It was a bit of a shame since their debut album was really good, and I had hoped to catch their performance. Well, these things happen. Fellow Finns and RockUnited.Com contributors Satu & Kari did see their gig, and according to them it was good, but slightly short and the setlist wasn't the strongest one.
We arrived to the Rock City during Dante Fox's set. This UK band was celebrating the release of their latest album "Lost Man's Ground", a self-released CD that was available for the first time at Firefest. I can't say that I'm thoroughly familiar with their material, I've actually only heard their first two albums. The band sounded good, especially Sue Willetts' strong vocals were impressive.
I was happy to hear my favourite song of theirs, the first album's standout track "Lost And Lonely Heart" along with "I Can't Sleep" from the same disc, which they re-worked for the new one. From the new album they played the catchy "Who Stole The Innocence", which I liked a lot too. The last couple of songs were a bit workmanlike, as if the band had run out of steam after a trio of excellent songs. The band did get a nice reception so maybe it was just me thinking that...
SETLIST:
-------------------------------------
The Last Goodbye
Firing My Heart
Under The City Lights
Lost And Lonely Heart
I Can't Sleep
Who Stole The Innocence
Walking the Line
Remember My Name

LINE-UP:
-------------------------------------
Sue Willetts - vocals
Tim Manford - guitar, vocals
Andy Perfect - drums
Pete Lakin - keyboards
Alan Mills - bass
One of the most-awaited bands of the festival was definitely Ten, a band with a long and illustrious career behind them, not to mention quite a few line-up changes over the years. Vocalist/songwriter Gary Hughes has been the driving force behind the band since the beginning and the only original member, the other players have changed, some positions being more difficult to fill than others. Now the band appeared to be in great spirits, so maybe this is the line-up for years to come, who knows.
A curtain covered the stage between bands, and Ten used this to create a rather fine start to their show. An intro tape that consisted of snippets of their most famous songs led to "The Lights Go Down" from the new album, with beams of light going up and indeed down. Once the curtain was pulled down, Mr. Hughes took command. Gone was the blond mane he used to sport, replaced by a stubble haircut and some facial hair too, giving him a rougher look than before. His voice was anything but rough though, smooth and deep. Hughes was rather lively on stage too, as were the "hairy guys" Steve McKenna (bass) and John Halliwell (guitar). The new lead guitarist Dan Mitchell doesn't get much points for showmanship, he was more like a "professor of guitar", intensely concentrated on delivering those notes. He did showcase his talent by adding some virtuoso guitar parts to the songs, so...
With only 50 minutes to play and Ten songs not being particulary short, it was obvious that a lot of my personal favourites wouldn't make it to the setlist. In the end they played three songs from the new album and five "classic" Ten tracks. I was a bit surprised that the last album's video track "Twilight Symphony" wasn't played, but then again, the band has so much material to choose from. I'd imagine that putting together a setlist for a full-length show is a major cause of headache, let alone a short one like this. I would like to see a longer set from Ten someday, hopefully I'll get the chance.

SETLIST:
-------------------------------------
The Lights Go Down
Spellbound
Gunrunning
Ten Fathoms Deep
After The Love Has Gone
Unbelievable
Red
The Name Of The Rose

LINE-UP:
-------------------------------------
Gary Hughes - vocals
Dan Mitchell - guitar
John Halliwell - guitar
Steve McKenna - bass
Darrel Treece-Birch - keyboards
Max Yates - drums
One of the bands I was most looking forward to seeing at Firefest was up next, Friday's headliners Tyketto. I still rate Danny Vaughn's solo show at United Forces Of Rock II as one of the most memorable gigs I've seen, so I was pretty sure that Tyketto wouldn't disappoint either. And they didn't, instead they played an awesome gig that was certainly one of the best ones of this festival. There aren't too many frontmen as natural as Danny Vaughn, and it doesn't hurt that he's a great singer too!
The powerful "Strength In Numbers" was a perfect opener, getting the crowd on their feet (okay, nobody was sitting down anyway) and singing along. "Faithless" from the latest album followed, another thumping rocker with a big chorus. So far so good... and it even got a little better with the classic "Burning Down Inside", a melodic masterpiece from the fantastic Tyketto debut "Don't Come Easy". The groovy, funky "Lay Your Body Down" kept the place jumpin', while the new album's "Here's Hoping It Hurts" worked real well in a live setting. The next highlight was the ballad "Standing Alone", which was one of the goosebumps moments for me.
The goosebumps barely had time to settle down, as the moody first notes of "Meet Me In The Night" brought them back again. This song may not have been a single or a video, but apparently I wasn't alone thinking that it's one of the band's finest songs, such was the reception it got. Still, the two songs that were singles and video'ed back "in the day" were saved to the end of the set, and yep, goosebumps, shivers down the spine, hair stood up in the neck and that sort of stuff. "Wings" was dedicated to Danny's wife who he met at one of the previous Firefests and if "Forever Young" isn't the perfect Firefest anthem I don't know what is. After all, isn't rock'n roll what keeps us all forever young, at least young at heart?
SETLIST:
-------------------------------------
Strength in Numbers
Faithless
Burning Down Inside
Lay Your Body Down
Here's Hoping It Hurts
Catch My Fall
Sail Away
Standing Alone
Rescue Me
Meet Me in the Night
The Fight Left In Me
Wings
Forever Young

LINE-UP:
-------------------------------------
Danny Vaughn - vocals, guitar
Brooke St. James - guitar
Jimi Kennedy - bass
Michael Clayton - drums
Ged Rylands - keyboards
SATURDAY
With only four bands, Friday wasn't even considered as "Day One", it was more like a warm-up day I guess. Saturday was the real First Day of the festival, 9 hours of melodic rocking! That's a full working day, not for the faint-hearted.
The first act of the day was American hard rocker Johnny Lima. I've been a fan of his since the release of his first album way back in 1996, so I wasn't going to miss his set. Well, I don't know what happened but we did miss about song and a half, and arrived to the venue during "Hate To Love You". Backed by his European backing band from Germany, Johnny was already making a good impression with his energetic style. He and his band hadn't been playing a lot together, only a show or two I believe, but one really couldn't tell. The guys seemed to be enjoying themselves and why not, it's not every day you'll get to play to a crowd like this.
Thanks to the limited showtime, Johnny's setlist consisted of songs mostly from his latest album "Livin' Out Loud". The only "older" song was "Made In California" from his previous album by the same name, and as a special appetizer we got to hear two songs from his next album. Both "My Revolution" and "Blame It On Love" sounded very good. As for the "Livin' Out Loud" songs, they worked really well in a live setting as I thought they would, and I was especially glad to hear my personal favourites "Hate To Love You" and "Hard To Say Goodbye". There's already a campaign going on to get Johnny back to the Firefest stage next year, and if that should happen I'm sure he would get a higher place in the bill and a few extra minutes. Then there would be a chance for us to hear a couple of earlier tunes too, right Johnny?
SETLIST:
-------------------------------------
Made In California
Hate To Love You
All I Wanna Do
Wildflower
My Revolution
Blame It On Love
Caught In The Middle
Hard To Say Goodbye

LINE-UP:
-------------------------------------
Johnny Lima - vocals, guitar
Sören Becker - guitar, keys
Alexander Rossov - guitar
Fabian Ranft - bass
Sven Petersen - drums

Work Of Art were one of the younger acts of the line-up, and their polished AOR went down really well. Many have called their show as one of the best ones of this year's Fest. I wouldn't go that far, but I did enjoy their set.
Kicking of with "The Rain", the gig got a flying start. It's one of my favourites and a suitably uptempo track to set the mood. The hi-tech AOR of "Nature Of The Game" sounded somewhat bland next to it, but the fine "Cover Me" pushed all the right buttons. The duo of "girl-songs", "Camelia" and "Emelie" are two of their most "Totoesque" songs, but I enjoyed the more straight-forward AOR of "Never Love Again", "The Great Fall" and "Why Do I?" much more. Now if only they had managed to sneak in the hard rocking "Cast Away" to the setlist...
Work Of Art wasn't visually the most exciting act or the most interactive band of the festival, but musically they were tight and professional. Judging by the looks on their faces, they really cherished this opportunity. As for being interactive, on stage they may have concentrated on the music, but offstage they were really fan-friendly, they seemed to be having a meet-and-greet throughout the day!

SETLIST:
-------------------------------------
The Rain
Nature of the Game
Cover Me
Camelia
Emelie
Never Love Again
The Great Fall
Why Do I?

LINE-UP:
-------------------------------------
Lars Säflund - vocals
Robert Säll - guitar
Herman Furin - drums
Jonas Gröning - keyboards
Andreas Passmark - bass

Robin Beck's "Trouble Or Nothing'" is one of my favourite albums of all time, and I was really looking forward to seeing her live for the first time. She was backed by an "all-star" band with her husband James Christian on bass, Tommy Denander and Jorge Salan on guitars, Eric Ragno on keys and BJ Zampa on drums. The band pulled a double duty and played with Fiona the next day.
With the accapella chorus of "If You Were a Woman (And I Was a Man)" coming from an intro tape while the curtain was still up, the excitement grew fast. Once the curtain was pulled down, Robin and her band proceeded to play most of "Trouble Or Nothing" album and a couple of songs from Robin's latest album "The Great Escape", which is another highly recommended album, if you don't have it yet.
Most of the audience seemed to be very familiar with "Trouble", as they sang along to each one of the songs from it. On the album, the two Diane Warren songs "Don't Lose Any Sleep" and "Save Up All Your Tears" are my least favourite ones, but thanks to the enthusiastic crowd and lively performance by Robin herself they worked well live. Still, I would have traded them to "In A Crazy World Like This" and "Sleeping With The Enemy", both a bit more dynamic songs with gigantic choruses...
"That All Depends (On What You Do Tonight)" features the vocals of Joe Lynn Turner on the album, but James Christian proved to be a very capable substitute. Not a big surprise, he is one of the best singers of the genre after all. I was very happy to hear this song live, as I was with "The One", one of the best songs of last year.
"Hide Your Heart" may not have been a single for Robin Beck, but thanks to the several other versions of it, including Kiss and Molly Hatchet, most hard rock fans are familiar with it. The song became an instant singalong anthem and one of the biggest "hits" of the set. Robin's UK number one smash "First Time" was surely the last song of the set I thought, but I was wrong. Robin & co gave us a sneak peek, and played "Follow You". This song, written by Glen Burtnick and Jack Ponti and first recorded by Burtnick has apparently been chosen to be on the next album.
SETLIST:
-------------------------------------
If You Were a Woman (And I Was a Man)
Don't Lose Any Sleep
Hold Back the Night
Save Up All Your Tears
That All Depends (On What You Do Tonight)
Tears in the Rain
The One
Hide Your Heart
First Time
Follow You

LINE-UP:
-------------------------------------
Robin Beck - vocals
Tommy Denander - guitar
Jorge Salan- guitar, vocals
B.J. Zampa - drums
Eric Ragno - keyboards
James Christian - bass, vocals

Standing on a sticky floor for nine hours straight is no picnic, and we decided to have a bit of a break after Robin Beck's performance. So, we headed to our hotel, had something to eat and rested our poor, suffering feet for a while. This meant that we missed most of Santers' set. They were one of the bands I wasn't thoroughly familiar with, I only have one album of theirs ("Racing Time") and I was hoping that they'd leave the songs from it to the end of the set. Well, it turned out that they had played two of my favourite songs from "Racing Time" as the first two songs, so my gamble didn't pay off..
We walked to the Rock City just in time to hear Mark Santers finishing his drum solo. It seemed like a lot of people had taken a lunch break during Santers, as the floor wasn't nowhere near as crowded as before. Still, the band found its' audience and their single hit "Can't Shake You", a cover of Free's "All Right Now" and the ARfm radio hit "Road To Morocco" got a nice reception. I wish I had heard "Winter Freeze" and "Mistreatin' Heart", but I've got no-one else but myself to blame for missing them.
SETLIST:
-------------------------------------
Winter Freeze
Mistreatin' Heart
Time After Time
Black Magic
The Rapper
Dreaming
Drum solo
You Turn Me On
All Right Now
Can't Shake You
Road to Morocco

LINE-UP:
-------------------------------------
Rick Santers - vocals, guitar
Mark Santers - drums, vocals
Rick Lazaroff- bass, vocals

XYZ made a good impression at Stockholm Rock Out a couple of years ago. At Firefest they played a slightly longer set, which meant that those almost criminal omissions of Stockholm gig weren't repeated. Yes, they played ballads this time! Stripped down to acoustic versions though, but I'm not complaining. The acoustic bit was the best part of their gig for me, all three ballads are among my favourite XYZ songs and the "campfire versions" sounded really nice. As for the rest of the gig, it was business as usual, guitar-driven hard rock with Terry Ilous' great vocals on top of it.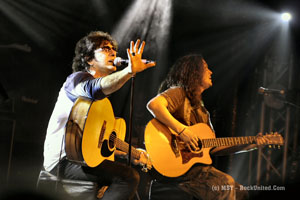 The groovy "Come On n' Love Me" and the hard-hitting yet melodic "Maggy" gave the XYZ show a good start, but I must say that the following three more midtempo numbers back to back put a dent to the flow of the gig. "What Keeps Me Loving You" was great, but the other two were a bit... plodding? The acoustic part of the set followed, and it featured slower songs as well, but they worked well thanks to the more intimate setting. After them the whole band returned to the stage and kicked the show back to the right track with the second album's video hit "Face Down In The Gutter", followed by the band's first single "Inside Out". Somewhere between these songs XYZ bassist Pat Fontaine got a birthday cake from the Firefest crew...
SETLIST:
-------------------------------------
Come On n' Love Me
Maggie
Off To The Sun
What Keeps Me Lovin' You
Follow the Night
After the Rain
When I Find Love
Souvenirs
Face Down In The Gutter
Inside Out

LINE-UP:
-------------------------------------
Terry Ilous - vocals
Pat Fontaine - bass
Tony Marcus - guitar
Joey Shapiro - drums

It might be twenty years since Mitch Malloy released his first album, but he still looks pretty much the same - long flowing locks straight from a shampoo advert and shiny white teeth. The years have been kind to him despite him being in the gruelling music business. Anyway, Mitch Malloy was the only returning artist from the previous year. His set was considered as one of the highlights of 2011, and with his band performing with Lionville, it made sense to fly him over again.
Malloy and his band put on a very good performance, playing a lot of songs from the classic first album plus a handful of songs from last year's "II". "Stranded In The Middle Of Nowhere" was a personal highlight for me, it's one of my all-time favourite songs and what I'd call "a perfect AOR song". The excellent version of the mega-ballad "Our Love Will Never Die" was another highlight, it still amazes me that these songs didn't make Malloy a superstar. Well, to most of the people at Rock City he was a superstar anyway.
The new version of his second album "Shine" was released at Firefest. "Shine On" features new, improved versions of the songs from "Shine" and some new tracks. We got to hear "It's About Love" and the new song "Shine" from the album, and they sounded quite good. "Shine" featured Danger Danger's Bruno Ravel on bass.
Malloy's first hit "Anything At All" and "Forever" also from the debut were probably the most well-recieved songs. Oddly enough, the gig didn't end to "Anything At All" but to a song called "All My Friends"... one could call it a cool-down song.
SETLIST:
-------------------------------------
Mission Of Love
Falling To Pieces
Stranded In The Middle Of Nowhere
I'll Still Love You
Over The Water
It's All About Love
Love Song
On & On
Our Love Will Never Die
Forever
Shine
Anything At All
All My Friends

LINE-UP:
-------------------------------------
Mitch Malloy - vocals, guitar
Mario Percudani - guitar, vocals
Anna Portalupi - bass
Alessandro Del Vecchio - keys, vocals
Alessandro Mori - drums

Saturday's headliners were Gotthard, those Swiss hard rockers who suffered a major loss a couple of years. The band's much-loved vocalist Steve Lee was killed in a tragic accident, and there were doubts whether the band could survive after that. It took a while for them to decide what to do, but eventually they chose to continue and started looking for a new singer. Nic Maeder was the guy who was chosen, and they started to write and record new music. "Firebirth" was released earlier this year to mixed reactions. Some have loved it, others haven't. I must say that I'm one of the "others", I thought the album was fairly average. It wasn't Nic Maeder's fault by any means, his singing was excellent, but most of the songs couldn't match the quality I've grown to expect from the band. Anyway, I was still really looking forward to seeing the band live again. The one previous concert of theirs I've seen, with Steve in Stockholm, rates as one of the best gigs I've seen.
The break between Malloy and Gotthard seemed longer than usual, didn't check the clock whether it actually was though. Maybe it was just the anticipation in the air... The show started with "Dream On", and one thing was evident straight away - Gotthard were playing LOUD and heavy. Also the fact that the lightning guy had changed didn't go unnoticed... Gotthard's lightshow certainly made the photographers' work challenging with all the strong coloured lights. All eyes were on the "new guy", who took up the challenge and did quite okay. When it comes to vocals, Nic Maeder did just fine, but as a frontman he doesn't quite have the same magnetism that Steve Lee had yet. Then again, that could be said of most frontmen - Steve Lee was in a class of his own. Whereas Lee used to rule the stage, Maeder came across as "one of the guys", a nice guy happy to be given an opportunity to be singing these songs.
The new songs "Starlight" and "Remember It's Me" worked very well next to classic Gotthard songs "Top Of The World" and "Sister Moon". I can't say I remember anything about "Fight" though, and I would have rather heard a Gotthard original instead of "Hush", even though it a fun singalong rocker. The heartfelt, beautiful version of "One Life, One Soul" was one of the set's highlights, a truly moving song dedicated to Steve.
The second half of the set wasn't as good as I had hoped it would be, although the gig did have a rather fine finale. Songs like "Shine", "Give Me Real" and "Right On" just went by without making any kind of an impact. "Fist In Your Face" was probably the heaviest song of the set, and I was thinking during it that it sounded more like an Accept song than a Gotthard one - a stomping riffy rocker with a simple refrain.
The familiar drum beat of "Lift U Up" got the crowd jumping and it really turned things around after the few not-so-great songs. The song's made for singing along, and that's what we did. A heavy version of "Master Of Illusion" followed, and then it was time for what is possibly my favourite Gotthard song - "Anytime, Anywhere". You couldn't end a night to a much better song, although we would have gladly listened to a few more... once the final notes of "Anytime" had faded, something pretty cool happened - the whole room started singing the "whoa-ohs" of "Lift U Up" spontaneously! I think it took the band by surprise, even a seasoned veteran like guitarist Leo Leoni seemed genuinely affected. A great finale to a great day.
SETLIST:
-------------------------------------
Dream On
Gone Too Far
Starlight
Top Of The World
Remember It's Me
Sister Moon
Fight
Hush
One Life, One Soul
Shine
The Story's Over
Fist In Your Face
Give Me Real
Mountain Mama
Right On
Lift U Up
Master Of Illusion
Anytime Anywhere

LINE-UP:
-------------------------------------
Nic Maeder - vocals, guitar
Leo Leoni - guitar
Freddy Scherer - guitar
Marc Lynn - bass
Hena Habegger - drums

Ernesto Ghezzi- keyboards

SUNDAY
Another full day of melodic rocking ahead, eight bands and each one of them worth seeing...
US Rockers Farcry were booked to play last year, but due to some hassle about flight tickets they had to pull out. Now the tickets were booked well in advance I suppose, as the band found their way to Nottingham finally. With a new vocalist Mike Ledesma in the band, they were eager to make a good impression to the Firefest crowd.
With a setlist half and half of the debut album "High Gear" and the second one "Optimism", the band set out to conquer the Rock City. They didn't quite steal the show, but were entertaining enough even though I only knew the songs from the debut. The songs from the second album didn't exactly make me want to rush out and get it, but they weren't too bad either. My personal favourites were saved till last, both "Fine Line" and "Love Won't Wait" are fine songs in my books.
The band had a good time on stage, especially rhythm guitarist Angelo Mazza was all smiles throughout the set. Lead guitarist Pete Fry sported the loudest shirt of the festival but also played some state-of-the-art solos. Vocalist Mike Ledesma didn't ooze star charisma but he's a good singer, and I guess that's what counts the most, right?
SETLIST:
-------------------------------------
She's Crazy
Over and Over (Again!)
Nothing You Can Do
Better Than This
Have It All
Too Hot to Hold
Fine Line
Love Won't Wait

LINE-UP:
-------------------------------------
Pete Fry -guitar
Mike Ledesma - vocals
Angelo Mazza - guitar
Ronnie Parkes- bass
Tommy John - drums
FIONA's set was one that a lot of people were really looking forward to, me included. The same band that had backed Robin Beck on Saturday was now Fiona's band, with the addition of Garret Wall on backing vocals. The gig started with a couple of tracks from her comeback album "Unbroken", and while they were okay, the more familiar tracks from "Squeeze" seemed to go down better. Fiona was having some trouble with her vocals, but she fought like a soldier and got through the songs well enough.
After the two new songs and the two "Squeeze" tracks we went back to the eighties for the rest of the set. Despite the vocal problems, Fiona danced around the stage and seemed to enjoy herself while singing her old hits such as "Talk To Me" and "Hearts Of Fire" from the movie by the same name. The show was closed with a cover of "Shadows Of The Night", originally made famous by Pat Benatar. If you want to know the history of the song, read our interview with the songwriter D.L.Byron.
While Fiona's set could be described as "sympathic", the setlist could have been better. I would have thought they had used the opportunity to play the duet with Robin Beck from "Unbroken", now that both ladies were present. Also, "Living In A Boy's World" or "Here It Comes Again" would have been most welcomed, and I was surpised that the big hit "Everything You Do (You're Sexing Me)" wasn't in the setlist. Surely James Christian or a special guest could have sung Kip Winger's parts? I didn't mind not hearing that one though, I've never really cared for it much.
SETLIST:
-------------------------------------
Loved Along The Way
Broken
Ain't That Just Like Love
Treat Me Right
Keeper Of The Flame
Hang Your Heart On Me
Hearts Of Fire
Talk To Me
Shadows Of The Night

LINE-UP:
-------------------------------------
Fiona - vocals
Tommy Denander - guitar
Jorge Salan- guitar, vocals
B.J. Zampa - drums
Eric Ragno - keyboards
James Christian - bass, vocals
Garret Wall - backing vocals

One of the more debated inclusions in this year's line-up was ROYAL HUNT. Some thought that their melodic, somewhat progressive metal was out of place at Firefest. To each their own, but I thought they added variety to the bill and I was really looking forward to seeing them, especially now that they've reunited with DC Cooper, the vocalist of their most well-known albums "Paradox" and "Moving Target".
The band, led by the songwriter/keyboard player Andre Andersen, played a rather well-recieved set and I believe they made a few new fans from some of those non-believers. As for DC Cooper, the reviews from the tour that ended at Firefest had been really favourable, so I was expecting great things from him. And that's what I got, he sang flawlessly and had a really strong stage presence. The new guitarist Jonas Larsen proved to be a good addition to the band, a lively performer and a good axeman. The lovely backing vocalists Maria McTurk and Alexandra Popova added some fine harmonies to the songs, while the rhythm section of Allan Sorensen (drums) and Andreas Passmark (bass, also the touring bass player for Work Of Art) kept the "motor running".
The progressive nature of the Royal Hunt material meant that they wouldn't be playing too many songs, and indeed they played only seven tunes. One song was dropped from the set during it, as the clock seemed to be ticking away ruthlessly. Anyway, as professional and entertaining the band was, I was a bit disappointed with the first half of the set. "One More Day" is a good song but the live version left me a bit cold, and the same goes for "The Mission". Not for "Step By Step" though, it really isn't a very good song and I could easily name at least a dozen songs I would have rather heard.
The fast and furious "Last Goodbye" started the real fireworks, followed by my personal favourite from the latest album, "Half Past Loneliness" and the parptastic, keyboard-heavy "Stranded". The last song of the set was of course "Message To God", the hit from the "Paradox" album. Okay, maybe it didn't set the singles charts on fire back in the day, but to the Royal Hunt fans it is one of their most loved songs, so a "hit" in that sense.
So, in conclusion: 50 minutes is way too short a time for Royal Hunt, they'll have to leave too many great songs off the setlist. Just as they were getting warmed up, it was over!
SETLIST:
-------------------------------------
One More Day
The Mission
Step by Step
Last Goodbye
Half Past Loneliness
Stranded
Message to God

LINE-UP:
-------------------------------------
DC Cooper- vocals
Andre Anderson - keyboards
Allan Sorensen - drums
Andreas Passmark - bass
Jonas Larsen - guitars
Maria McTurk - backing vocals
Alexandra Popova - backing vocals

Next up was a real "blast from the past". Here's some personal history... way back in 1986 I somehow managed to convince my family that they don't need the stereo system, it needs to be moved to my room. This successful takeover made my music collecting habit much worse, and I started spending my weekly allowance and whatever other money I had on records. First it was second hand stuff or bargain bin finds, but eventually I wanted to invest and buy something new, a full-priced album even. There was a Swedish magazine which usually had an ad from a record club in the back cover, and I used to study that ad intensely. It had these small album cover pics and a short description of the content. The first BRIGHTON ROCK album cover caught my eye, it featured a band that looked totally cool and somehow the whole thing looked great, the fonts, the band name, the layout... but the description was even more promising to an impressionable teenager: "Melodic hard rock, Bon Jovi meets Dokken" or something like that... once I saw that album in my local record store, I immediately rushed it to their "listening table" and after listening to two or three songs, I walked out of the store as the proud owner of my very first full-priced LP.
The lengthy rant above might somehow explain why I was "rather" looking forward to hearing and seeing Brighton Rock live for the first time. With big expectations, there's always the chance that one ends up bitterly disappointed, but I'm glad to say this wasn't the case with Brighton Rock. Sure, they weren't the smooth looking dudes from that album cover anymore, but literally a much heavier band... I'm not one to judge though, somehow the heaviness seems to increase over the years for many of us, me included. What's more important is that the band played well, vocalist Gerry McGhee was able to hit those impossibly high notes and the band was determined to put on a good, old-fashioned rock show. They even had some synchronized stage moves!
The band kicked some serious ass right from the beginning, opening the show with the killer "Unleash The Rage", followed by the anthemic "Young, Wild And Free". The band or most of the audience weren't that Young anymore, but we were Wild and Free enough to shout along. Another gem from the first album followed, the bombastic "Barricade". It was weird though that Johnny Rogers played guitar instead of keys on that song, since the album version features keyboards quite heavily. He did return to the keys for the next two songs, both from the second album "Take A Deep Breath".
Next highlight of the set for me was "We Came To Rock", the band's hit single and one of the two songs that made me buy the first album in the first place. The biggest BR hit of all time was probably the balladic "One More Try", which was next in the setlist. Quite why Gerry McGhee thought that anyone in the audience could sing along to the chorus is a mystery - that melody goes just a bit too high for the normal people. We did try though, when that microphone was pointed to our direction!
While I am not a big fan of the band's third and last album (so far) "Love Machine", I was pleasantly surprised that they played "Nightstalker", probably my favourite song from that album. It doesn't have much in common with the band's hit ballads, It's more like a moody metal track in the vein of Judas Priest, with cool hooks and melodies. The show was closed with two hard-hitting songs, "Power Overload" and "Bulletproof". Now that they were playing at a melodic rock festival, I think that they might have gotten better feedback for the singles "Can't Stop The Earth From Shakin" or "Can't Wait For The Night", those two songs I would have loved to hear.
SETLIST:
-------------------------------------
Unleash the Rage
Young, Wild and Free
Barricade
Hangin' High & Dry
Outlaw
Rebel With A Cause
Hollywood Shuffle
We Came to Rock
One More Try
Nightstalker
Power Overload
Bulletproof

LINE-UP:
-------------------------------------
Gerry McGhee - vocals
Greg Fraser -guitar
Johnny Rogers - guitar, keyboards
Stevie Skreebs - bass
Mark Cavarzan - drums

One of the big winners of Firefest was LILLIAN AXE. A lot of people have named them as the surprise act of the weekend, and I would have to agree. A lot of things were kind of against their success: there was only one original member in the band, their musical style has changed quite remarkably over the years and their few last albums haven't always appealed to their fans. Despite all this, the one original member, main songwriter and guitarists Steve Blaze led his troops to the stage and gave us one of the greatest performances of the festival. It didn't matter that the band's current vocalist Brian Jones was had stayed home taking care of family matters, the band's previous singer Derrick LeFevre had agreed to stand in. I guess his departure from the band was really amicable!
The first album's "Misery Loves Company" opened the set, followed by "Deepfreeze" from the highly-regarded "Psychoschizophrenia" album. With the cult classic "All's Fair In Love & War" the band really made it clear that they were out to steal the show. Judging by the smiles on everyone's faces around me, they were doing just that. The "new guys" in the band were doing a great job, and it was a pleasure to listen how well Steve's and Derrick's voices blended together.
The set continued with one classic Axe song after another, "The World Stopped Turning" being a highlight for me and our photographer Mira, who said that it was a real "cold chills" moment for her. A little later the band introduced two songs from their latest album "XI - The Days Before Tomorrow", which both got a good reception. The bouncy "Show A Little Love" sounded a bit strange next to the darker material, but still excellent, as did the Badfinger cover "No Matter What", a well-known track as it was the single from "Poetic Justice". The video with the grandma with an axe is quite unforgettable!
SETLIST:
-------------------------------------
Misery Loves Company
Deepfreeze
All's Fair In Love & War
Mercy
The World Stopped Turning
Hard Luck
True Believer / Dream Of A Lifetime
Babylon
Crucified
Ghost Of Winter
Death Comes Tomorrow
Show A Little Love
No Matter What

LINE-UP:
-------------------------------------
Steve Blaze - guitar, vocals
Sam Pointevent - guitar
Eric Morris - bass
Ken Koudelka - drums
Derrick LeFevre - vocals

At this point we chose to take a short break and headed back to the hotel. I spent my break in the hotel lobby sending messages to one pathetic loser who I had reserved our additional two Sunday tickets. He decided that he didn't want them but didn't feel like it was worth letting me know before it was too late to do anything. Take a bow, B. Webster from Nottingham... if anyone wants a special souvenier, I still have two unused Sunday tickets... maybe I'll do an A4 print of one of the photos included here, laminate it with the tickets attached and frame it?
Although I was seriously pissed off, I followed Brighton Rock's advice and "Took A Deep Breath", and decided that this incident wasn't going to ruin our day. Back to the Rock City then, where Norwegian melodic power-trio STAGE DOLLS were already on stage. They were playing "You're The One" as we arrived, and the Firefest crowd seemed to be enjoying the set. Apparently I had missed a few songs, including their US chart hit "Love Cries", but there was still plenty of goodies to come. "Sorry Is All I Can Say" and "Love Don't Bother Me" are two of the finest ballads ever, and I'm very glad that I didn't miss those. "Wings Of Steel" was another personal favourite, and the slightly celtic melodies of "Soldier's Gun" worked perfectly for this audience.
Visually Stage Dolls were one of the less showy bands, just the trio and an additional keyboard player doing their thing, but sometimes that's all it takes. It does help when you've got a few album's worth of good songs to choose from.
SETLIST:
-------------------------------------
Always
Love Cries
Left Foot Boogie
Hard To Say Goodbye
You're The One
24/7
Sorry Is All I Can Say
Taillights
Commandos
Love Don't Bother Me
Wings Of Steel
Still In Love
Soldier's Gun

LINE-UP:
-------------------------------------
Torstein Flakne - guitar, vocals
Terje Storli - bass
Morten Skogstad - drums

Ronny Wikmark - keyboards

All good things come to an end, and DANGER DANGER were the band to close this year's Firefest. We had already seen quite a few brilliant performances, but I have to say that the D2 boys topped 'em all. With a setlist that was almost identical to the "Best Of Danger Danger" CD I had compiled a few weeks before Firefest, I got to hear almost all the songs I had dared to hope for.
It was the wrong country but the right place for "Rock America", which opened the show. From that moment on, it was just an endless flow of great D2 songs that was only interrupted by the band's fooling around every now and then. Some people have complained that the band was wasting time by talking and joking around, but at least I was 100% entertained throughout the set. And I thought I was the card-carrying member of the Rock Police, a serious critic... anyway, I'll take some light-hearted, funny banter over self-indulgent solos any day.
"Beat The Bullet" was the second song, a D2 classic from their second album "Screw It". The band didn't neglect their "lost album" "Cockroach" either, the excellent "Shot O' Love" was played - as the first of many "love" songs. It was a bit of shocker for me to hear not one but two of my favourite songs from the band's latest album "Revolve" - "Killin' Love" was the first one of them. Obviously the band was enhancing their sound with a little off-stage help, additional backing vocals and keys at least, but that didn't really bother me, I was just glad to hear these songs.
During "Don't Walk Away" vocalist Ted Poley, well, walked away and had a nice stroll among the audience, while singing the song! That was the kind of thing that couldn't happen in many concerts, but at Firefest an artist can easily jump off the stage and have a walk among friends!
My heart almost skipped a beat when Rob Marcello played the first notes of "Don't Blame It On Love", one of my all-time favourite songs. It was never a single or a video song, so I wasn't counting on it being in the setlist, but there it was... and it was so cool to hear the whole room singing those "Whoa-oh's". Firefest organizer Kieran Dargan's special request "Hearts On The Highway" was one of mine too, and the other favourite from "Revolve". Then we time travelled back to 1989 and heard a couple of great songs from the debut D2 album, "Bang Bang" being another huge singalong track. Yeah, these guys have plenty of those...
The ballad "I Still Think About You" touched the hearts of the Firefest crowd, but the trademark Danger Danger craziness continued with "Crazy Nights" and the two encores "Monkey Business" and "Naughty Naughty". There were monkeys, there were guest stars... Robin Beck, James Christian, Tommy Denander, Terry Ilous and Mitch Malloy all joined the band on stage, and I believe Mr. Dargan made a cameo appearance too. Malloy was hit in the head with a banana (!), but wasn't injured... it wasn't meant to be an hostile attack apparently, the person who threw it has publicly stated that it was a pure accident.
SETLIST:
-------------------------------------
Rock America
Beat the Bullet
Shot o' Love
Killin' Love
Don't Walk Away
Don't Blame It on Love
Hearts on the Highway
Feels Like Love
Bang Bang
I Still Think About You
Crazy Nites
Monkey Business
Naughty Naughty

LINE-UP:
-------------------------------------
Ted Poley - vocals
Bruno Ravel - bass
Steve West - drums
Rob Marcello - guitar

So there you have it, our first Firefest experience in words and images... all good things that we had heard about the event proved to be true. As it happens, the dates and the venue for next year's festival have been announced already (18-20 October, Rock City) and guess what - we've got a hotel booked! The heat is on...
Special Thanks:
Phil Ashcroft & Kieran Dargan / Firefest
Nikon Finland for providing us camera equipment.
Louise, Duncan & Jim for buying some of those extra tickets we had.

Words: Kimmo Toivonen
Images: Mira Suutari-Toivonen & Kimmo Toivonen