Here's an exclusive interview with Steve Lee of Gotthard, conducted by our very own hellraisin' duo THE BAILEY BROTHERS!
BB's: Hi Steve , It's great to catch up with Gotthard on the road. We know you had to cancel a lot of shows due to you and other band members being ill during the 2007 tour. You had to re scheduled the gigs did this interrupted your plans for 2008? What can we expect from Gotthard in 2008?
Well, shit happens! There's not much you can do about it when flu gets in a tour BUS!!
Anyways, we're gonna play the concerts next month (most of the few we couldn't make).
The plans for 08 are: festivals and song writing for the next recordings…
We're still talking about the "right time" to release a "Defrosted 2" since everybody's expecting it after the success of the 1 st one…So , who knows …could be the next step but we'll see….!
BB'S: Looking back on 2007 what was the highlight for Gotthard?
Hard to say …we've had a great year!
The tour was great and we're more than happy about the sales of "Domino Effect" …
So as you can see…plenty of highlights! YEAH….!!!
BB'S: Did you manage to film any of the live shows? If so when can we see a new DVD?
Too bad….Sorry, not this time!
It's gonna take a few more concerts before we do that again!
You see…It's hard to beat the "Made in Switzerland" DVD ….
BB'S: It must be hard choosing the songs for the live set list, who has the final say?
Gotthard is a democratic band! That means everybody has rights to say what he wants to play…
But it's true that it's getting more and more difficult to choose from the many songs we've written.
Usually we all decide together what sounds best to us….
BB'S: You received The Platinum award for sales of more than 40.000 copies of the Domino Effect album in Switzerland. Congratulations that's really impressive and you guys are massive in your homeland. The rest of Europe seems to be catching on. Are any other countries likely to award you with a platinum album, Germany for instance?
Well, we're all hoping for the UK!
But, seriously, it's getting harder and harder these days! Selling records is difficult (due to illegal/legal downloads) and competion is huge!!!!
Spain and the UK are two candidates I put big hope on….?!?
BB'S: It's been a very successful album release. Who came up with the artwork for the Domino Effect album cover and your Myspace site?
Martin Häusler did it!
He did a great job on quite a few Gotthard albums so we decided to give him another try to repeat the "miracle"…And he did!
Our Internet & Myspace Guru is Paul Nielsen of the "Nordic Supporters" Team from Sweden.
BB'S: Are you surprised how big Myspace is?
Hell…yeah! I must admit I'm not a great computer freak but these days it's a very important tool (especially in music business)!
BB'S: What do think to the reaction of your fans from around the world contributing to your site?
It's good to see them!
It shows we're doing something right! Ha ha…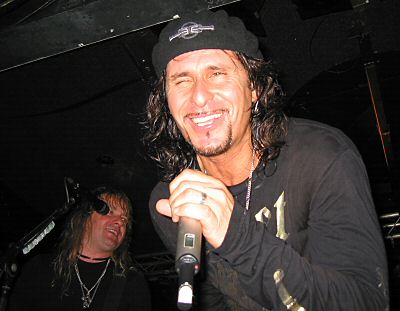 BB'S: Do all the Gotthard members contribute to your Myspace site?
Not really… Marc is the main guy and Hena as well….!
Leo and I are not really friends of "modern technologies"
BB'S: "Win a Guitar lesson with Leo"... How did the guitar lesson with Leo go for the winner? Will this be something that you will do again in the future?
I think it was good for both sides!
Leo had a great time teaching students (some were really into it heart and soul) and sure a great experience for them too!
But I'm not the one who should talk about it… I think Leo should!!
…And yes! I think we'll do that again….
BB'S: You were the first band to be announced for the Sweden Rock Festival, what was your first reaction?
We cheered and thought…WOW!!! Cause this is a great festival to play at!
A chance to be seen and heard by a lot of people!
We had the chance to play there 2 years ago. It helped us to achieve a noticeable improvement in Sweden!
BB'S: The Bailey Brothers have had a good response from the Gotthard fans on Mick's Myspace site. We also have had emails asking if Gotthard will play in Sheffield and the UK in 2008?
Keep on pushing…and we will!
BB'S: How important is the British market to Gotthard and how does it compare to the rest of Europe's rock scene?
The British market is very important, let's face it that's where the style of music we play was invented!
But although the audience is pretty "spoiled" with great music and offers of live acts almost on every corner of the land…It's great to see the reactions about this "Swiss band"… Other European markets are not that different after all!
They all deal with the same problems more or less!
BB'S: It must be rewarding coming to a town like Sheffield and receiving such a warm welcome?
Oh yeah! We definitely want to come back again…!!!
BB'S: There was a time when bands used to tour individual cities and build up a fan base. Is this the Gotthard strategy as it can be extremely expensive touring?
Yes, most of the times!
And, yes it's very expensive but…I think our fans deserve it!
We love to play wherever possible, sometimes even little places and very often they're deeper into rock n' roll than we ever imagined!
BB'S: Do Gotthard have time to write on the road or do you pick a specific date for writing and recording albums?
The second option is the one!
I think on the road we're to busy playing so that there is not much time for inspiring sessions.
Normally we decide when the time's right to start new song writing session…
BB'S: It's been cool catching up with Gotthard on the road. Any final message for all those Gotthard fans out there?
Don't give up hope! We'll be back again soon because you guys rock big time!
It's always great to be in the UK!
So….See ya soon!!!
Interview by The Bailey Brothers
(c) 2008 RockUnited.Com, 19 April