It's that time of year again, when hordes of hairy headbangers make the pilgrimage to North Wales, to bask in the glory of brilliant metal bands, average metal bands, awful metal bands and token AOR band F.M. The UK is rather blanketed by snow at the moment, but thankfully the only problem we encounter on the way up is the car heater not working, and so it's with frozen toes and numb brains that we stagger out at our chalet at the Pontins Holiday Camp, also known as Stalag Prestatyn. We're billeted in the "Heroes" section, but to be honest the only hero I feel like is Iceman. To be fair, the chalet this year is clean and warm, and compares favourably with the £50 a night hotel we stayed in for Firefest. We recently learned that the holiday company has gone into administration, and hopefully someone will bail them out so we can enjoy a Hard Rock Hell 5 next year (regardless, tickets are already being sold).
As is usual on the first night, the main stage is closed up, and the first three bands are on Stage 3, which is basically the on site pub. Naturally it's totally crowded, and not a good place for a reviewer. We try to check out the Virginmarys, and although they sound great there's no chance of actually catching sight of them, so we move to stage 2 (the camp nightclub) to wait for Dumpy's Rusty Nuts. Okay, so DRN aren't the epitome of style and musical class, but they're bloody good fun. As we wait, Krusher spins some very heavy discs, including a great cover of "Bad Company" by Five Finger Death Punch that you should all go and listen to on YouTube. There's no microphone in the DJ booth, so we are spared repeated references to 'Droogies' and the occasional 'Harg Harg Harg!', which is probably a blessing. Good tunes though…
Unfortunately, it eventually transpires that Dumpy and his Nuts are victims of the weather and will not be turning up. His Lambretta probably seized up or something, but at least we get 9X Dead to entertain us bit earlier than advertised. This is a band who keep being invited back to the Hard Rock Hell events, but it's the first time I've seen them. To be brutally honest, it's not at all a good first impression, ad their music is very average metal that has nothing at all to separate it from the rest of the pub rock herd. The vocalist doesn't have a very good voice, which doesn't help, and as the set goes on I get an increasing urge to set fire to them. In a room of more than 300 people, about 20-30 appaud, which tells you something. Right at the end of the set, they do to T-Rex's "Children Of The Revolution" what Hitler did to Poland, and I realise that s low, painful fiery death is too good for them.
There's a bloody long wait now before Tigertailz, so we amuse ourselves by looking at all the pirates that are wandering about. Yes, this year's theme is 'Pirates Of Prestatyn', and many have dutifully donned pirate garb and are having great fun swigging on grog and waving a variety of plastic weaponry whilst going "Aaaaarrrgghhh" and trying to decide what side to wear their eye patch on. It's all in good fun, and although I would never dress up myself it's pretty harmless and passes the time.
Finally, the backdrops are positioned and Tigertailz hit the stage in an explosion of lights and noise (noize?). It's not the clearest of sound mixes, but it's good enough, and the mood in the room lifts perceptively as they launch into "Sick Sex", followed by "Wazbones". The party has now been well and truly started, and the set whizzes by as Tigertailz rock the camp like only they can, ably demonstrating why they have been invited back yet again. Plenty of the crowd know all the songs, and there's great singalongs to the likes of "Heaven" and "Love Bomb Baby". They even manage to make the drum solo interesting, by having a couple of very sexy (and talented) fire eaters join in, although in fairness the drummer is pretty awesome anyway. Tigertailz deliver exactly what was ordered, a good slice of hairspray heaven that thankfully wipes out the memory of 9X Dead.
Unfortunately, we're too knackered from the long drive to stick around, and retire for the night there and then, missing the likes of Gentleman's Pistols and Attica Undercover, but tomorrow is another day.
Friday arrives like an elephant on a rocket sled, and we quickly work out that there's absolutely no one we're interested in seeing until the main stage finally opens up at 5pm. It allows time for a good old sleep and a little local exploration, and when early evening rolls around we're ready for the NWOBHM stylings of Diamond Head. The stage area is packed out, and before the band even go on I'm sweating like a paedophile in a playground.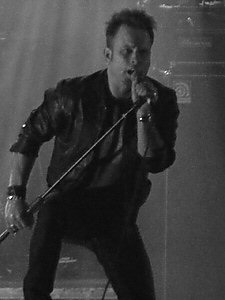 The first thing that is apparent is the solid sound that the band have been blessed with tonight, and they rattle through a few numbers to great applause from the faithful and the bemused alike. I'm teetering on a critical tightrope, especially when Nick Tart (great name) greets a shout for 'AM I Evil' with "We're not doing that one tonight". Once they hit their groove, notably with "In The Heat Of The Night", there're no stopping them, and they become a well oiled metal machine, spewing out high energy, fast paced and bloody good metal music with some sterling guitar work from Brian Tatler and an assured performance from the Tartster The lights at the venue have been beefed up since last year, which makes a small but noticeable difference, and the sound remains spot on, and when they inevitably do roll out "Am I Evil" at the end of the set it's a fitting conclusion to a masterful opening fifty minutes.
Next up, it's the Hard Rock Hell debut of FM, a personal favourite of mine but on the other hand a band that really don't seem to fit in with the big, crunchy guitars of everyone else here. There's a slight but noticeable drop in numbers as they launch off into their crunchiest song, "Wildside", which goes down well, although the sound that was so well geared up for Diamond Head leaves a little to be desired. Naturally, it's an assured, well played set , including some of the bands heavier, audience friendly chanters as "Don't Stop" and "All Or Nothing". Steve Overland gets to flex his vocal muscles during the slow intro to "Hard Day In Hell", but there's a lot of audience chatter whilst he does so, although I'm glad they play the song as it gives them a chance to feature perhaps the only Saxophone solo Hard Rock Hell has ever seen! Although facing a balancing act, Fm come out ahead, with the majority of the crowd resigning themselves to having a good time with the one AOR band on display all weekend. The set closes with a very rousing rendition of "Heard It Through The Grapevine", and in my opinion the band can consider it a job well done.
Fifteen minutes later it's time for the return of a British institution in the shape of UFO, a band who I have never really liked or disliked one way or another. There's an increase in crowd numbers as they prove to be immensely popular, with the sound quality shooting back up to Diamond Head levels as they start the set with "Save Me" and "Mother Mary". Phil Mogg sounds as good as he is ever likely to, and banters well with the audience, including a little moan about his cold chalet, and the whole band benefit greatly from a fantastic crowd response and what seems like a massive wall of clear sound behind them. Not surprisingly there's a massive reaction to the duo of "Doctor Doctor" and "Only You Can Rock Me (Rock Me), but for me it's just not all that exciting. I feel like a man at an orgy that just wants a cup of tea and a biscuit, whilst everyone else is having the time of their lives. Regardless of me, UFO pulled off a great set, earning them kudos from some as the band of the night. Not me, though, because I just don't get it.
The old boys are certainly out in force tonight, as the next band is Uriah Heep, who have been about since the Ice Age. Anybody expecting a bunch of drippy, trippy hippies is to be very disappointed, however, as Heep leap from the gate with the frenetic noise of "Wake The Sleeper", belting along with enough energy to wake the dead. Uriah Heep are here to give people a bite through the jugular and a kick up the arse for good measure. Vocalist Bernie Shaw sounds great after all these years, and the bands massive sound and solid mix of old style organ and guitar are both attractive and addictive. Special mention has to go, of course, to guitarist Mick Box, who manages to pull off some absolutely stunning work, with many of the songs in their 70 minute set including at least 5 minutes in instrumental, none of which seem to drag at all, such is the quality of musicianship and song writing on display. A good example is "Gypsy", which is just amazing to watch, a proper old school 'story teller' of a song with a massive instrumental section that almost takes my breath away. I may seem like I'm an old fan here, but I don't even own a Uriah Heep album. Maybe they just dragged out all their heaviest songs for the festival, and if so fair play to them, as their set easily eclipses anything else I've seen so far this weekend, and it's a shame when their only short song, "Easy Livin", closes the set.
So how you follow a beautifully played cornucopia of instrumental excellence? With four noisy, shouty beer fuelled Aussies, that's how. There's no danger of Airbourne trying to compete with the Heep in terms of delicate musicianship, so they opt for volume and attitude, both of which they win hands down, naturally. It's true that there's not exactly a lot of distance separating the likes of "Raise The Flag", "Hellfire" and "Born To Kill", but Airbourne always entertain regardless. Joel O'Keeffe finds it difficult to stand still, and when he's not singing he's dashing about the stage like a mentalist. He does occasionally chat to the audience, but as usual we can't understand a word in three of his high speed Aussie delivery. Vocally, he's sounding a bit raw, and is not helped by the fact that everything is too loud to be clear, drowning him out a little in the process. As the band go through their unique motions, the usual set pieces are here, including Joel's walkabout on someone's shoulders during "Girls In Black", although he doesn't manage to reach the bar for a change. During "Running Wild" he climbs the lighting rig and disappears somewhere up in the rafters, all the while pulling of riffs and a slice of "Paranoid" for good measure. It's nice to se Ryan O'Keefe doing his best to murder his drum kit after a recent bout of gastroenteritis, and David Roads and Justin Street do their jobs whilst trying to out headband each other as usual. It isn't the best performance I've seen by the band, but they're still great value for money, although Uriah Heep remain the most impressive band of the day.
There's still plenty of people in attendance as Skid Row hit the stage, setting out their intentions with "Big Guns". For me, it's my first taste of Johnny Solinger, who has now been in the band a little longer than Sebastian Bach. The band certainly deliver, all noise and attitude, but Solinger's vocals aren't that great, notably when he tries to hit the high notes. "New Generation" doesn't fare much better, but by "Mudkicker" things start to gel, and the sound man seems to be getting the hang of Solinger's pitch changes, whilst the crowd certainly appreciate it when he refers to himself and the band as "Redneck, dirtbag Americans". It takes "Piece Of Me" and "18 & Life", but he finally wind me over, despite the fact he's wearing a cowboy hat and sunglasses, and I start to enjoy the gig. He's still not a patch on Bach vocally, but when he settles down and just sings like himself he's pretty good. We get a couple of good tracks off the "Thickskin" album that make me want to actually listen to it, and plenty more Bach era classics, such as "Piece Of Me" and "Monkey Business", although the latter is drawn out interminably by a 'guitar battle' between Dave Sabo and Scotti Hill that goes on for about 5 minutes too long (the song lasts 13 minutes in total). Solinger struggles again with "Sweet Little Sister", and it's a nice break when Rachel Bolan takes over vocal duties for the three minute Ramones madness of "Psycho Therapy". Solinger returns for "I Remember You" and does a sterling job, until he tries to hit the Bach high notes at the end, at which point he sounds like Axl Rose with his nuts caught in a mangle. It's all good fun, though, until Scotti Hill falls off the stage and cracks three ribs! No, I'm not kidding here, and the band are down to one guitar for the final duo of "Slave To The Grind" and the obligatory "18 & Life". Despite the ups and downs vocally it was a good set, and all of us at Rock United hope Hill gets better soon.
After a night spent cursing the noisy drunks upstairs, we get our shit together to check out stage 2 on Saturday afternoon, where there's a trio of glam rock 'legends' to enjoy. First up are Pretty Boy Floyd, and I'm disappointed to see that frontman Steve Summers has decided on the old 'cowboy hat and sunglasses' as well. It must be an American thing, I suppose. Musically, Pretty Boy Floyd do a pretty good job, focussing heavily on their gloriously named "Leather Boyz With Electric Toyz" album, shoving out the likes of "Toast Of The Town", "Rock & Roll (Is Gonna Set The Night On Fire)" and the title track like they're some sort of forgotten classics. They're not, of course, but they're quite entertaining, and it's fun watching Summers trying to get everybody into party mode at one in the afternoon, mainly by using the word "Motherfucker" as much as humanely possible. He's good with the crowd, though, and it's all good clean fun until they butcher "Fight For Your Right (To Party)" and all I can think is 'Please, just stop'. Thankfully they do, and there is much rejoicing.
Hot on their heels are Enuff Znuff, a band who have been slogging it out on and off for over 20 years. Appropriately enough they start off with "Saturday", and it's immediately apparent that they're a step up quality wise from Pretty Boy Floyd. Whilst PBF tried to force you into partying, Eniuff Znuff let you make your own mind up, seemingly not bothered either way. Donnie Vie is a good enough singer, if a bit quiet in the mix, and the band are very tight. It seems that what this band do is write a catchy tune, and repeat the song title about 50 times around a couple of verses - simples! They throw out some good tunes, such as "The Beast" and "Love Train", finishing off with the classic duo "Fly High Michelle" and "New Thing", but the whole laid back approach thing doesn't do them any favours. The music is melodic and catchy, but lacking in much real energy and dynamism, and the crowd drift away into their own little conversations, only coming back to the band when they bang out "Come Together". The party mood that PBF tried so hard to inject is muted somewhat, although there's still plenty of support though to the end. For me, though, Enuff Znuff just didn't come alive at any point.
The final third of the glam trilogy is LA Guns, or more accurately Tracii Guns' LA Guns, as it seems Phil Lewis has a variation as well. The bonus we get is vocalist Jizzy Pearl, and his presence lifts the mood immediately, and it seems the band take the best bits of the previous two, combining an energetic stage presence with seriously good songs to great effect. "Never Enough" and "Dreamtime" start things off very well, and the whole set seems to fly by, with Pearl's voice having just enough croak in it to be sleazy but not so much that he's shit. "Show No Mercy" lets Tracii Guns demonstrate that he still very much has the chops on guitar, whilst the highlight for me is "Blackout In The Red Room", which takes me back quite a way to when Pear was with Love/hate. "Sex Action" closes the set perfectly, and it's been a fun ride, with the three bands managing to compliment each other in front of a seriously packed house.
Lizzy Borden were supposed to be next, but I have to go and interview a few people, hoping to be back for Elysion later on. Well, I get back on time, but it seems Lizzy Borden didn't turn up and Elysion took their place, and I'm pretty pissed off at missing them. It would have been nice to hear an announcement after LA Guns finished, but that seems to be the way of things this weekend, as there's been absolutely no one on stage making statements about any line up changes. It may be the only real complaint, but it's still a complaint.
At six o'clock the main stage kicks in again, and we decide that that's that place to stay for the rest of the day. First on today are Attica Rage, another of those bands that seems to be at every Hard Rock Hell event but are new to me. Once they've ploughed through a few songs it's not hard to see what they're going for - take a bit of old school Maiden, a bit of Metallica and a bucket of NWOBHM and Attica Rage could well be the result. This is metal for muthas, and they don't care who knows it, belting out solid, unpretentious tunes with no little talent. It's nothing that will stay with you for long, but whilst Attica Rage play there's entertainment to be had, even though they will never set the world on fire, or even singe a corner. Straight forward metal for straight forward metal fans, it's a good, if unremarkable start to the evening.
Paul DiAnno's not been in Blighty for some years now, but he's still a legend, if only for his involvement in the first two Iron maiden albums. Since then he's tried all sorts, but has never actually been all that good musically, and the rumour he is concentrating on Maiden stuff today is a welcome one. It seems borne out as he and his band launch into "The Ides Of March" and "Wrathchild", and the mood in the hall is heading towards cloud 9. It stays there for the next song, "Prowler", and despite DiAnno's ropey voice it's all good fun. This is like seeing the ultimate Iron Maiden tribute act, with that small piece of authenticity that makes it a bit more exciting than all the rest. DiAnno still has a cheeky way with the crowd, holding court like he's just down the pub with a few mates, and even apologises for his voice, blaming a sore throat for the fact he isn't exactly knocking things out of the park. A non Maiden song is brought out next, and it's a bit poo, so when he follows it with "Another song from when I was in The Spice Girls", we're all delighted to get back on track with "Murders In The Rue Morgue". Inbetween songs DiAnnoa ssures us he's still very much good mates with 'Arry 'Arris, and throws in plenty more Maiden gems like "Killers", "Charlotte The Harlot" and "Phantom Of The Opera". His band do a good job, especially the bassist, although the drummer throws in way too many fills and plays too fast at times, like he's not quite got the point of the songs. All in all, a fun performance, with a baldy, beardy, bloaty DiAnno making plenty of new mates he will no doubt ask to borrow money off later.
Originally, Helloween were going to take the late shift after Saxon, but due to tour scheduling have swapped with Blaze Bayley for an earlier spot so they can bugger off to London afterwards. Never the most subtle of bands, they open with the brilliant "Are You Metal" from the "7 Sinners" album (their best for some years), then follow it up with "Eagle Fly Free" in a mighty one-two of new and old gems. AndI Deris is in fine voice, and proves to be a very fun and engaging front man as well, making the audience feel part of the performance, especially durin g two very long singalong sequences during "I Want Out" and "Future World". As fun as these are, they go on way too long and cost us another full song at least. Despite this, there's plenty lo like in the set list, such as "I'm Alive", which is immense, "Where The Sinners Go" and the quirky but genius "Doctor Stein". We also get a very cool drum solo (FOUR bass drums?) and plenty of nice guitar work from Michael Weikath and Sascha Gerstne. Never any less than completely entertaining, Helloween prove with ease that there's plenty of life left in them, and I would urge you to catch them if you can, and also to check out the "7 Sinners" album as well.
And so we turn to MSG, and a banner proclaims that it's the band's 30 th anniversary, which is nice. Schenker himself leads the show with a cool solo to placate all the shredheads in the crowd, then settles into a corner with his head down for "Armed & Ready" and "Cry For The Nations". The bad news here is that Gary Barden is easily the worst front man of the weekend, from his stupid stage gear (what looks like a white smock and a pork pie hat) to his dad-at-a-wedding dancing. His voice is average at best, devoid of any real passion, and he doesn't talk to the crowd at all. You'd have thought that the whole 30 th anniversary thing would warrant a chat, but no, and Schenker doesn't make things any better by staying in his corner for 90% of the time and not saying a word. Anyone new to the band would have though the bassist was Michael Schenker, as he was centre stage and lively as fuck. As the set rolls on I get thoroughly bored, as the songs are stodgy, the performance wooden and the only good thing the occasional flare of inspiration from Schenker, notably during a very cool instrumental which sees Barden piss off for five blissful minutes. "Lights Out" and "Rock Bottom" bring the gig to a close, but it's a case of too little too late for the worst band of the day.
And so we come to the headliners, perennial British metal masters Saxon. I've seen them plenty of times since 1984, and never gone away disappointed, and from the minute they blast off with "Heavy Metal Thunder" it's apparent that this is going to be another good one. Old classics and newer songs sit very well beside each other in the set, and we are even treated to rare performances of "The Eagle Has Landed" (I'd forgotten how awesome this is live) and "Dallas 1pm", as well as "Strong Arm Of The Law" and the ever popular "Princess Of the Night". Frontman Biff Byford is very natural, very friendly and in fine voice, playing with the audience as well as DiAnno did, but with years more experience of quality music to back him up. The crowd response is immense, and there's clearly still a lot of love for these old warhorses, still with veterans Paul Quinn on guitar and Nigel Glockler on drums, both of whom do a great job. Mind you, Nibs Carter has been in the band for 22 years now, and Doug Scarratt 15, so it's no wonder the band are so tight on stage. It's a real treat to hear the old tunes again, but also to get stuff like "Live To Rock" and "Demon Sweeney Todd" alongside "Motorcycle Man" and "The Bands Played On", with newcomers unable to tell the difference between old and new, so consistent is the song writing. The set is closed by the ever popular "Wheels Of Steel", but the traditional left-vs.-right type singalong is curtailed so the band can finish up with "Denim & Leather", which Biff dedicates to Ronnie James Dio. Easily the band of the festival, with a great sound to match a great performance, I look forward to seeing Saxon again next year with a new album in tow.
Too knackered to see Blaze Bayley, we slope off back to the chalet safe in the knowledge that we have once again had a bloody good time at Hard Rock Hell, and long may it continue.
Review and photos by Alan Holloway
(c) 2011 RockUnited.Com
5 January 2011