It's always great fun when you discover an up and coming artist in this crazy business called rock'n'roll. Jazan Wild is one of those artists, which you instantly believe to have the right material and attitude to make it. He's in a Los Angeles studio right now, laying down the last piece of puzzle on his debut album. Not very talkable about his past as he rather put all focus on his music, the future, and his many projects. This is only meant to serve as a short introduction and you can certainly expect more in a near future. So who the heck is "Jazan Wild" and what has he been up to in the past? Well, he only tells us that "I have been the member of a traveling Freakshow for years and I learned all I know music-wise from the rhythms of the jungle".
Rockunited: It can certainly be confusing to some as "Jazan Wild", isn't just your artist name, but also the main character of your comic book. You're working with some really interesting and famous people here. Do tell us something about the story and the names of the people you work with.
Jazan Wild: I am currently working with (Producer / Songwriter) Curt Cuomo. Curt has written some of my favorite Kiss songs like Psycho Circus, Jungle, I Will Be There, Master and Slave, among others. Mixing the CD is (World Class Engineer) Rob Jacobs who has worked with Kiss, Eagles, Bon Jovi, U2 among others. I am working on a comic book being done by Todd Mcfarlane's art team (Kevin Conrad, Dan Kemp, and Andy Troy) who all worked on the Spawn and Kiss comic series. Kevin Conrad is a very close friend who is one of the most talented guys I have ever met. We are going to do a complete 22 page comic outlining what we hope to make into a movie. I recently met with a Fox TV producer, (Who is a really a cool guy.) He will be narrating the story for the comic book. We talked about where this could go. Time will tell.
RockUnited: You're still in the studio as we speak, recording your debut album with the already mentioned Curt Cuomo (KISS, Eddie Money, etc.) and Rob Jacobs. How did all that happen anyway?
JW: I am a huge KISS fan. One of my favorite albums of all time is Carnival Of Souls. I was talking one day with Kevin Conrad about a producer for the CD. Curt Cuomo was the dream guy for the project. I tried for a long time get a hold of him. I wouldn't quit. I finally got a meeting at Curt's house and the rest is History.
RockUnited: Are you in control of all the vocals, guitars, etc., yourself? Who handles what in the studio?
JW: I played the drums, bass, and all guitars. I handled all vocals as well. Curt sings back up on the chorus to The Snake. All keyboards were performed by Jason Citro.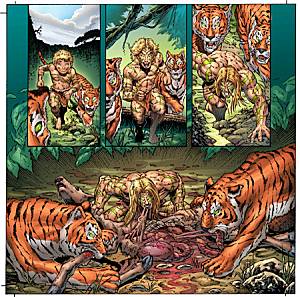 RockUnited: Will the CD follow the story from the book??? Is this going to be a "concept" album or individual rock songs?
JW: This CD is going to take you on a journey into the jungle. You will experience (through music and sounds) the life of a orphan who is left alone and fights to survive against all odds to become a Freak, a Myth, a Legend!
RockUnited: Do tell us a little bit about the following songs and what they're basically about: [download MP3 clips by clicking the song titles]
The Snake
JW: Written by Jazan Wild and Curt Cuomo, this song is about passion and hunger!
XFile
JW: Written by Jazan Wild, a song about something over taking your senses, losing control and loving it.
Haunted
JW: Written by Jazan Wild, this is about being left alone and not giving up hope.
RockUnited: Name some of your favorite rock artists and music you enjoy listening to.
JW: All time favorite without a doubt KISS! I also love Led Zep, Aerosmith, all the big Rock Star acts. I love bands that put on a great show! Rock Stars!!
RockUnited: What the heck is Des Child & Guns'N'Roses doing in the studio next to yours??? And you're always welcome to share your experience about being at Gene $immon$ A**hole release party.
JW: I'm not liberty to talk much about that (Des Child & G'N'R), but that's why I love Los Angeles. You never know what life will bring you from day to day. It's great to be surrounded by such talented people. Gene's party was a crazy night! Eric Singer was such a cool guy and one of my all time favorite drummers. Gene was surrounded by press and cameras. They were filming an A&E project.
RockUnited: If there's anything you'd like to add, say, or promote. Please do:
JW: Look for the FREAKSHOW coming to your town and check out
http://www.jazanwild.com
By: Urban 'Wally' Wallstrom
http://www.rockunited.com 2004
Pix from http://www.jazanwild.com