Philip Parris Lynott
Harry Street, Dublin 19th of August 2005.
They came from around the world and around the block as Philip Parris Lynott once again takes centre stage.
Thin Lizzy frontman Phil Lynott was finally back in town after a five-year campaign brought a statue of the iconic figure onto a Dublin street.
Supporters of the famed singer showed their long-running admiration of the songwriter by funding the erection of the bronze statue almost two-decades after his tragic death.
Fans and on lookers thronged the surrounding pavements, lamp posts, dust bins and anything else you could stand on to try and catch a glimpse of the unveiling of the statue of Irelands most famous rocker.
Hundreds of people lined Harry Street, just off Grafton Street, where Philomena unveiled the statue to rapturous applause.
His mother, Philomena, said "It is the proudest day in my life, for over 20-years I have been looking forward to it.
Mrs. Lynott seemed happy with the sculpture by Paul Daly which was cast in bronze by Leo Higgins.
She said: "I am happy with the statue, I love it, I spent many days down at the foundry advising him.
"We walked in a few times and we took a chisel out to make sure he got his chin right."
His devoted mother said his music would leave an everlasting effect on the people of Ireland.
"He took a very old ballad The Whiskey in the Jar and gave it a good bit of rocking," she laughed.
"I think after that he changed the course of history really, and he opened up great opportunities for all the up-and-coming young bands, and now one of those bands is known as the best band in the world. You know the boys from U2. He loved them, and they were all young boys.
Philomena added: "I love him forever and I will miss him forever. Life is awful without him but knowing all these people are loving him the way they do, they are like a big woolly cloak around me.
"They write to me telling me how much they love him and miss him. I am not alone in missing him."
She also talked about Smiley Bolger who organisers a concert in Dublin annually on January the 4th the day Philip Parris Lynott died called "The Vibe For Philo".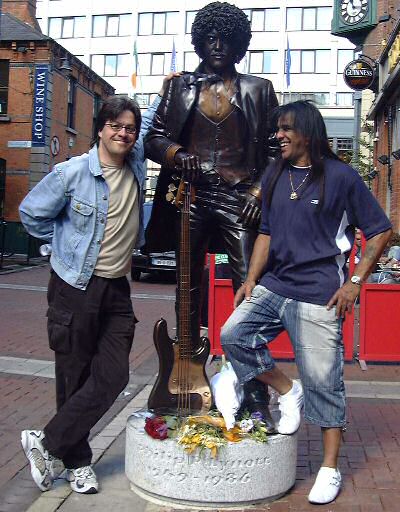 Dedication 3 2005 at the Stanground College Peterborough October 8th is the next UK fund raising event
As the song "Dancing InThe Moonlight" bounced off the walls of Harry Street fans looked down from the balconies of McDaids, Bruxelles and the Westbury Hotel all paying homage to the father of Irish rock . Audrey O'Neill, director of the Roisin Dubh foundation, said Lynott would have been quietly proud of the accolade in Dublin city.
Many Lizzy members were also there including Scott Gorham, Gary Moore, Brian Robertson, Brian Downey and Darren Wharton (above).
The life size statue of Phil is situated on Harry Street outside one of Dublin's most famous rock venues - Bruxelles.
"Still In Love With You" was a fitting end to the proceedings as the Lizzy Classic echoed down the narrow corridors of Harry Street onto Grafton Street. If you are on the look out for talent then you can find it in abundance on Grafton Street. Its Dublin's rival to London's Covent Garden.
A young flash 17 year old guitar player called Neil Tierney caught our eye. He was doing all the Eddie Van Halen, Paul Gilbert style tapping but just on an acoustic guitar plugged into a little amp. He had some real cool licks going down and drew quite a crowd. You never know this could be another one of Dublin's next big stars, so if you are on the look out for a guitar player he could be your man.
If you get the chance to visit this beautiful vibrant city take a walk down Harry Street and take a look at what the real fans of music can achieve. Sit out side the Bruxelles pub and Raise a glass of Guinness to the one and only
Philip Parris Lynott.
"The Legend Lives On" (now where have I heard that before?)
by The Bailey Bros,

www.rockunited.com