After playing in bands Teaser, Vandenberg, Whitesnake and Manic Eden guitar player and composer Adrian Vandenberg "returned" in the rock scene with his new band Vandenberg's Moonkings. That band wrapped up their studio debut album last year and now the Dutch rock quartet is touring in The Netherlands; actually playing in smaller clubs where the band has a real feeling with their audience.
So, Adrian how is it to play in these rather small venues?
"Well, actually it is really great playing in these small clubs and theatres as you can really connect to your audience; you can feel and see their presence and it is quite nice actually to have that feeling again. It has been a long time ago since I have played this sort of tours; in fact it was with Vandenberg, when I was two years old , I think, ha ha… With Whitesnake we played for massive audiences and in huge stadiums, but I kind of prefer these intimate tours and what it also makes attractive for me is to play in my home country again as we only did three shows with Whitesnake in The Netherlands. The venues are great, most of the shows are really sold out and the audiences are great every night and most of all we, as a band, enjoy ourselves every night."
The Moonkings album was your first album in sixteen years, what have you been doing all these years?
"I really wanted to catch up on my painting as I was an artist before music became my profession. I really felt that I had been missing painting during the years that I was touring with Whitesnake and of course which was even more important I missed my dear ones a lot!!
But then after a while a little voice in my head started screaming that I should make another album or at least write some new music; but in the end it lasted longer than I expected as it took about ten years. When my local football team FC Twente became national champions, they asked me to write a song for them; a kind if anthem actually. So, I needed a singer and I happen to find Jan Hoving, who is now of course the singer in our new band. So, that was the time I really knew that I needed to make a new album. I took a year to write and compose the songs for the album and when it came out the response and the reviews were really great!"
How did the album do actually?
"Well you know, we did not expect anything, but Vandenberg still seems to be a great and well-known name in the rock business. Especially in Japan we still have very loyal fans; in fact we still have fans all over the world. We are going to Japan soon for the second time already to do some gigs over there."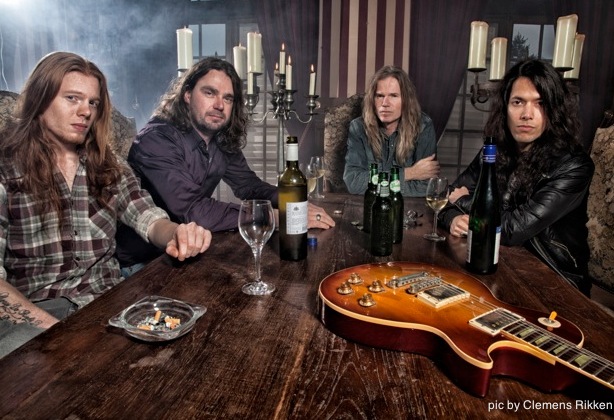 Is the Moonkings album a retro rock album?
"Nee, I think it is quite the opposite. It is a classic rock album and that sort of music is still very much alive. The sound of the album is really in your face; that is what we wanted to achieve; a live feeling. We recorded the album in exactly the same studio the Teaser album was recorded with exactly the same microphone and amplifiers. So, that was really full circle for me!"
Are you already working on a follow up album?
"Well actually I am, yes. With Whitesnake there was much time between albums, too much time in fact as I really found that annoying. It took two months to record an album and I do not like over produced albums; albums need to be dynamic and powerful. I already have a couple of new tracks in my head and I have about 300 ideas for songs, but I need to sort these ideas out and I do not have titles for new tracks. The follow up will be in the vein of our debut album because the songs on that album really felt great; those songs really came from my heart. The guys in the band are really fantastic, they are young, ready and willing and they can and will grow in the near future. Jan's voice is amazing and his voice and performance seems to grow every hour that we are together. So, yes we are really looking forwards to record a new album."
How important are lyrics for you?
"I really like rock and roll kind of lyrics, words that sound good and really fit to the music. I am not pretentious regarding my lyrics, but I am really proud of songs like Out Of Reach or One Step Behind. I really like the lyrics of Bon Scott, the former AC/DC singer that is what rock and roll is about; real tongue in cheek!! Emotion in a song is more important to me than a message in a song; if you know what I mean. I also like the lyrics of Dylan or Springsteen and the lyrics of Phil Lynott are also amazing in fact."
Were you not in the picture to become a Thin Lizzy member at a certain point ?
"Yes, weird that you know that sort of thing…. I did an audition for Lizzy and we rehearsed together for two weeks and musically speaking I really liked the band and there was a connection. However the atmosphere/scene in the band was not really my thing as there were a lot of drugs and alcohol problems in the band; so I decided to let them know that I kindly refused to become a Lizzy member."
Lizzy played with two lead guitar players, would that be something for the Moonkings, or not ?
"Actually no, my favourite bands Free, Cream, Hendrix only have one lead guitarist, so I prefer being the only lead guitarist in the new band. I think it works better that way, no competition between two great guitar pickers about who is the best or the fastest, right? The Winery Dogs is also such a great band with three superb musicians and The Band of Gypsies is probably the best live band ever!"
And do not forget my favourite band Rush …
"Yep, also one of the greatest ever; we seem to share the same musical taste; nice!"
Will you be playing at some summer festivals again this year; maybe Pinkpop or Bospop?
"You know we did Graspop and Fortarock last year and it was great, we really enjoyed ourselves, so yes if we are asked we will certainly play there."
You played in Teaser, Vandenberg, Whitesnake, Manic Eden and now The Moonkings, what is or was your favourite musical period?
"That is hard to say; I have been through a lot with Whitesnake and I experienced some almost unbelievable things with Coverdale as we headlined around the globe. But I always liked to follow my instinct and I always hated the pressure of the record companies (with Whitesnake and Vandenberg); and that pressure is completely gone now. That is what I like, complete freedom to do what I want although the music scene has changed a lot over the last couple of years. So, now with this new amazing band I will play as much as we can and later on we will come up with a new album. I really want to keep the Moonkings together as a band as long as I possibly can as I cannot remember being so excited about an album that I did. The future looks bright and beautiful."
Thanks for taking the time to answer my questions.
"You are more than welcome."
Interview for Rockunited by Martien Koolen
Photos from www.moonkingsband.com, Andrian Vandenberg's Facebook page and The "painter" photo from: www.vandenberg-art.com

(c) 2015 RockUnited.Com