First of all, CHARLOTTE is a "hair metal" band of the eighties and sadly not a woman. They unveiled their music at Jezebel's in Orange County, California waaay back in 1887 or sumthin' like that anyhow (1987 actually). Their popularity rose rapidly, taking them through renowned venues like The Whisky-A-Go-Go, The Roxy, and The Troubadour, etc. between the years of 1988 to 1992 (approx.). They never quite managed to 'breakthrough' and out of L.A. though. Thus why you haven't heard any of their rather excellent 'bluesy' melodic hardrock material until now in 2010 when Eonian Records decided to release a compilation under the name of "Medusa Groove". What follows is a Rapidfire chat with Charlotte's lead vocalist, : ERIC GANZ...
How has the reaction to the new album been?
Great. Listeners really seem to be getting what CHARLOTTE is all about and they seem to be having fun doing it. We're getting a lot of airplay which is awesome.
Did you ever expect to have a retro-release out in 2010?
We expected to share our music somehow, at some time. Just didn't know when.
How did the project get its name?
CHARLOTTE is named after Charlotte The Harlot, legendary whore for all nations, her sex and power are undeniable. 'Medusa Groove' is a statement of transformation or transition from one thing to another, the change that courses through all of us with its serpentine intoxication, turns us to stone.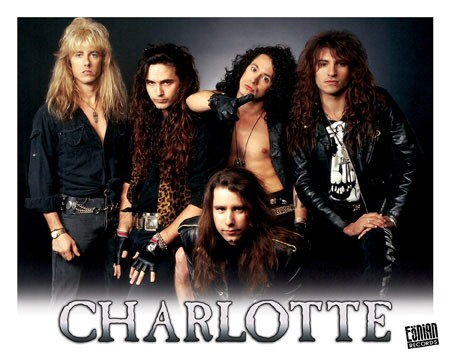 Several mag's hailed you as the 'next big thing' back then, but no record deal, you must have been frustrated?
Frustration can be a big part of the music business. But you can't let it get under your skin like so many tattoos. We just keep playing the music that we want to.
How would you describe the sound of Charlotte? Led Zeppelin-ish? I can hear a lot of Kingdom Come?
We like to leave the comparisons to the listener. Our influences come from a wide range of styles. Certainly Led Zeppelin is in that range.
Any favourite songs on "Medusa Groove" and why?
We really started coming into our own with songs like 'Medusa Groove', 'Siren', Little Devils', 'Invisible Man'. 'Ocean Of Love And Mercy' we always felt was an unusual gem of a tune. We also have some unrecorded music that will blow you away. Next album!
What about the lyrics. Are you just as fond of them today or are they typical of its time?
CHARLOTTE lyrics speak a universal sense of things that are and what will be. We want everyone to have fun but we also want people to think of us when they're in lust, love, and pain. We'll crawl around in your brain like a wet snake.
Are there any 'crazy' behind the scenes, anecdotes from these sessions?
Recording is work and we treat it as such. Most of the crazy shit went on when we played live. However during the mix session for 'Got Love On The Line' the producer started raging against the corporate institution that is the music biz and then whipped beer bottles at the console room glass window. Thats when we decided it was time to bring in the girls.
Inform us (the readers) about yourself and your background.
We are a Los Angeles-based band that is comprised of 5 guys who decided to be musicians instead of super-heroes. The hours are the same but you don't have to deal with the vilification. We're already bad boys of rock and roll.
Who are your influences and heroes (music-wise)?
Plant, Page, Morrison, Hendrix, James Brown, Willie Dixon, Dicky Betts, Janis Joplin, Bonham.
What 3 words describe you best?
Paranoid, Aroused, and Confused.
You are in a balloon with Axl Rose, Gene Simmons, Tipper Gore and Simon Cowell - who would you throw out as ballast and why?
Simon Cowell first. If we have to tell you why it means you probably watch his show religiously. Tipper Gore second but she never really made a lasting impact. If anything she made people want to scream out even more.
What's your favourite 1980's album? (or albums)
Can't remember. We really like Faith No More and Guns N' Roses though.
What is your guilty secret?
Guilt is a self-indulgence we try to avoid, like boredom.
What's the best thing about being a musician?
Raging in the dark and everyone hearing you.
What's the worst thing about being a musician?
Raging in the dark and no one hearing you.
What song do you identify with the most?
'Raindrops Keep Fallin' On My Head'
What is the best TV theme tune ever?
'Twilight Zone'
What are your future plans for Charlotte?We would like to record another album asap. So many songs yet to lay down. Play for our fans as well. Well keep ya posted.
If there's anything you'd like to say, add, promote, please do:
Check out our website: www.charlotterockband.com 'When the children all fly the nest, look for the side-burned hero of the snowy west".
interview by Urban 'Wally' Wallstrom urban@rockunited.com
Photos from Eonian Records
17 May 2010
(c) 2010 RockUnited.Com