Female singer/songwriter VK LYNNE hails from Pennsylvania Dutch country, where she learned enough about the blues to sing them before she even owned a guitar. However, she's now based in L.A. (like all the rest of the mad hatters) and the strangely titled "Whiskey Or Water", is her third full-length album. It's a heavily blues-based effort, but grounded in sweet old rock and melodic melodies. She's blessed with something that a lot of todays artists are lacking. I'm talking about 'heart and soul' as there's plenty of both on this record. We had a quick chat with the short, - about 5'3, but spicey (and with a good sense of humor) U.S. musician. It's a little bit of country, a little bit of rock 'n roll, a little bit of blues - and a whole lotta VK LYNNE...
How has the reaction to your latest CD been?
VK- Strong and emotional. Folks have really been identifying with different tracks that lyrically express something they're going through, probably because I was in such a state of turmoil while writing these songs.
Any favourite songs and lyrical highlights on "Whiskey Or Water" and why?
VK- The title track is probably my best song. It expresses the most important thing I've ever learned in life thus far, that balance is the key to happiness, success, and sanity. Also, 'Mess Like You' was a big step for me- I've never written anything overtly sexual, for various reasons, but I felt this one very viscerally, and I felt that other women would identify with the situation.
What's the story/idea behind a song title such as 'Carnal Crucifixion'?
VK- Well, Carnal Crucifixion was actually written for a film, a religious thriller a la Stigmata, that deals with religious hypocrisy.
How come you recorded the album in Denmark of all places?
VK- That's where James is:). My Producer, James Thomas (Cher, Beth Hart), lives outside of Copenhagen, and he contacted me through MySpace. He'd heard my songs and thought we'd work well together. I knew his work with Beth, which I loved, and so after some months of negotiating, I flew over and, as he suspected, we did work well together. James got exactly what I was trying to say, almost better than I did. I would go work with him again in a heartbeat.
How would you define the sound of VK Lynne?
VK- I wouldn't:). I'd say listen to the music and see how it makes you feel. Music is so personal and often subjective; one man's rock is another man's pop; one woman's country is another one's blues. But if I had to, I'd say it's blues/rock/alt.country.
What's the L.A. music scene like for your type of music anyhow?
VK- The LA music scene for ANY type of music, is difficult in that there is such an oversaturation that fans often can't sift through to find the gems. You have to keep yelling to be heard above the din, and the strongest lungs will out. In my specific 'genre', a lot of folks get out of town, do small tours in other markets, then come back to do a big show once in awhile - but everyone's got their own formula.
Inform us (the readers) about VK Lynne and your background (and what's VK short for anyhow?)
VK Lynne is a small town girl who became a Philly girl, and married the best man in the world. She packed him and everything they owned in to a white pickup truck and came to Los Angeles where she set about finding out who VK was outside of her small town and the ideas that those in her life had formed about her. And she's finally pretty happy with who she found.:) VK is not short for anything - she is short, though- about 5'3":) What does VK "stand for"? VK stands for truth, women's rights, aid for abused children, and bagels... yes, hot bagels with butter...mmmm.:)
Who are your influences and heroes? (music-wise)
VK- Melissa Etheridge - she lit the match. I got a guitar, and set about emptying my heart onto the strings. Nuno Bettencourt - he gave me a love for the guitar solo that I've never been able to shake. Beth Hart - She fanned Melissa's flame - I learned form them TRUTH!!! Truth at ALL COSTS!!! Train - Always move me lyrically; they feel like home. Tuomas Holopainen - The gold standard. To be able to write music like that... He makes me reach higher, push harder, keep learning about my craft. Working with him is one of my career goals.
What's your favourite 1980's albums?
VK- Appetite. I can still remember the first time I saw the video for 'Sweet Child O' Mine' and being awed by the whole band. Faith by George Michael... I was so young, I remember thinking in 'Father Figure' that he was the most masculine thing I'd ever seen:). And you can't really forget Joshua Tree...it's just classic. But by the early 90's it was lll Sides to Every Story (Extreme), Jar of Flies (Alice In Chains), Stick it to Ya by Slaughter (don't judge:), and 6 of 1, Half a Dozen of the other by Marillion.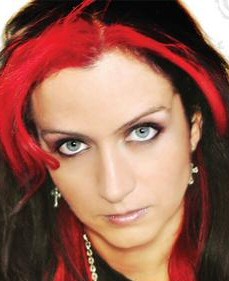 What's the best/worst thing about being a musician?
VK- The best thing is when someone tells you your music has made a difference to them. I once had a young lady write me a note after a gig, telling me that she'd felt moved by the show, and felt so much hope as she left, and how important that was because 3 days before she'd attempted suicide. And she wanted me to know that I'd helped "save her soul". That was humbling and sobering; I projectile cried at the computer screen when I got that letter, and really realized the responsibility involved in what we do, and what a privilege it is to do it. The worst thing is when you're not able to do it as much as you want - when the day job is still a necessity, and the details of the business side of music clutters the art. But it's worth wading through in the end.
You are in a balloon with Axl Rose, Geoff Tate, Amy Grant and Simon Cowell - who would you throw out as ballast and why?
VK- Myself. First off, I'm in pretty good shape; depending on the height, I could make it!:) Secondly, if I didn't, and the Good Lord decided it was my time, I would go down in a blaze of glory- now there's a way to get your records heard!:)
What 3 words describe you best?
Truthful
Compassionate
Driven
What is your guilty secret?

VK- You think I'm going to tell you?:)

What song(s) do you identify with the most? (sorry, you can't pick one of your own)

Leave the Light on - Beth Hart
Precious Pain - Melissa Etheridge
Ghost Love Score - Nightwish
Divine Romance - Phil Wickham
Power of Two - Indigo Girls
I Will Not Take These Things for Granted - Toad the Wet Sprocket
I'm About to Come Alive - Train

What are your future plans?

VK- Well, tonight, I'm going to work on a song I'm co-writing, and then tomorrow I'll be practicing some songs for an audition Wednesday. In the long term, we're trying to organize a tour of the east coast, do a month in Nashville for some co-writing, and hopefully get back to Denmark to make a new record. But for now, it's one day at a time:)

If there's anything you'd like to say, add, promote, please do:

VK- Please feel free to visit my blog:

http://whiskeyorwater.blogspot.com, which gives insight into what's going on with me, and I'd love to hear from your readers on my facebook page: www.facebook.com/pages/VK-Lynne/8184312252

Thanks for having me, Urban, and maybe once I get to Sweden we can have a beer together!:) ~VK

interview by Urban 'Wally' Wallstrom urban@rockunited.com
Photos from VK Lynne's website & MySpace.

15 August 2010
(c) 2010 RockUnited.Com