The band around former Savatage vocalist Zachery (Zak) Stevens already presented their 5th studio album called Consequence Of Power some time ago. It is again a must for lovers of melodic power metal and fans of Savatage of course; so time to confront Zak with out notorious question pool.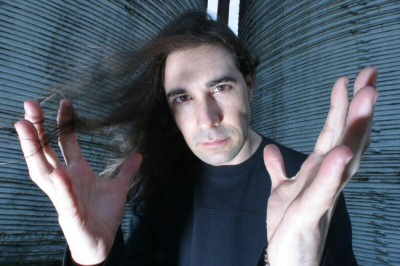 What has been your most embarrassing tour moment?
"One time at a show in the US this girl who was wasted on alcohol grabbed on to my microphone cord and she pulled me into the audience, so I fell off the stage!! Then I got angry and threw the microphone at her. Oops, that might leave a mark……"
We know that every town is THE BEST ever, but what town is really the best for you?
"I would say my hometown of Colombia, South Carolina US is the best town for me just because it is home and where my family still lives. It's also a great party town because it's a college town. Colombia has lots of bars and restaurants…."
What is your favourite pre-1990 album?
"I will say it's Piece Of Mind by Iron Maiden. At that time I was a kid and I went to an Iron Maiden concert. The night I saw Bruce Dickinson live on stage for the first time, that is when I decided I wanted to be a rock vocalist."
You are in a balloon with Jorn Lande, David Coverdale, Dee Snider and Allen Russell, who would you throw out as ballast and why?
"Well, that's a tough question, but I would say it would be Jorn because he's a good friend of mine and maybe he would understand that I needed ballast and that he would be a good candidate for it… Well, then again maybe not, ha ha…"
What is your dark secret?
"I guess my dark secret is that the real secret of my metal vocals is… well… the blues."
Who is the sexiest person in rock?
"If you like blondes I would say the sexiest woman rock star at this time is Orianthe. She's new and exciting in that respect…."
What is the best thing about being a musician?
"Anything is possible in the music business…. Just look at my career, ha ha…Any given night at any given show, things could drastically change and all of a sudden you are on a totalle different course… Kind of like "The Pick Of Destiny"'
What is the worst thing about being a musician?
"On a similar note, the ups and downs of the business are hard for a lot of people to deal with. You have to have a lot of mental fortitude to be able to survive, but the stories usually result in the writing of books because the daily life is just completely insane…"
What song do you want played at your funeral?
"I did it my way by Elvis Presley."
Where are you from originally?
"I am originally from Colombia, South Carolina, USA."
What have you been up to lately?
"Circle2Circle is currently touring all over the world. We did a European tour in October 2010 of 22 shows with Primal Fear and Vicious Rumors. We then returned to the US and played 12 shows in November here in the States. We are continuing our US tour in December 2010 and into 2011. Afterwards we head out for a tour of Brazil in early February 2011. Then we return for our second tour of Europe in the spring/summer of 2011 in continued support of our new album 'Consequence Of Power'."
How did you get your band name?
"I was thinking of how my career in Savatage basically transformed into my career in Circle2Circle and how I went from one circle of musicians into a completely new circle of players with Circle2Circle. So someone said Circle To Circle and the name just stuck…"
What/who are your influences and heroes?
"My influences growing up in the eighties and nineties were Ronnie James Dio, Bruce Dickinson, Geoff Tate, David Coverdale, Ian Gillan and Ray Gillan."
Three words that describe yourself perfectly are:
"Never….Say….Die!!!"
Name 5 desert island albums.
"Boston-Boston, Master Of Puppets-Metallica, Stained Class-Judas Priest, Powerslave-Iron Maiden and 10,000 Fists by Disturbed."
What song do you identify with most?
"Stairway To Heaven."
Plans for the future?
"We're going to keep touring in support of the new album for the next few years. Then we are going to do another C2C album after that and start the process over again. But for the immediate future it is off to another US tour in December 2010 and 2011 and off to Brazil in early February…"
Thanks for your answers!
"Thanks very much for the interview Martien!"
interview by Martien Koolen
Photos from www.circle2circle.net
www.myspace.com/circleiicircle
(c) 2011 RockUnited.Com
Jan 9, 2011