Saga drummer: MIKE THORNE - SAGA from Toronto, Canada has sold over 8 million albums and counting. They have achieved several gold and platinum albums and were originally formed in 1977. Fast forward to 2012 when the band posted the following statement at their site: Attention all drummers! Want to be in the running for the position of the next SAGA Drummer? All you have to do is video tape yourself playing along to Saga classics and post your video on YouTube and send the link to us. Well, Mike Thorne - the last drummer standing and basically the modern day success story via YouTube. We had a quick chat with Thorne about drums, drummers, and his work on the excellent new 2013 live SAGA album and DVD: Spin It Again! Live In Munich. Find out more, here's the great drummer and man of the moment: Mike Thorne
Kindly inform us about your current set-up and kit and did it change as you joined Saga?
I have a 7-piece at home, and when I play local gigs I usually use a scaled-down kit. With SAGA, I use 6 toms plus the Pads, and include chimes. I have an extra snare to the side (just in case!) I am currently negotiating an endorsement and will have news about that soon.
What about Terry Bozzio and Neil Peart? Are they basically taking their kit and set-up to the extreme? Too much is never enough?
Neil Peart will always be my favourite drummer, and while his kit is a tad excessive, he uses everything. Terry Bozzio is amazing, and makes me feel sorry for his drum tech(s). He would be just as incredible on a three-piece. I always said there has to be SOMEONE that has the biggest kit...
Considering that 'A Brief Case' is probably the most recognized drum-solo ever? Any problem/pressure setting up your solo?
I started including a snippet of "A Brief Case" in my solos; it seems to be a real crowd pleaser! My solo is mostly improv, and changes according to whatever mood I'm in. It keeps it "real" and changing, in my opinion Mike (Michael Sadler) and I have plans to bring it back in 2014 in a new drum duet.
Re: 'Spin It Again' DVD/Album. Are you pleased with sound, photo. etc. and your performance.
I believe that I had an average show that night. There was a lot of pressure to perform as well as possible, but I'm pleased there were no problems. I sped up in the midddle section of 'Wind Em Up' and that'll bug me forever. As of right now, I haven't seen any photos from the DVD, but I'm sure they're fine. I'm impressed with the sound quality!
What's the most fun (SAGA) song to play - and the most challeging one?
The most fun lately has been during the Guitar Solo in 'Tired World', I can just sit back, jam with Jim and listen to one of my favourite guitarists rip off a different crazy improv solo every night! The most challenging (right now) is 'Time's Up', because the pads are small and I can't look away for too long or else I might miss... I feel like I'm actually WORKING.
Do you tune your own drums on tour and how often?
I tune them before sound check, after sound check, and give them a quick once-over before the show.
I mentioned in the review of 'Spin It Again' that they found you under a rock. But that's what you're joking about in the DVD (bonus material). Are you worried that some fans might just take things a bit too serious?
Not really. SAGA fans seem to be of a smarter breed of humans; maybe it's the polyrhythms....
What's up with the risky game Ian Crichton play on tour. Merely two guitars and if a string breaks, the song is done?
We have an awesome guitar Tech, and I have enough to worry about on stage, so I try not to worry about things out of my control. I think he should have 50 guitars!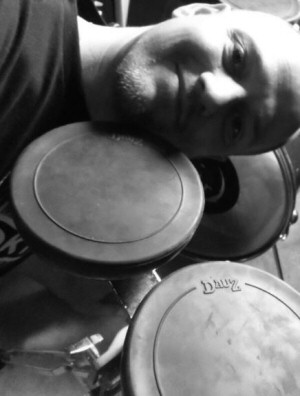 Any fun behind the scenes anecdotes from the tour (not included on the DVD) that you can share with us?
Oh, we have LOTS of fun & stories, most of which involves getting lost, waiting for long periods of time, food, and bus antics
Since you're the drum instructor as well as Prog-rock star. Your best tips to improve the hands/feets technique? And can you teach just about anyone to play the drums
Paradiddles!!! Lots of paradiddles! And Yes, as long as he/she isn't on some heavy prescription medicine. It wrecks the brain.
What was your first kit and do you still have it?
My first real kit was a Maxwin (made by Pearl) I kept one tom, and it holds things on a shelf these days:)
Who are your influences and heroes? (music-wise)
RUSH, SAGA (of course) The Police, Emerson Lake & Palmer, Jeff Beck, Queen, Van Halen, Steve Vai, Yes, Genesis, Stevie Wonder, Dave Brubeck, Chick Corea and Trilok Gurtu.
What can you tell us about Saga news regarding new album and tour?
We will start recording late 2013 and all I can say is that I'm contributing to the writing process and I'm gonna play my ass off! I'm excited about 2014. We will be touring with Magnum, and doing a cruise with YES. Life doesn't get much better.
MIKE THORNE /Saga
Interview by: Urban "Wally" Wallstrom,


Photos from the provider of Michael's electronic drums, Dauz
www.sagaontour.ca
(c) 2013 RockUnited.Com - Contact