Sauna Open Air
Tampere, Finland
7 June 2008
While many of the Finnish hard rock/metal fans spent the first weekend of June in Sweden Rock, once again Sauna Open Air offered some kind of a consolation for those who chose to stay on this side of the pond. That's what we did, and on a sunny Saturday we headed to Tampere. SOA is a three day event, but the thrash-filled line-up of Friday was of no interest for us, so we did what Finns traditionally do - we went to sauna on Saturday! Sunday's line-up would have had a couple of interesting bands, headliners Whitesnake and the "Back To The Rainbow"-show of Graham Bonnet and Joe Lynn Turner, but having seen Coverdale's troops a while ago and knowing that Bonnet and Taylor would be playing in Turku in a few days, we weren't too disappointed that we were not able to attend.
A couple of bands had already played when we arrived to the festival site. Finnish thrash metal pioneers STONE had opened the day. This gig was their first since 2000, when they regrouped the last time for a couple of festival gigs. The band actually broke up in 1991, and the members went on to other projects, including Suburban Tribe and Children Of Bodom. Judging by the number of Stone T-shirts in the crowd, they made a lot of new friends and re-connected with the old ones too.
The first band we wanted to see was SONATA ARCTICA. Their set was a good selection of hits and album tracks, and they had the best sound of the day. They opened their set with an interesting intro, a song from a Finnish children's TV show about a troll. "Omituisten Otusten Kerho" ("The Club of Weird Creatures") raised a few chuckles from the metal fans, who were probably more used to the normal pompous, orchestrated intros that metal bands tend to favour. The funny intro was followed by an energetic, good-spirited set from a band that seemed to be enjoying playing live.
The master of ceremony was clearly mr. Tony Kakko, a good frontman with a questionnable taste in clothes. The baggy, green trousers and the striped shirt made him look like an elf... all that was missing was a pair of pointy shoes and a pointy hat! His vocals were clear and powerful though, and the interplay between him and keyboard player Henrik Klingenberg was fun to watch. New guitarist Elias Viljanen and the rhythm section of Tommy Portimo (drums) and Marko Paasikoski (bass) were perhaps a little less "showy", but at the same time, they provided the musical backbone of the set.
Setlist:
Kingdom For A Heart
Paid In Full
In Black & White
Caleb
Tallulah
Wolf&Raven
Fullmoon
Gravenimage
Donīt Say A Word
The Cage
Local hard rockers MOONMADNESS were up next on the second stage. I've yet to hear their album so don't expect a setlist, but what I heard live sounded quite good. The band has a fine vocalist in Heidi Bergbacka, and she's a good frontwoman too. The rest of the band are very capable as well, and extra points must go to keyboard player Turkka Vuorinen, who favours a Gregg Giuffria/Andre Andersen-styled keyboard "mountain"... must be pretty hard to fit that to a tiny club stage!
The band's songs would benefit from background vocals, but the guys had left all the vocal duties to Heidi. Too bad, because the choruses would have sounded better with more vocal power. Still, that's merely an observation rather than a complaint. Another observation I made was the fact that the drummer looked a bit out of place in his Beatle-haircut, but he also seemed to be having a real good time rockin' away. Now that I've researched a bit, it appeared that he wasn't the band's real drummer Anton Nikolai, but a stand-in guy from the band Absoluuttinen Nollapiste.
SEBASTIAN BACH was probably the artist I was most looking forward to seeing. I had heard from reliable sources that he's still a force to be reckoned with, unlike some of his cohorts from the late eighties' "hair metal" era. His latest album "Angel Down" proved that he's alive and kicking, even though the songs didn't always work that well. I hoped that the setlist would be a balanced one between Skid Row classics and the new stuff, and that's what it pretty much was.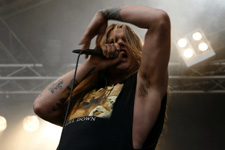 The aforementioned reliable sources were indeed right about Bach, and then some. I don't think I've ever seen a more energetic frontman, and one that could still belt out the high notes and screams. Bach was constantly on the move, headbanging and running around the stage like his life depended on it. Vocally he was in pretty good shape, although I didn't really care for his tendency to scream his head off every chance he got. It was as he was trying a bit too hard to prove that he still has the pipes... in the end it kind of backfired, as he seemed to have some trouble during "I Remember You". We would have believed with less screaming, but I guess Mr. Bach is the kind of guy who believes in the saying "Anything worth doing is worth overdoing"!
The Skid Row classics went down a storm naturally, but some of the new tracks appeared to be almost as popular. "American Metalhead" got the crowd pumping their fists in the air, and even more so when Sebastian stopped the song and asked for more reaction. A cool move that proved that he had the crowd eating out of his hand.
The band, featuring guitarists Metal Mike Chlasciak and Johnny Chromatic, bassist Steve DiGiorgio and drummer Bobby Jarzombek, gave a contemporary, very heavy edge to the songs. That worked out quite well in most cases, although there were a few occasions when the heavy vibe coupled with Bach's attempts at cookie monster vocals went a bit overboard.
The sound of the band wasn't the best, and Bach's constant screaming was at times quite disturbing, but he made up for it with his over-the-top stage antics. He really worked the crowd and while the Scorps probably had a bigger audience, Bach's crowd was more into it. And no, "Youth Gone Wild" didn't sound that weird sung by 40-year old guy... he might not be that young, but he certainly is wild.
Setlist (not necessarily 100% correct)
Back in the Saddle
Slave To The Grind
Stuck Inside
18 and Life
American Metalhead
Love is a Bitchlap
By Your Side
Live And Die
Monkey Business
You Don't Understand
I Remember You
Youth Gone Wild
Angel Down
SCORPIONS. What can you say about them? They are real veterans of rock with 4 decades of history behind them. Their popularity in Finland has twindled quite a bit when it comes to album sales, but they're still a major live draw. There were about 10.000 people watching the band at SOA, as they closed the Saturday's festivities. The current incarnation of the band includes the long-standing members Klaus Meine (voc), Rudolf Schenker (gt) and Matthias Jabs (gt). Drummer James Kottak has been in the band since the nineties, and bassist Pawel Maciwoda joined the band in 2004.
This year the Scorps gave their fans a chance to vote for their "dream" setlist on their website. I must say that the Finnish fans must've been mostly around my age, as the setlist in Tampere featured many of the band's 80'ies classics. No Uli Jon Roth-era songs were played which didn't bother me at all...in fact, most of the songs in the setlist I also voted for. "Rhythm Of Love" would have been a cool addition, and from the new album I was hoping for "The Game Of Love" and "The Future Never Dies", but one can't have 'em all and this set was pretty much perfect as it was.
I wouldn't say that the band was exactly on fire, but their performance was solid enough and hardly disappointing. However, the band had their share of technical problems, and as the show progressed, the sound seemed to detoriate, at least where I was standing. Matthias Jabs' guitar dominated the mix a bit too much, and it made some of the songs almost cacophonic. What's more, during "Dynamite" the lightning system died... thankfully the Finnish summer nights aren't very dark around 9 pm. If it had happened during "Blackout" I would have thought that it was a part of the show, but apparently it wasn't.
If I'd have to name just one member of the band, it would have to be drummer James Kottak. His contribution to the show was very important. Of course he's a superb drummer, but he's also a good vocalist, taking care of most of the backing vocals. He's a true entertainer too: while most drum solos aren't that interesting, Kottak's solo was a good one and it ended with a twist, as the rest of the band joined him and banged their own drums.
Setlist:
Hour 1
Coming Home
Bad Boys Running Wild
The Zoo
No Pain No Gain
Coast To Coast
Send Me An Angel
Holiday
Loving You Sunday Morning
Lovedrive
321
Alien Nation
Dynamite
Drum solo
Blackout
Big City Nights
Encores:
Still Loving You
Humanity
Rock You Like A Hurricane
Review by Kimmo Toivonen, kimmo [at] rockunited.com
Photos by Mira Suutari-Toivonen, mira [at] rockunited.com
Additional photos by Kimmo Toivonen

(c) 2008 RockUnited.Com 11 June