"All About The Album - 15 Questions" - a brand new section at the RockUnited site where any recording artist with an recently released CD is confronted with standard questions (15 of them, duh!). If you'd like to have your material up here, email: urban "at" rockunited.com (simply replace "at" with your standard @ )
SIGNUM REGIS: "The Eyes Of Power"
SIGNUM REGIS feat. Göran Edman (Yngwie Malmsteen, Madison, John Norum, etc.) on vocals, and their self-titled debut album was released on Locomotive Records in 2008. 'The Eyes Of Power' in 2010 is a kind of conceptual metal album. The whole concept revolves around real historical events that defined the Roman – Persian relations during the late antiquity (224 – 630 AD) in the Middle East. With a clear aim to capture the atmosphere of that particular time period and to keep the language as authentic as possible, original written sources and scholar literature were carefully studied. Now released by Inner Wound recordings 'The Eyes of Power' was mastered by Greg Reely [Fear Factory, Machine Head, Coldplay] and what follows is a chat with their bassist and main songwriter (all lyrics by Tommy König and Göran Edman though), here's: Mr. RONNIE KÖNIG...
How has the reaction to your latest CD been?
Until now, all was positive, even more than to the debut CD, so all looks good and promising.
How long did this CD take to make from start to finish, recording-wise?
We started with the drums in March/April 2009 and ended with the last vocal lines in May 2010. We didn't work all the time on the recording. When we started, all the songwriting was done, but there were no lyrics yet, so the instruments were recorded few months earlier than the vocal lines. The whole album "The Eyes Of Power" is a concept album about *Roman - Persian rivalry during the last four centuries of the antiquity. Tommy, who wrote the lyrics and the story, studied original sources and made it all very plausible, from the historical point of view. Of course, it was time consuming and not easy at all. When we count only the days for recording, it was not very much. Maybe a month.
What kind of 'sound', production wise, did you have in the back of your mind, prior to entering the studio?
I think, the vision was not absolutely clear, before we entered the studio. The direction came up shortly after the first drum tracks were recorded. Adrian Ciel - the drummer - played his parts in a fusion kind of style, with lots of tricky breaks and dynamics. I think that this kind of drumming sounds better when sounding live. You can hear the human factor, you here that each drum hit sounds different, it's not machine gun like. In general, I don't like modern recordings, that are too loud, over-compressed, so we definitely wanted to avoid this. The other things are open. We don't have the same
guitar/bass/keyboard sound for every recording that we do. The only thing that can be taken for granted is, that every time we work on something new, we try to make it sound better than the previous one and make it unique.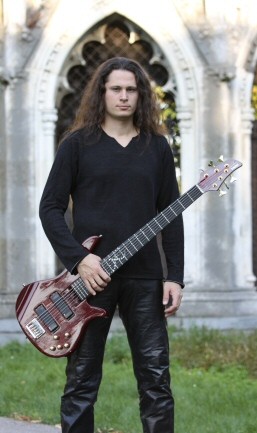 What kind of input did the producer have during the process?
The album was self-produced so the impact was 100%. We have never worked with a real producer. It might be an interesting experience, but I believe, that at this point we are capable of following our goals and we manage to put to the recording everything we want to. After the four recordings that I did as a songwriter, producer and recording engineer at the same time, I gathered quite a lot of know-how and experience. There might sometimes something go wrong, but the process is definitely not a random thing with unpredictable output anymore.
And are you pleased with the final outcome? (sound - production wise)
Yes, definitely. I think we are all proud of what we have done.
Did the producer (you) use any (weird) experimental miking and/or recording techniques?
I changed the positioning of the drum overhead microphones to the X/Y position, which I have never done before. With this type of miking, you don't have to worry if the snare is in the same distance from both overheads, because they are on the same place, more or less. The are just facing each other at 90-180 degrees. It's not my invention, it think it's well known, but I don't see it very often though.
Please inform us about your favourite songs and lyrical highlights and why?
I like the instrumental song Roma Aeterna. It has a deep monumental atmosphere and good memorable musical ideas. Each time when I listen to that song, I am very satisfied with the result and I am thinking to my self "wow, this could be in big budget Hollywood movie". I like the song "One Fatal Enterprise". This song contains the essence of heavy metal, it's like a school book of metal. There's a sick shred right in the beginning, a great guitar riff, verse with some crazy riffing and screaming vocal, high-pitched, sing-along chorus, twin guitars and a fantastic guitar solo. Everything in a good balance and tasteful. What can I say... METAL! From the lyrics side, this is my favorite album among all albums that I worked on. My favorite lyrics are in the song "Purpleborn", because they sound so positive to me and fit to the melody so well. Except from that, the word "Purpleborn" is an original word and it totally makes sense. You would need to read the whole booklet with the story additionals to have the big picture, I guess.
Any overall theme of mood that you're trying to capture while writing songs?
It depends. Some of the songs start from one point and evolve to something unexpected, but most of the time I have a full control of the outcome. I usually start writing a song from a guitar riff and build the song step by step, thinking about connecting one song part to another so that it sounds compact and interesting for the listener. I usually write songs in minor and harmonic minor scale, but I often try to put some interesting parts to the songs, which are based on some other scale, mood type or beat. This is a place where you can sound more original and stand out in some way. Most of the time I
write the groove first and come up with vocal ideas afterwards, but it is not a strict rule. I think that if you start with the vocal lines and do the arrangements afterwards, you tend to write simple arrangements, which is usually OK, but you have a smaller chance to invent a great riff.
Does your vision for coming up with music get affected at all by time?
I think yes, but not as much as in my early days. Now, when I sit down to write a song, I write it and I don't have to struggle very much.
Did the record company interfere with anything on your "sound" and songs?
No, because we didn't have a record deal when we started recording. We got in contact with Inner Wound Recordings after the album was done.
Are there any 'crazy' behind the scenes anecdotes from these sessions that you can share with us?
Nothing special. The only weird thing that happened was, that our drummer arrived for a one a day session late afternoon instead of morning and he still recorded what was planned for that day. Well, sometimes you don't have to be in the studio for ages, if everything goes well.
How would you describe the sound of your new CD to any potential new fan?
If you are a heavy metal fan, you will most probably like it. You might be surprised that there is a band, which is not following the main-stream of metal, which is currently about down-tuned guitars, staccato guitar chops on the lowest string and death metal vocals in the verse and poppy choruses and songs without solos. There is a lot of hard work behind this album, original, interesting and historically true story in a cool looking booklet, great songwriting with untraditional oriental sounding vibe and top notch vocals. If you have never heard any heavy metal recording, it's about time to pick up a good one like this, because this genre is just GREAT!
Who are your influences and heroes? (music-wise)
My heroes are older musician who have been life-long dedicated to music and delivering quality stuff in the age when many people don't do anything at all. It's definitely John Fogerty, he's been around for more than 40 years and still rocks very hard. Maybe harder than before. Ronnie James Dio was brilliant. I have been his fan, even in the days when many made fun of his dragons and thought that it is better to get the hair cut and play some shitty modern/core metal. I think musical-wise, I have been influence by all the legendary bands, that started in 70s and 80s. A little bit from everyone. From the metal
bands, I like Judas Priest, Helloween, Impellitteri, Megadeth, Dio, Metallica, Rainbow, Black Sabbath, Grave Digger, Yngwie Malmsteen, Dream Theater and many others, but I listen to rock music too. As mentioned, John Fogerty is my hero, I like Rod Stewart, Led Zepellin, Guns'n'Roses, some country and blues music too. It's quite a big portfolio.

If there's anything you'd like to add, say, please do:
Thank you very much for reading this interview! Check out our website, you can download some music for free and make your own opinion about it. A guestbook entry would be awesome! www.signum-regis.com
Sincerely,
Ronnie König
Interview by: Urban "Wally" Wallstrom,


Photos from the band's website www.signum-regis.com
(c) 2010 RockUnited.Com - Contact or simply send your answers to above address.