BB's: Hi Mark, it's always a pleasure to catch up. Let's start off with the book you have out at the moment titled "Mark Stanway Close To the Mark. First of all its frigin' hilarious mate, a very entertaining read and highly recommended.
Thanks for your kind comment, I wanted the book to have an amusement factor as that's the way I am naturally, I love joking, telling jokes and not taking myself or anyone else too seriously…..life is too short to be miserable all the time.
BB's Now you have had time to absorb some feedback is there anything you would have done different?
I don't think I would change anything content wise, but next time I will pay a proof reader as there are a few spelling & grammatical errors, however this is rock n roll and it's about rock n roll so fu*k the rules lol.
BB's: Why did you go down the self publishing road when surely a publisher would have picked this up and helped with the logistics, distribution and promotion (and took a chunk of the profit margin too)?
There are many pros and cons with regard to this question and I did ask a couple of fellow authors for advice. Namely Micky Moody (Whitesnake/Snakecharmer guitarist) who has released a few books and he didn't particularly speak highly of publishers generally. The other close friend was Tyla from the Dogs D'amour etc. who releases a book almost annually. He is a great storyteller like Micky. He also advised against that. The main reasons for self-publishing were) a) I have a Magnum fan base which (thanks to the internet) I have major access to and obviously that is my main audience that would know me. A Publisher may very well of advertised globally etc. but unless their advertising was specific to a rock music audience and indeed an audience that was liable to have heard of me then it would have been a waste of time. In all of my years as a professional musician all I have witnessed is the artist constantly being ripped off and poorly or never accounted to honestly. So, I have the books printed, I have them distributed and I know at any one moment exactly how many books have been sold and how many are in stock etc. I prefer to pay someone part time to administer the book sales and distribution than to trust to an outsider….. I have done all of the promotion myself, created all the artwork and flyers etc. and spend a lot of time just 'hitting the net'. I do intend a lot further down the line (when the book has done whatever is achievable by me) to then look at having it published on a strict…I supply you situation.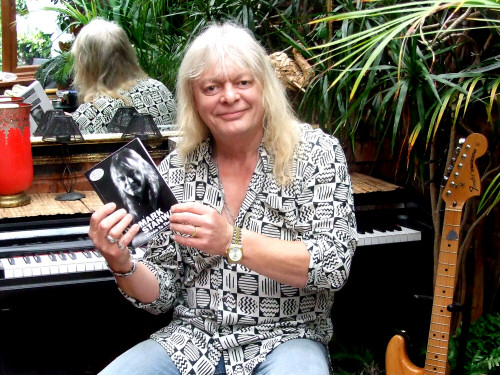 BB's: I was amused with the Phil Mogg story because so many friends in the business always seem to tell it to us about Phil falling off stage and breaking a leg but we never heard about Pete Way pushing him through the airport on a suit case trolley and him falling off it. I'm sure you have some more gems about UFO and other bands?
I have lots more stories and have already starting making notes with a view to doing another book later on (probably a few years' time) which I now dare to be a little more raunchy with.
BB's: How hard was it to choose what to put in the book and leave out?
Not too difficult really because I was sort of governed by 'keeping it legal' avoiding any mitigation etc, and of course a certain amount of censorship as I didn't want my book to have a Parental Guidance issue. Taking those things into account that limited me telling many stories but like I say next time…….. In fact the hardest part was choosing which pictures to use etc as I have thousands.
BB's: How influential was your wife Mo with the book? Did she become like your editor?
She has been invaluable throughout the whole process; her patience and understanding have been exemplary. She also reminded me of many stories and situations and indeed deserved to have a chapter all of her own. She was not so much an editor as a critic and she would read various sections and tell me what she thought etc. I have a fault with writing great long paragraphs without commas and she helped me slow down and allow the reader a little more breath if you know what I'm trying to say?
BB's: The one thing that interested me early on in the book was when you were with Magnum recording the Chasing The Dragon album. You seem to be very interested in the tricks and techniques used by producer Jeff Glixman and you can still remember them to this date.
Is producing something that interests you?
When I was recording Chase the Dragon back in 1980, I had never been into such an advanced, expensive studio that big before let alone had experience of working with a great producer. So it was all new to me and I wanted to absorb as much as I could for future reference etc. I can remember tricks and techniques from every album and producer I have ever worked with since. It fascinates me. With regard to me producing, I did produce Magnum's 'The last dance' live album, but that was pretty much produced by the guys in the band as they played it, I just 'beefed things up where necessary' and eq'd the end result for mastering. My ears these days are not accurate enough to produce anyone else so I wouldn't take on such a responsibility but can always offer advice and experience in any situation that requires it
BB's: Who would you say was the most outstanding producer you have recorded with to date?
Producers are like fashion really, who may have been good in 1980 may not necessarily be any good in 2015 if you see what I mean. The most talented guy I have worked with doing Magnum recording was the guy who engineered and co-produced Vigilante with Roger Taylor. His name was Dave Richards (now sadly departed well before his time) but he was special, great ears, good all round musician, great ideas etc etc so if I had to pick one it would be him.
BB's: We remember doing a festival with Grand Slam and Phil Lynott's road crew coming to us and saying Phil would like you to come back stage to meet him. He told us he had waited ages to meet us and someone had told him he had two other brothers he hadn't met. I'm pretty sure you were very instrumental in that and maybe Laurence who we have known over the years.
How different was it working, writing and performing with Grand Slam to the way Magnum go about their business?
Phil was and still is a legend, and he used to call my wife Mo his sister, I guess it's because there are not too many dark skins in rock as there are white and he had such a great sense of humour, you never really knew if Phil was joking or being serious sometimes….
It was very different playing with Grand Slam as opposed to magnum because all of a sudden I was allowed to write songs for the band and that is something that's not allowed in magnum!! So I enjoyed a lot of musical freedom and expression that I didn't with magnum. Magnum (well tony Clarkin really) is a very well-oiled song writer and doesn't need or want anybody to help or co-write with him, unlike Phil & Grand Slam we would jam for hours with just a riff or chord sequence and drum machine etc and if it worked we recorded it and if it didn't we forgot about it and moved on. I did enjoy the musical freedom very much.
BB's: how much input did you have with the song writing in Grand Slam?
I pretty much co-wrote all the songs with Phil and was a little peeved to say the least when 'Military Man' came out as a b side of Gary Moore's Out in the fields I think and I didn't get a writing credit. I co-wrote that with Phil….but hey sadly both of those guys have gone so let it lie.
BB's: Phil was like a gentle giant; an incredible writer and performer. How did it affect you when he died can you remember were you were and did you get a call or hear it on the news?
I hate talking about it even now. We were so close and he used to come and stay so often at my house just for normality and the family vibe. I did get a call (I won't say who from) so I knew a few hours before the press and the really sad part is that it didn't surprise me, It upset me beyond belief, but it didn't surprise me.
BB's: I know he used to stay with you and your wife Mo and fall asleep alot lol but what did you enjoy about being in his company?
I think my book covers that pretty much and I could write a book just about my relationship with him. Phil had got such a similar and wicked sense of humour as me and that made us a formidable pair, we could read each other without saying anything and we laughed so much together
BB's: Did what happen to Phil and others in the industry affect the way you viewed alcohol and drugs?
Yes my views were obviously affected by the death of such a close mate and whilst I am no angel I have always had a hatred for heroin; I have never tried it or never would. Phil knew this and would never 'do it' in front of me but I knew when he was on it, bad stuff I hate it….evil gear.
BB's You must have been blown away actually being up on stage with Robert Plant when he had the Honey Drippers. Was that another tick on the bucket list?
I have known Robert for so long that it didn't strike me at the time I was on stage with him, of just how big a legend he is. I am obviously proud as punch to have worked and performed live with him but like I say he's a mate just like Phil was.
BB's: Are there any other projects you would like to achieve?
I am enjoying a new project with Spike from the Quireboys called 'Free House' with Luke Morley from Thunder on Guitar, Simon Kirke (Free & bad Company) on drums, me on keys, Spike on vocals and guest bass players (because the late Andy Fraser was supposed to be on bass) we have just done a couple of shows (Sweden rock Festival & the Borderline in London) we are going to be doing more shows around December time and next year record an album of original songs. This was originally conceived to do un-released Frankie miller songs like the album last year called 100% Pure Frankie miller. Also I so love getting the chance to play rock n roll piano and organ which I don't do with magnum so it is a great musical release for me. I would also like to release a solo album which I have been threatening to do for 30 years but just don't ever have the time to continue. I have dozens of ideas and part recorded stuff and would dearly like to finish that one day.
BB's: There's not really alot of back ground info in the book like your child hood and early teen life how come?
I really didn't want the book to be a total autobiography as I find most of them a little conceited to say the least. Talking about myself doesn't feel totally right and I wanted the book to be more about the things I have been privileged to witness, funny stuff you know….
BB's: Your father was very influential in shaping your musical ear and taste have any of your children shown any musical aspirations and would you encourage them into the music scene considering the current climate for musicians at the moment?
Mark I would always encourage a child to be musical, I believe every human being should have the opportunity to express themselves artistically in one way or another. My twin sons are both talented hip-hop artists although the one son (10Shott) is more serious than the other. My wife continues to encourage my grandchildren musically so the important thing is not the music industry and trying to be successful, but the exercising of artistic release and expression. It's all a very healthy thing to do etc.
BB's: You mention having close friends who are Hells Angels. How did the band and management of Magnum feel about you hanging around with these dudes?
Hell's Angels etc ... I wouldn't take any notice of band or management when it comes to choosing my friends, that's up to me and me only….after all they are not my parents for Heaven's sake.
BB's: You mention performing with 3 M in the book that's Micky Moody, Bernie Marsden and Neil Murray all ex Whitesnake. Having seen them all together in Snake charmer it's a timely reminder how good they all are as musicians and how some of those songs stand up today. How did you approach this gig in terms of learning the songs, choosing the right keyboard sounds and deciding whether to play it note for note or put your own Mark on it? (pun intended)
I have also played or deputised several times for Adam Wakeman in Snakecharmer as a matter of interest.
When Bernie called me to do the M3 gig after Don Airey left to play with Deep purple I was told to learn the songs for the set and turn up at the first gig and play. I started listening a little closer to what Jon lord played originally and was stunned at just how good he was. I obviously played the main parts as close as I could to Jon's but I guess I stamped a little of myself on them as well. Great experience and as you say fantastic musicians not forgetting the best drummer I have ever seen or played with…Jimmy Copley.
BB's: Back to Magnum. In your book you talk about your time spent recording with magnum on a shoe string budget with Jet Records in the early days and later obviously as the band became successful the recording budget got bigger. What is the recording process like these days compared to the studios and producers you worked with say around 1987 when rock was king?
Nowadays with technology so easily available, Tony writes lots of potential songs at home on his Apple and then transfers them all to the studio. Thrashes them out until the best remain and the others are ditched. Tony spends most of his time writing and it is a long process in the studio for him and Bob. Me Harry and Al basically learn what he's written go to the studio and record our parts. I for instance can normally do all the main keyboards in 4 or 5 days same with the drums and bass. Everything else time is taken and it continually evolves until completion.
BB's: Well moving bang up to date, where are we at with the new Magnum album? Have you finished your parts yet?
I haven't finished my parts yet I shall be doing those when we have finished doing the summer festivals. I get a cd of the songs and work out piano parts etc at home in my own little studio. I normally come up with a few variations of each given song and tony basically chooses the ones he likes best.
BB's: is it still fun being on tour?
Yes it is still fun being on tour but not quite so boisterous. It takes me a lot longer these days to get over a hangover so I don't tend to get quite as 'jolly' as I used to.
BB's: Ok, finally Mark it's been a pleasure as always and the new book "Mark Stanway Close To The Mark" was even funnier than I thought it would be and seeing so many familiar faces in there was like a trip down memory lane. I'm sure alot of artiste will enjoy this book as much as the fans.
Any message for the fans Mark?
Yes, if you have already bought the book then thank you very much and I sincerely hope you enjoyed it. If you haven't got the book then do so. Just go to www.markstanway.co.uk and order a copy. All credit cards accepted and full PayPal facility.
Thanks Mick & Dez it's great to talk to you again after all this time...
Interview by the Bailey Brothers
Photos copyright Bailey Brothers