One could say that Pete Ahonen is a one-man metal machine. He is the guitarist and main songwriter in three bands, Burning Point, Ghost Machinery and Stargazery. What's more, late last year he released his first solo single, with lyrics in Finnish. At the moment, STARGAZERY is the band that's getting attention, as they're about to release their third album "Constellation". We caught up with and discussed that album and other stuff, including the two other bands.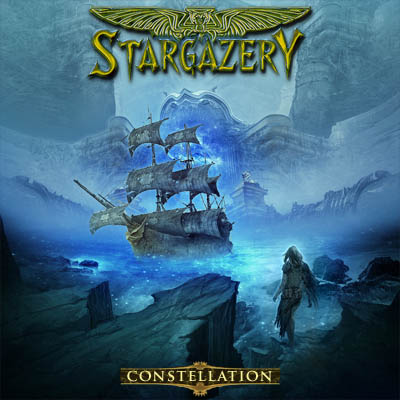 Hello Pete! The world as we know it has changed and not necessarily for the better. How has the COVID-19 situation affected your life?

-- Hi there! Indeed indeed! Tough times for everyone for sure
Well, no visiting with grandparents, it's hard when they can't see the their grandkids. Extra cautious in shops etc. Same "problems" as the rest of the people I think.


The new Stargazery album is a very good one. Was it a long process to write and record it? It's been 5 years since the previous one.

-- Thank you! Very proud of what we did
I think I wrote the music a few years ago, but then the line-up changes kind of messed up the schedule. After we recorded the basic tracks, I kind of suffered a minor writer's block. A lots to say, but couldn't get them on paper. Next album won't take 5 years to make!

Which songs do you think are the cornerstones of this album?

-- As our label boss said, it's a hit album through and through
! Very hard to choose....It is our most varied album for sure. Fast songs, ballad, epic mid-tempo stuff etc. Something for everyone, but it still carries the "core" of Stargazery.
The live opportunities for the next few months have obviously gone out of the window, but do you think that you'll be taking Stargazery to the road when it's possible?

-- Yes definitively we will be planning live shows when possible.

Many artists have started to do online gigs, is that something you've considered?

-- We've been brainstorming this yes.

We're friends on Facebook and I can't help noticing that you're doing a lot of studio work. Stargazery's new album will be released on May 29th, so I assume you're working on new Burning Point or Ghost Machinery material? Or more solo stuff?

-- Yes, I just noticed that this year is kind of of "anniversary" year for me and the Helgate Studio. I've been recording and rehearsing there for a 15 years. So, it feels like a second home. And yes for now I am doing finishing touches to Burning Point's new album. Few solos and we're done. It sounds absolutely amazing! Much more heavier (but always maintaining melody) than the previous one we did.

I've always wondered… how do you work when writing songs? Do you just write and then decide for which band the song goes to, or do you sit down and write with a particular band in mind?
-- I usually just pick up the guitar ad start jamming and suddenly songs just keeps popping
It's pretty much obvious (to me) from the start to which band it suits the best. Of course there are songs on our discography that could be played with any of the three bands, but also songs that couldn't because the're so AOR or too heavy etc.

I know you like AOR too, so is there are a chance that you'd come up with a project in that vein some day?

-- Yeah, big fan of AOR too. Well, in way Ghost Machinery is my outlet for such genre
It is much more keyboard-orientated in general than the other bands and I can release my AOR-side doing stuff for GM.

You released "Pala Taivasta", your first Finnish-language solo single recently. How has it been received and are there plans for more?

-- Reactions have been great and I am very happy that it finally got released. I might release new stuff yes, but not right now.

Burning Point has a new singer Luca Sturniolo, when can we expect to hear new material?

-- As I mentioned, I am putting finishing touches on the album and I hope new single will be out very soon! It all depends on the labels release schedule.

What's happening in the Ghost Machinery camp at the moment?

-- We're taking a little break, but new album is constantly knocking in the back of my mind.
Interview by: Kimmo Toivonen
https://www.facebook.com/stargazery
https://www.facebook.com/Pete-Ahonen-Artist-Page

(c) 2020 RockUnited.Com