TUSKA OPEN AIR FESTIVAL - Helsinki, Finland - July 15th-17th 2005
FRIDAY
As the festival already yells out pain in its english translation, one has to stay loyal to the name and start the weekend ceremonies in pain and covered in blood. Nothing new under the sun and very typical havoc coming from a blonde which is yours truly, ten seconds after entering the festival area I ran straight into one of the heavy steel stakes which keep the large tents up. Something sharp sticking out from the stake left my ankle with two deep cuts, which I didn't notice at first until the endless bloodflow began. Well, nothing to cry about really, so I just cursed to my typical luck. So my first meeting of the day was in the local emergency tent. Got a nice patch, which fit perfectly to the atmosphere, and with a mini-skirt...Now I really had something to brag about, hah ! And how typical, no alcohol was yet used in this picture ! Only after a few minutes I was already out and ready to continue the sold out metal party, which had grown some from last year and sold some 33 000 tickets.
TERÄSBETONI kicked off the festival with their finnish Manowar- like preaches about truth, honour & brotherhood. These guys are one of the hottest names in the finnish metal scene right now, eventhough foreigners might find their finnish lyrics a bit weird and might not get that deep into their spirit. Their message isn't all that dry though, their music has humour and irony tingling inside. Some people find their music serious business though and so the festival grounds saw the many faces of metal fans. Even many jealous faces of those who aren't too keen to the idea of a metal band selling gold records only after what seems like a years work behind it all, but is in fact more than that. But no matter what, you couldn't disregard the fact that the boys meant business in their shirtless, skinny presence and their show was great. Their faces stayed serious through it all, even among whatever booing came from the crowd and even in the midst of their own jokes. All their hits were heard, which mainly means the whole debut album from them. The ones that really got the crowd going were the most pompous ones "Orjatar", "Pyhä Maa" and "Taivas Lyö Tulta". Jarkko Ahola as a singer is an amazing find in the finnish metal scene.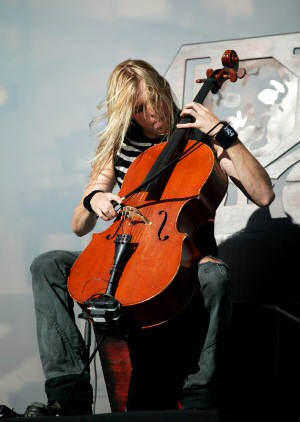 Even with his small appearance which spices up the irony side brilliantly, his voice speaks different language. He sounds almost as big as Manowar's Eric Adams, of course not as much defiance put in the game, but the whole band has their own thing going. They take a complitely different act when walking on stage. And while being skinny they still uncover their upper bodies in the name of metal. But as usual, their show was a success once again. Teräsbetoni kept themselves really busy this summer, doing an amazing amount of festivals, even one in the famous Wacken in Germany.
The time ran fast while meeting up with friends and soon I noticed I had skipped the show from finnish APOCALYPTICA, though heard them. Their cello metal still has a place in the metal fans hearts and it seemed their show was as energetic as always, after the show the guys appeared backstage soaked in sweat. The day went by really fast, so more skipping was done with Wintersun, Malediction, Finntroll, Destruction and Callisto. Each year you get to meet new people in the big festival and considering the success with Tuska, they could get even bigger, if it was possible. Who knows where Tuska will be held next year though, there's been a few complaints from local citizens about noise, which really doesn't exceed the other festival noises which are also kept here. Talk about attitude towards metal again, but seems like only a handful of finnish people can ruin the fun from thousands, which can't be said to happen in Germany, as Wacken has been in the same area since 1990, and this festival is even louder than Tuska, with its inhabitants living right around the corner of all things metal. To quote a legendary mug from Wacken; "If it's not in your blood, you will never understand !". There's point when it comes to a few finns.
PRIMAL FEAR gave me an interview backstage before their show and Ralf Scheepers had no shame stripping in front of me changing his costume for the show. What the heck...but really, when it comes to finns I guess we're one of the few people in the world together with some natives who occasionally without shame stroll around naked, even when it comes to having a party with friends. I guess I had no excuse in being enbarrased then and after all, Ralf still kept his underwear on. Wheew ! Not that there's nothing wrong with him, he's actually a very nice guy, but just imagine the situation...Another quote suits here from the one and only Judas Priest; "YOU'VE GOT ANOTHER THING COMING !" Being in the music business you never know what's around the next corner, eventhough I had my doubts about the evening when the boys from THUNDERSTONE were around. And yes, we all saw it coming, their bassplayer Titus was having fun again and continued where Ralf left with. So yeah, call it fun under the sun, it was a very warm day and one that surely justified everyone to get naked. Unfortunately no one else went with that idea. But back to Primal Fear. They surprisingly played their show in the small Helsinki stage tent, but the athosphere oozed metal. The band played the best set of the day, being just as powerful and bombastic as they sound on their albums, eventhough they didn't get it all done without technical problems. Their "Metal Is Forever" crowned the set, eventhough it wasn't their last song. They also had decided to leave out "In Metal", which is also one of the greatest metal anthems. Ralf, the ex-singer of Gamma Ray, grows with his stage act year by year and the band was really tight too. Their show wasn't a dull and dry one with just blasting the metal songs through, but came with jokes and speaches, where at least their guitarist Tom Naumann was introduced as the sex machine and Finland was appreciated by the band as "the land of metal". The bands trip to Finland started at 4 a.m, but their fans didn't get a snoozy show from the band, it was pure power. Other songs heard were "Final Embrace", "Battallions Of Hate", "Suicide & Mania", "The Healer", "Under Your Spell", "Running In The Dust", "Nuclear Fire" and after "Metal Is Forever" came "Fear". After the band finished, many metalheads left the area for the day.
It was MONSTER MAGNET that finished the evening and fell a bit out of place in a metal festival. This band works best as a club band, but Dave Wyndorf and the guys still managed to have a fairly good show where Dave decided to go with some somersaults. While at it he was drinking water, but that wasn't probably all he had that night though, since the band cancelled all their interviews after the show. Probably didn't feel like doing those at the time. Even that the band is usually a good live band, their Tuska show didn't bring out their best. Their set could've been more interesting, now they had forgotten many of their hits from it. But when they did play some, there was some action happening among the crowd. I enjoyed at least from "Twin Earth", "Dopes To Infinity", "Powertrip" and "Spacelord". Some other songs heard were "Elephant Bell", "Radiation Day", "Monolithic", "Super Cruel" and "Unbroken".
Afterwards we found ourselves checking out the backstage fun and I found some cool German dudes to chat with. Turned out one of them thought he could just go unnoticed eventhough I knew even before I sat down there who he was. When I started collecting some e-mail addies that's when his "cover" was blown. He decided to sign my notebook "Tom Naumann" (PRIMAL FEAR) and I had to tell him it was already clear to me before who he was. Looking very surprised he didn't mind being noticed though, so we continued a humorous chat for a while until we had to leave. Cheers guys ! Tom and co. surely had fun in Finland and the next time we saw was in Germany only a week later. Friday ended exactly at 11 for everyone, no later than that, since there are limits with noise in Helsinki. Tavastia club continued the evening with a few metal bands and members from Primal Fear came there and also Zachary from TAROT, who was having a good time partying along the bands. AGONIZER had already played their set when we got there, but DAUNTLESS and the Estonian HORRICANE offered some brutal metal that blew the clubs energy levels to the roof, eventhough the club was only half full. Maybe a bit too brutal choice to end the evening, but the bands gave performances which some less brutal ones cannot ever achieve, a thing to especially enjoy about these shows. Other clubs were also having their late shows after Tuska, but Tavastia continued really late, so after the bands were done, so were we for the night.
SATURDAY
No way to drag ourselves to Tuska for the first bands, we were all beaten from the day before. But as the area started getting packed, we found our way there just in time to check out GAMMA RAY. They were the most interesting act here today among the other foreign bands, so it was quite difficult to see the band close. Having seen them a few times already I wasn't exactly that anxious to get myself to the first row, but this show was different from the rest. This time their keyboard player was none other than Eero Kaukomies from the finnish Gamma Ray-tribute band Guardians Of Mankind, who found his big break through that. Knowing the guy I was really interested in seing how nervous he's gonna be on such a huge stage and playing with his idols, but he was really cool and played a few keysolos that even surprised the other band members, so he fitted in great. The band gave an enjoyable show that also included Helloween cover "I Want Out" of course. It worked well for the fans and the whole show was probably one of the best ones I've seen from them.
No time to breathe, as TESTAMENT began their set quite soon after Gamma-guys finished. The band didn't really have nothing new to their set compared to last year, the only exception was that this show was among the few ones that included the original line-up, with their guitarist Alex Skolnick, who's been doing his jazz stuff to this date and Eric Peterson, Greg Christian and Louis Clemente. The set was a blast from the past, loads of great old tunes were heard such as "Electric Crown", "Practice What You Preach", "The Haunting", "Sins Of Omission", "The Legacy", "Alone In The Dark", "Over the Wall", "Trial By Fire" and so on. It's been a while since Testament played in Helsinki, but the band has visited Finland a few times elsewhere. The last time I saw them here was in 1992 with Iron Maiden, and it was a very nostalgic evening. This day was no exception, the band got an overwhelming welcome from their fans and played as good as ever, keeping their levels as high as seen before in Germany and Sweden last year. Chuck Billy still kept playing with his mike, while Skolnick delivered great solos. Eventhough Skolnick might not be that metal in his short haircut, his fans haven't abandoned him for that. All who were ever into his playing, were still keeping their eyes glued to his fretboard. And everyone wanted to talk with him, as with the rest of the guys, and Alex was really polite answering millions of questions and giving autographs. The festival had the signing sessions for everyone to attend to as usual and the tents were full of dedicated fans.
The finns THUNDERSTONE played on the Sue Stage, which was a bit different from earlier years. Now there was a better chance to see on stage and even for people to sit in the back of the area from all the fuss happening in front of the stage. At eight p.m. the area was packed and eventhough Thunderstone's material might be a little too melodic for the average Tuska goer, their show was convincing. And fans got their sweat and power, along with some humourous bits. "Forth Into The Black", "Let The Demons Free", "I Will Come Again", "Eyes Of A Stranger" and "Until We Touch The Burning Sun" were some of the songs heard, so it was a pleasingly powerful set and since the band is so lively on stage, they're always a good catch. Pasi Rantanen didn't have his best days on vocals, but managed to pull the show through well enough. A few times I was a little bit worried of his voice though, the highest parts are always a curse to singers on bad days.
The evening ended in death metal spirit, as DIMMU BORGIR brought their blasphemic norwegian attitude on Radio City Stage just before nine. They were surely one of the most waited bands of the day along with Testament and Gamma Ray and fans weren't going to be too disappointed with the show. The atmosphere was very intense, one close to apocalyptic heights, where Shagraths dark vocals, the blood and steel-type costumes only made the experience more fuller and intriguing, or for some maybe helluva scary. But eventhough the band is quite visual, which I've praised to Shagrath himself being something along the lines of the movie Hellraiser, something vital is still missing from them that would make the whole set complete. And somehow all the typical scary fillers didn't come out right in this outdoor festival, so the show lost some of its edge with that. But still you had to be pleased with their set, I still enjoyed all what one could filter out from it, you gotta love all things horror ! The fans of Nile and Angel Corpse were pleased to see drummer Tony Laureano with the band and he continued playing with them in Earthshaker festival, Germany, also. The short set ended with "Mourning Palace", which closed Tuska's Saturday in graceful horror.
SUNDAY
It was a pleasant waky waky for metalheads in hangover on Sunday with a perverse kickoff, when finns TURMION KÄTILÖT kicked off their set with their typical show of masks, naked body parts and perverse lyrics, backed up with Rammstein-like hammering that suited just fine to the terrible headache. I wasn't having one, but felt sympathy for those who were. Kätilöt wasn't too extreme for people present though, everyone was enjoying their weirdorama to high praises. Definately a band one has to see at least once.
The hangover was really, really pleased about the next turmoil, which was another noisy finn bunch, CHILDREN OF BODOM. They had no intention on lowering the energy and noise levels, but also hammered their set through with fine classics such as "Everytime I Die", "Hate Me", "Deadnight Warrior", "Needled 24-7", "Knuckleduster", "Hate Crew Deathroll" and even a new tune, which the crowd moshed to like any other old songs. Wherever these guys go, it's amazing to see the mass of crowds they draw in. While at their show, you might get the expression you were watching some really rare foreign band visiting Finland, everyone is really hyped up and the band never takes a rest on stage. Their show has improved somewhat, as in Tuska they even had a few barrels on stage for amusement, where they grilled some true metal dinner, sausages ! Also a few other jokes were passed during the show, one was about their fellow countrymen Teräsbetoni. Where Teräsbetoni sings "Taivas Lyö Tulta", Alexi changed the first word taivas and went with "tynnyrit lyö tulta", referring to the barrels that were in flames. One could've been insulted by it, but as most of the crowd were laughing at it, they either took it as a good joke or didn't dig the whole Teräsbetoni concept at all. At some point while Alexi kept his speaches he went and wondered if they should all just go and hit the sack. Was someone yawning in front row or was the band just tired, stays a mystery.
SKYCLAD is another band that some metalheads don't cope that well with, along with the Friday main band Monster Magnet. But still they're always in my opinion a band worth seing. Their hilariously happy folkish, leap to the past times atmosphere is something else from the pretty common stiff-and-shit-faced, no-jokes-about-it metal spirit and would do some good for a few people. I had to pass the show, but heard positive things about them, as usual.
Playing their last few shows ever SENTENCED went through with their burial set as smoothly as ever, staying spiritually as suicidal and dark as ever, though the guys didn't seem as sharp as usual. Ville Laihiala wanted to share a few words with their fans and he even mentioned love there, but then quickly suggested that they should just play. The band was feeling good anyhow and didn't want to leave without these few words, which was a plus from the usually very silent band. The set was full of great songs and eventhough the fans were very happy to see these guys again, the atmosphere was at the same time very sad, the coffin on stage was making it even more sadder. The guys left the stage maybe a bit too fast concidering some might never see them again. The setlist: Where Waters Fall Frozen, Excuse Me While I Kill Myself, May Today Become The Day, Nepenthe, Ever-Frost, The Rain Comes Falling Down, Despair-Ridden Hearts, Bleed, Cross My Heart And Hope To Die, No One There, Noose, Vengeance Is Mine.
From suicidal thoughts we moved on to more suicidal thoughts. It was time for EVERGREY and their melodic, dark and powerful progmetal. Eventhough the guys don't think they play progmetal, they still draw progfans to their shows, since they are after all a very technical and skillful band. And those fans are very dedicated to this band, who bring very passionate and deep subjects out in their music. This passionate dedication towards the band blew the minds from both the band and the rest of the audience who were just curious towards the band. Even before Evergrey started playing they were applaused very loudly and as "Blinded" started, the raging moshpit was on and the crowd was singing along loudly and people were dancing. What a party !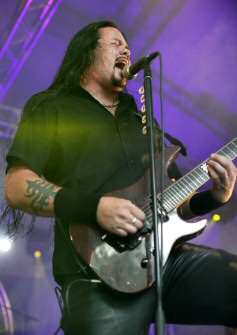 The guys seemed happily surprised of their success, but as finnish people, these swedes didn't take much time having speaches. There's something they've got in common with our suiciders The Sentenced ! Once the party even reached a point where some guys under the influences of their high testosterone levels and alcohol steamed up a little, but still no bloody fights were seen, eventhough it looked quite bad. Evergrey, along with other bands in Tuska, were having some technical problems, but with the great spirit in the show no one hardly cared or noticed such and the band was only experiencing difficulties in the beginning of the set. All in all this was an overwhelmingly great experience, which I'm sure also left the somewhat shy band on stage very happy, not to mention their fans who hadn't seen them anywhere before Tuska, eventhough this was the second visit from Evergrey here. The setlist: Blinded, End Of Your Days, Rulers Of The Mind, More Than Ever, She Speaks To The Dead, As I Lie Here Bleeding, I'm Sorry, Recreation Day, Mark Of The Triangle, A Touch Of Blessing, The Masterplan
ACCEPT is a band that really deserves its headliner place, so Tuska closed with Udo Dirkschneider and company getting their "balls to the wall", not word by word though. With such a thick and sweaty metal spirit if I had balls and was crazy enough, Accept would be one where I'd just go and bang my jewels against the wall just for the sickness and fun of it. Well, they didn't exactly go and give away their best hit immediately. "London Leatherboys" was a fine one in the beginning of the set that works with its similar heavy riffing and sing-along parts. Being the german heavy metal pioneers they are, they sure have what it takes to play a great set. The songs simply crushed and Udo's rough vocals can easily take the crowd to some mad moshing. Finns just love this band. Some other great songs from Accept were "Metal Heart", "Neon Nights", "Fast As A Shark", "Princess Of A Dawn" and of course they finished the set with "Balls To The Wall", which like anywhere else they've been playing was done with a really long sing-along part. Away from stage Accept isn't all that mighty star attitude, they enjoyed their time off backstage just like anyone else present there that day.
Each night ended towards some clubs for more shows, which mostly presented more popular finnish bands. The metal clubs worth visiting in todays Helsinki are at least Corner Bar, Tavastia, Gloria, Night Life Rock and even Manala and On The Rocks occasionally. Tuska was blessed with a warm and sunny weather and the people were enjoying every bit of the festival. So far this festival has been a closed event, meaning once you go in, you only get out once per day. This is to keep the city of Helsinki clean from both the drunken people and trash. With next year this will hopefully change though, if the festival area switches elsewhere, so people can go out to eat besides the quite poor festival food and whatever else they fancy doing. Apart from the food the festival area has been covered quite well with services and like any good festival, you can even meet up with your idols.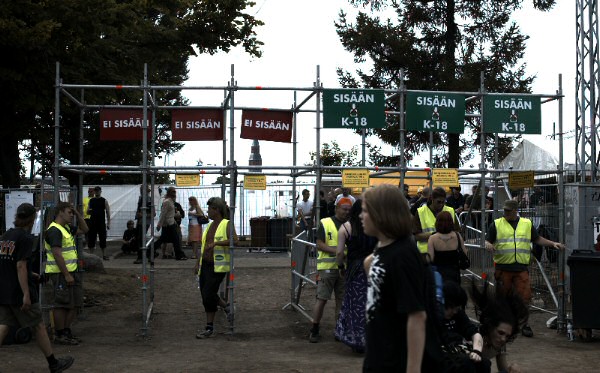 Report by Satu Reunanen, satu [at] rockunited.com
Pictures by Kari Helenius, carda [at] metalphotos.com
Hi-Res versions of the pix and more at http://www.metalphotos.com/Coppermine

(c)2005 RockUnited.Com