From the moment we received our press pack from Grand Slam Records USA in the mid 80's (thanks to Dr Scott Reich) we Knew we had stumbled across something pretty special. The album Fight To Survive featured Mike Tramp and the melodic guitar virtuoso Vita Bratta who had a sound and style that stood out from the pack. They were virtually unknown in Europe and it was tough going at first to convince the audience that White Lion deserved to share the turn table with the rest of the rock giants. Grand Slam Records unfortunately went tits up in 1985. White Lion signed to Atlantic Records and their breakthrough album Pride was released in 1987."Wait" was their first single and the band didn't waste any time clawing their way through endless tours with the likes of Aerosmith, Ozzy Osborne and Kiss etc.
MTV was a vehicle for many cool bands and needless to say White Lion appeared on our programme play list often." When The Children Cry" was a smash hit in the USA and the ballad was well received in Europe. You can't help but feel it was also an anvil around the Lions neck as the song seemed to put the band in a pigeon hole of wimpy rock. Live though, they were a different animal as we found to our delight at a show in Nottingham , England . There's no wonder Vito was voted best new guitarist in Guitar World magazine. He would go on to be respected by many musicians and fans around the world. Twenty years later you can find loads of dudes on You Tube trying to show you they can play his licks (emphasis on trying). That's an accolade in itself.
We did meet up with the guys before the show where we interviewed Mike for our radio show and he showed us his leather jacket with a painting of Phil Lynott on it. Say no more, the guy has got good taste. Mike was and still is the driving force and corner stone of White Lion.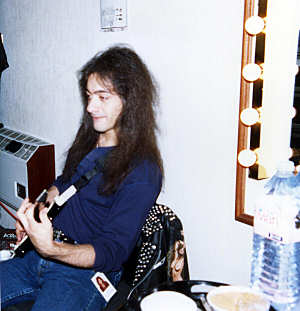 Vito was a pro he never stopped playing his guitar back stage, warming up for what was a killer live show. Unfortunately he seemed to turn his back on the music scene and although you can never say never, Mike and Vito on a new album and on stage together in White Lion seems a long way away from becoming reality. Many fans will remember White Lion for the." When The Children Cry" ballad but for us songs like Little Fighter, Lady Of The valley, Wait and Broken Heart spring to mind as classic White Lion gems.
The other point worth mentioning is White Lion were never frightened to make a political statement as you can see from the Big Game album cover or in songs such as "Little Fighter" about the Greenpeace ship Rainbow Warrior.
Like most of the melodic rock scene White Lion disappeared into that deep dark jungle after disbanding in 1991 .We were more than pleased to welcome their return in 2003. Mike Tramp built a new look White Lion around the talents of Jamie Law on guitar, Claus Langeskov on bass, Henning Wanner on keyboards and Troy Patrick Farrell on drums. This line-up appeared with much acclaim in such Festivals as Bang Your Head, Gods Of Metal, Sweden Rock etc..
White Lion are back with a brand new album titled RETURN OF THE PRIDE, their first studio album in 16 years. We took the opportunity to interview White Lion (and Jaded Heart's) keyboard player Henning Wanner to find out how things are shaping up for White Lion in 2008?
BB's: Henning, how has it worked out with Mike, now based in Australia, regarding writing the album, rehearsals and recording?
These days it's not a problem to work on songs on different continents, at all. You just send your ideas and files back and forth via the internet. Everyone has a little home studio which is enough for recording demo tracks. Actually Mike wrote all the songs on his own with later contributions from Claus (Langeskov, in English "Longwood", bass). So everyone else got almost ready songs in a kind of final version to work on.
BB's: You were pretty impressed with the White Lion line up when we spoke after your Firefest gig (with Jaded Heart). Talk us through the line up and what they bring to the table?
WHITE LION is Mike Tramp (nothing left to say...well, one thing: Now he sings better than ever), Troy Patrick Farrell, drums, from L.A., USA, Jamie Law, guitars, from Adelaide, Australia, Claus Longwood, bass, from Copenhagen (which is Tramp's birthplace) and myself: Henning "Wanna" Wanner, keyboards, from Duesseldorf, Germany.
Troy is a really cool guy from the LA music scene. He played together with all the names we know from the 80s and 90s...members of Guns'n'Roses, Quite Riot, Alice Cooper and so on. He is a fantastic live drummer with an extraordinary stage appearance.
Jamie is a nature boy from the woods in Australia who seems to have done only one thing in his life: Playing the guitar. He is a great singer, as well, which is very important to create all the choirs live on stage. Together with Claus and me singing we never need any kind of samples like so many bands use on stage. I hate that – this is not Rock'N'Roll at all; playback tracks and that kind of shit.
Coming back to Claus, Besides Tramp he is the musical director in the band. He knows how to play and place every instrument and sound the right way. That's the reason why he was involved into the production of the new album like he was. In addition to that he is our good soul in the band...mother, psychiatrist and doctor in one person...hehe.
Me, I am just a rock musician who happened to be at the right place the right time. I used to be a big fan of the band back in the 80s and 90s. Because of that Tramp is still making fun of me...besides the fact that I am German...which is funny enough for the other guys (for example when I come over with my Scorpions-English...). I started with piano lessons at the age of five and I turned to rock music when I was 15. I performed as singer, bass player, rhythm guitar player and finally...keyboard player. This is the circle of my life.
BB's: How would you describe the direction of the new album?
It is a 100 % WHITE LION album which shows all the trademarks of the old albums. Above all there is Mike's unique voice. You find great guitar riffs and solos and fantastic melodies. There is even a piano ballad on it so it can be considered to be the follow-up of the MANE ATTRACTION record. The sound is very dynamic and straight to your face, kind of dry. Not like all these bombastic metal productions you find everywhere in the scene. We have two epic songs on it which will surprise many fans as well as songs in the BROKEN HEART style. It can definitely not be put into the same corner with Mike's solo records. As the title (which is very well chosen) says – this is a WHITE LION album.
BB's: When can we see White Lion live? Are there any tours planed for 2008?
Now it's too early to name any tour plans, but be sure that we want to promote the new album live on stage and we will play some of the new songs. Right now we are confirmed on this year's BANG YOUR HEAD festival in Balingen , Germany . Let's see if we can turn it into a whole festival summer. Don't miss it and enjoy the new songs from WHITE LION!
BB's: Henning, how do you manage to combine playing for both White Lion and Jaded Heart?
I give my best that the two bands do not collide. Let's hope I can do this in the future, as well. But we are not touring the whole year so with the correct planning it works out well. Besides that, there are certain synergy effects coming from this situation, as well. Without playing in the one band I would not have been chosen for the other one: Mike Tramp Solo and Jaded Heart once shared the same record company (Ulftone) and Ulf Zick, the owner of Ulftone Records, recommended me being the right keyboard player for WHITE LION when Mike was searching for one some years ago.
BB's: What if the dates clash, who takes priority?
Please do not ask this. ( We just did) You can imagine the answer...WHITE LION is always the band which contributed and still contributes more to the international music scene and it will always be a name to be remembered. For me being a member of one of my favourite bands is still an honour and a dream coming true so I will never destroy this dream by not being ready to rumble side by side with Mike Tramp.
BB's: We heard a few sound bites from the album but what do you think are the songs to look out for fromReturn Of The Pride?
Well guys here is some titles of songs to remember: Album title: RETURN OF THE PRIDE, epic songs: SANGRE DE CRISTO, BATTLE AT LITTLE BIG HORN , follow-up for BROKEN HEART: SET ME FREE. These songs are my favourite tracks, as well. But the whole album is great, believe me.
BB's: What songs do you personally enjoy playing live to the fans?
My favourite live tracks we play are: BROKEN HEART, ALL THE FALLEN MEN, LADY OF THE VALLEY and all the ballads we play...
BB's: Thanks Henning, for talking to us and good luck to White Lion with the new album, Return Of The Pride. We hope you guys come roaring back to Europe for a tour later this year.
Interview by The Bailey Brothers, January 2008
Live White Lion photos supplied by Henning Wanner,
all other photos (c) The Bailey Brothers
White Lion websites:
www.returnofthepride.com
www.myspace.com/returnofthepride