The crowd roars at the first sighting of the Bay Area heroes, Dave and John wearing black waist coats take their positions stage left facing the audience, like two gun slingers ready to "Open Fire" but hey, that was last years opener tonight it's "Hang Em High".
Meniketti centre stage appears to be playing his trade mark Gibson Les Paul but itís actually a new guitar a friend made for him about a year ago. His treasured Les Paul is having serious surgery back at Gibson but itís Dave in the operating theatre tonight. With ease and confidence he pulls out the trade mark licks thatís kept him in the guitar hero saddle through many a bumpy ride. It was apparent during sound check that Y&T is very much a team effort. Thereís one new member we want to mention - Mike Vanderhule, who has replaced Leonard Haze on drums.
Seventeen drummers were put forward for the gig after panic phone calls from Dave to his friends in bands such as Whitesnake and Queensryche. Mike had one week to learn the huge Y&T catalogue before being thrown in to the lions den. Heís played with the legend that is Neil Schon (Journey) also Steve Lukather (Toto) so this cat ainít going to shy away in the corner - heís already driving this well oiled machine from the rear of the stage.
Every cool band has a solid rhythm section and guitarist John Nymann is a very important part of Y&T. John also dons a Sunburst Les Paul and both he and Meniketti have Messa Boogie Dual Rectifier amps that are growling like Rotweilers ready to tear the postmanís arm off! Between them they deliver the perfect package and compliment each others styles. Itís all gonna be treble city without the meat and veg on the plate that is Phil Kennemoreís bass. For 34 years heís trodden the boards with Dave in Y&T coming up with many of the lyrics and vocally live he and Nymann throw in the 3rds and 5ths that all add up to a great vocal harmony group. Thatís the line up that are now drawing the crowd in like a fishermanís net but before we all get tangled up thereís a brief pause whilst Meniketti changes guitars.
Dave then says "What can we pull out of the hat?" Dirty Girl slides out from beneath a bluesy fret board almost unnoticed in what I would describe as a typical early 70ís style rhythm bed. The tempo picks up and the sheets are pulled back to reveal the naked truth that Dirty Girl is just a timeless Y&T classic. Just like last year it demands you sing the chorus and the fans donít need much persuasion to raise the temperature in the Rock City even higher. John Nymann for the first time tonight also has a chance to show he can hold centre stage and pull out a few tasty melodic licks of his own. The crowd response delights Dave Maneketti who says "Can we make this an annual event? In fact why donít we play an album every week and just stay here for a few months?"
Dave says he wants to play one of his favourites, "Surrender", which they ainít done for a while. The 1990 classic from the "Ten" album packs more punch than an Ali V Foreman boxing epic. The crowd cry out for the song "Forever" but Dave says "We will play it tonight but this is not the appropriate time" Instead we are treated to the delightful "Donít be afraid of the Dark". Thereís a real subtle but precise little rhythm ditty from John Nymann that I just love, it sneaks in like an opportunist thief but its gone before you can identify the culprit good song writing. Daveís voice just ainít fading with age and he still sings everything in the original keys. His rich warm soulful voice floats through the hot sweaty atmosphere like a butterfly offering a range of calming colours that wash over you as the sweat trickles down your face. The white spot lights from the lighting rig above Mike Vanderhuleís drum kit pick out an audience truly transfixed...
If youíre not afraid of the dark then be afraid of a dead battery in your effects chain. Dave fills in the gaps like a pro would with a party piece of holding his guitar to his lips (Hendrix style) then talking down the guitar pick ups which are amplified. He says "Itís funny what you learn to do when you are bored in the studio". Throwing away his compeer hat they immediately raise the bar a few notches with "Meanstreak". The 1983 title track has far more venom than the snake on the album cover for sure. Needless to say "Meanstreak" just kicked ass.
Considering there was a big rock weekend festival going on down the road it could have been lonely for Y&T here tonight but the crowd are out in force to witness another breathtaking performance. "Lonely Side Of Town" oozes out of the PA like an overflowing water feature that you donít want to take your eyes off, the gentle trickle of Menikettiís rhythm playing as he fades into the back ground to allow Phil and John to share centre stage a little. Hey, you know what? Itís hard to describe in words the experience of a Y&T show. Just the ending of this song is pure class with an in your face dual harmony guitar segment followed by a few big rhythm guitar stabs and a kick drum right in your balls.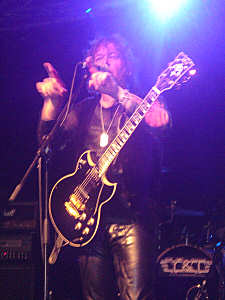 "Bar Room Boogie" throws something different into the arena of anthems. I like the way Dave just sings and doesnít play guitar for a while at the beginning, John Neymann holds everything together just playing along to drummer Vanderhuleís hi hat. Thereís no bass at this point, just a sort of ZZ top style guitar lick that jumps in and out like a fish in a pond but it was "Summertime Girls" that made a surprise big splash. Dave says "I thought you would hate that one by now". The mid 80ís tongue in cheek babe city gem helped wake up a pretty dormant USA market for Y&T as it was a big MTV favourite. It was very popular on our MTVís Metal Hammer show. We hear itís still played on VH One although we ainít seen it in a while. Such an up and happy song and the video is every mans dream! It received a huge cheer from a knowledgeable audience, but it wasnít the ultimate climax though. For me "Forever" and "I believe In You" were fighting for pole position with the instrumental "I'll Cry For You". They all made it to the winnerís podium tonight but who came out the overall champion is a tough call. When you have songs like "Rescue Me" and "Rock N Rollís Gonna Save The World" still to come and then can come back on stage to play an awesome "Midnight In Tokyo" and finish off with "Black Tiger" its not about individual favourites. The whole show was the ultimate prize.
By the way, I forgot to mention that they even throw "Contagious" in to the live set especially for the Baileys so did we have a good day? Well, do bears shit in the woods?
Look out for Y&T in Europe who are shooting a live DVD in Holland so be there...
The Bailey Brothers,

Photos by Mick Bailey.