Let's see if we can remove all the dirt and grind as we're getting all festive here, tartin' up the old gaff with fine Swedish decor. Yes we're all "yellow" and "blue" and we've heard all the jokes. Sweden in the early 80s had an awful lot of NWOBHM influenced bands. To be frank or Sven? They are overall not quite up to UK standard. The majority of them did not tour outside of their homeland, mainly due to lack of interest from abroad, and sadly could not make a living on their music. That same goes for 95% of all the acts. Many of them had to enroll for unemployment benefit. That's the harsh, honest, brutal truth. Find some semi interesting points of trivia worth noting below. Don't forget to check the 'KEE-ometer' to find out on a scale from 1-10 exactly how important Kee Marcello's been throughout the decade.
[1980] Shocking news, 'Poster', the biggest and best selling music magazine in Sweden and Scandinavia is no more. Started up in 1974 by the mad German Hans Hatwig, the mag featured many KISS specials and posters. No worries though as the first issue of 'Okej' hit the pavement and from then on 'the' magazine to find out important information and news about your fave rock/pop band thoughout the 80s. Even more shocking, powerhouse vocalist Tommy Nilsson (from the symphonic rockers: Horizont) decided to abandon Viking ship and move down to the sunny riviera and France. He received the massive recording deal, at least according to Swedish standard at the time, and recorded two extremely soft Pop/Westcoast/AOR solo albums with guest appearance by Mike Porcaro (Toto), etc. The blonde Swede was a teeny girl favourite in France for a season or half and his debut single, 'No Way No How', sold more than 1 Million copies of black vinyl. Tommy returned to Swedish shore to front Easy Action and would eventually pick up his solo career at the end of the decade.
HEAVY LOAD are now proud owners of their own record label (Thunderload) and Viking Metal as we know it would never ever be the same again. The fifth member of the band? Journalist Anders Tengner (Okej, Poster, Rocket) as he had just started writing in Poster when he first heard about them through an acquaintance. He had mixed Heavy Load's record and told Tengner about this new hard rock band. "I thought it was exciting because I had never heard of a Swedish hard rock band with the international sound. It turned out to be two brothers, Styrbjörn and Ragne Wahlqvist. Foreground figures in the band from Östermalm. Hard rockers who never drink or smoke and are nice and well-behaved no matter what. They were very musically driven and after the concert they went to the hotel and slept. I got to know them pretty well and we became good friends. They had no roadies and I was seventeen years old and offered to go with them on tour. Then they needed someone who worked externally for the band and I did some of the things a manager does".
Kjell Lövbom later known as Kee Marcello (Europe, Easy Action) and his daft cousin: Sven, seriously people, not a fake-name, fronted the Pop-act, D'Accord, as they release their debut 7 single 'Ge Mig Mer' (Give Me More). [KEE-ometer: 2]. CLOWN, a bunch of highly acclaimed studio musicians are now signed to EMI. The A&R rep. expect great things from the female fronted act. The band on the other hand could not hoot even once like any kind of bozo any more than fly like a bat. GLORY BELLS BAND is formed by singer Göran 'Glory North' Nord (RIP) and Franco Santuione (Electric Boys). This would eventually lead to the acts: Glory Bells, Glory North, and Glory.
OVERDRIVE was formed by guitar hero and author/journo Janne Stark. The same goes for TRILOGY feat. drummer Ian Haugland (Europe) and Leif Edling (Candlemass) on lead vocals. The original Doom-Metal band from Sweden is however MERCY as guitarist Andrija Veljaca (RIP) start up the band this year. HIGHBROW, and the killer line-up of vocalist Michael Uppman (Critical Mass, Yngwie Malmsteen), guitarist Chris Steel (Talisman, Power), bassist Eero Koivisto (Red Baron), and drummer Mats Dahlberg (Dalton, Treat) release their second and final 7-vinyl, 'Love Light'. Singer on the first single was Eddy Malm (Heavy Load) and the last line-up before they split feat. bassist Marcel Jacob (Talisman, Yngwie), Patrik Appelgren (Treat) and none other than God himself aka Yngwie Malmsteen.
WIZZ from Eskilstuna are young veterans and consist of Tom who plays drums, Micke Gillstedt, guitarist, and singer and bassist George King. They started playing hard rock as early as 1976. They recorded a stunning demo this year and were offered record contracts in both Sweden and Japan. They turned down the offer though as they couldn't be bothered really? They have written a song for all Eskilstuna residents though. They accuse them of being boring, harmless, and of destroying the inspiration for Wizz. Geez? It's also the birth year of The Boogie Liqour Band, that changed into Double Trouble in 83' and in 86' they became Bai Bang!
[1981] Inspired by the success of Jerusalem, LEVITICUS was formed in Skövde by the record store owner and guitarist: Björn Stigsson. No longer merely selling Jerusalem records at his store, the two Christian acts would now share the same stage and audience. I asked Björn if Leviticus experience any harsh words from local churches or parish halls in the 80's? Hardrock was after all considered as the devil's music. "Yes! We received lots of harsh words from many churches and christians at that time. They were sending back our concert posters and we received letters where they told us that we were serving the devil! And in the christians newspapers they wrote that hardrock music was satanic music, even if you were a christian and the lyrics told you all about Jesus and the kingdom of God". By the way. Did you know that Jerusalem had their very own Record Club (based in Storvreta) which you could join to receive all of their albums? as well as the 81' release, Warrior (Krigsman).
Why the gap between "Full Speed at High Level"(1979) and the 1981 MLP "Metal Conquest" by HEAVY LOAD? Drummer Styrbjörn Wahlqvist told the press, "The record company went bust and merely collapsed. After that, our bassist and our guitarist dropped out. His name was Leif Liljegren and he is weak and treacherous. Nowadays he plays in a Pop band, THE BOYS (which later became TREAT), they have Swedish lyrics and are more connected to Noice and such. He dropped out just before a tour, he thought it was too hard to play in Heavy Load. We had to borrow money from people who believed in us, in other words, a bank. We showed the record to the bank director and he said "national romantic cover, this looks good." Then when we wanted to release the record abroad, we were talking to the Chamber of Commerce. We talked about having the record manufactured under license, and they said; 'No, no, you should absolutely not do that, it should be pushed from here and exported'.
EF BAND (from Gothenburg) managed to score the UK manager in Andy Goodwyn and UK drummer Dave Dufort (Mike Oldfield, Angelwitch, etc) joined the band in 1980. This leading to inclusion on the Metal For Muthas album, the Vertigo contract, and the 1981 album was produced by Derek Lawrence (Deep Purple, Legs Diamond, Wishbone Ash). Club tours in the UK followed and they left at least a tiny mark or dent on the big scene. The Heavy Metal Heaven Festival take place in Stockholm and its organizer, Anders Tengner, the most reliable? journalist of the eighties (Okej, Poster, Rocket). Stitch, Fire&Ice, Heavy Load, Red Baron, Heavy Metal Heaven Allstars are the bands and it's the first All-Metal festival in Sweden.
YNGWIE Malmsteen's Rising Force record the unreleased single for CBS feat. the line-up of Michael Uppman & Peter Udd (Glory Bells Band) and John Levén (Force). The latter replacing bassist Marcel Jacob as he briefly joined Force (pre-Europe) and co-wrote the song 'Scream Of Anger' together with Joey Tempest. The two bassist traded bands once again and order and calm ruled the land of vikings. The Whiskey on the rocks incident did however not involve Yngwie as a Soviet submarine S-363, a Soviet Navy Whiskey-class submarine of the Baltic Fleet, ran aground on 27 October 1981 on the south coast of Sweden, approximately 10 km (6.2 mi) from Karlskrona, one of the larger Swedish naval bases. The submarine was in fact nuclear armed and it's just another mad 'cold war' happening.
Female hard rock singer makes her debut in a brave attempt to promote herself among her male colleagues. Susanne Christensen is the name of the lady in question, and the name of the band? CRYSTAL PRIDE. Line-up also feat. guitarists Michael Lundberg and Krister Taimi, Peter Quick on bass and Fredrik 'Bongo' Lindström on drums. In addition to singing, Susanne also handles keyboards live on stage. Susanne and drummer 'Bongo' founded the band Woodoo in Eskilstuna, November 1980. However, the band was short-lived and they disbanded fairly soon. At the beginning of 1981, Woodoo became Crystal Pride and their debut single 'Sharon' saw the light of the day in 81'. "Bongo" Lindström became one of the most popular and famous TV host/film producer/comedians in Sweden. Susanne on the other hand married guitarist Chris J. First from TORCH, also from Eskilstuna, also founded in 81'. The first TORCH gig took place in Eskilstuna Folkets Hus and the guitarist proudly proclaimed: "It was a carnival when we played. The other hard rock bands on stage looked like they were at their funeral, we had a proper show", Ouch! Poor Suzy.
Kjell Lövbom aka KEE MARCELLO (Europe, Easy Action) can be found waving his axe at 'Kee & The Kick' as they release their debut Pop/AOR single, Blowin' Cold. 'Kee' is however their female singer and not the guitarist as he stole her stage name a couple of years later [KEE-ometer: 5]. CAROLA Häggkvist (Eurovision Song Contest winner) a massive headbanger this year as she'll record the self-titled hard rock album with Standby (not released until 83). Vocalist Joakim Larsson (FORCE) decided to take an artist name. If the band would ever become famous abroad, he would need a proper artist name.: "I was in the USA when I was 12 years old and they couldn't pronounce Joakim properly, so they called me Joe. I was at a library and noticed a book with the title 'The Tempest' on the cover. So I decided to put those two names together, and thought it sounded cool." 'The Tempest' is a famous play written by William Shakespeare. "I haven't read it, but I saw a movie based on it on TV once," Thank You Joakim-Joey.
Lou Stonebridge, English musician and producer, was in Helsingborg with the power trio SKY HIGH and rehearsed some songs that became a demo tape at Nacksving in Gothenburg.Stonebridge /McGuiness is a name combination that people have seen and heard in many contexts. Once upon a time as a producer couple for McGuiness Flint, recently they have produced The Blues Band and solo guitarist Dave Kelly's first album. Sky High is an excellent live band, says Lou. But their first LP was weak and unfocused, they did not really know what they wanted to do. On stage, the musicians show a completely different weight and energy. So I want to present them on record! In England, there is a steady interest in this kind of blues/hard rock music. Trends come and go. But there is always a market for this style. So I expect the Swedes to get a record contract in England'.
[1982] Rock-SM. The Swedish Rock Championship. The first competition was arranged by Thomas Erdtman. The first prize was a record contract with his record company Hot Records, and more than 4000 bands competed. EUROPE (ex-Force) from Upplands-Väsby/Stockholm won "Rock-SM" held on Sunday, December 12, 1982 at Gröna Lund in Stockholm. The final with 8 bands left to compete for the title was shown live on National TV. EUROPE played two songs: "In the Future to Come" and "The King Will Return". and the barking mad manager (Erdtman) took control of the band, at first he suggested they should cut their hair, do Pop music and start singing in Swedish. Vocalist Joey Tempest considered it, but guitarist John Norum said no, and after that Norum never really liked Erdtman. This must have been especially weird considering that the manager would date Norum's mother. Known as the crazy pyromaniac from Upplands-Väsby, Norum torched the Rungbyskogen (the U-V forest) as a semi-criminal teenager and managed to set himself on fire with burning gasolin/petrol. The result? third degree burns on both legs and affect deeper tissues. They result in white or blackened, charred skin that went numb. The leg nerves were burned to crisp. Conclusion? Never leave this man alone with a box of matches.
Erdtman also approached the band EUROCK from Malmö (feat. Anders Theo Theander/ Roasting House) in order to buy the moniker (band name) as well as the song "Heloise". Eurock refused and the cheeky monkey-manager and band decided to continued as 'Europe'. Poor Eurock. They brought in lawyers to sue the crap out of Tempest and co. but there was no case in the end. What's worse, Eurock was later accused in Swedish media for taking advantage of their namesake? Oh, for Odin's sake!
220 VOLT release the debut single 'Prisoner Of War/Sauron' with original singer: Christer Åsell (Empire). TORCH record their debut EP 'Fireraiser' and despite the violent impression you may get of the band, they detest Black Metal in the true sense of the word. The record company Music for Nations (from England) had shown great interest in Torch, the only requirement they made to give the boys a contract was that they should have a bloodier record cover? The reply? Never in your life, why should you jump on an insane trend that will soon disappear? Black Metal is just s**t, the guys in Torch grined and get ready to go on stage.
TREAT or "THE TREAT" as they called themselves at first was formed by Robert Ernlund (Vocals) , Anders "Gary" Wikstrom (Guitar) and Leif "Lillen" Liljegren (Guitar) in Stockholm /Sweden in 1982, but they had all been playing together since early 1981 in "The Boys", a more straight ahead Rock band who sang in Swedish only and recorded one album. Not to mention that Styrbjörn absolutely loved them! No?
(to be continued...)
TOP-100 Swedish Metal Songs of the 80s.
Contribution, liner-notes, information by the actual songwriters as well as band members of: ALIEN, AXIA, BAD HABIT, CHARIZMA, CLOWN, DALTON, EASY ACTION, ELECTRIC BOYS, GEISHA, GLORIOUS BANKROBBERS, HEAVY LOAD, JERUSALEM, KING PIN, LEVITICUS, YNGWIE MALMSTEEN, MADISON, MINDLESS SINNER, NORDEN LIGHT, 1 WAY STREET, OVERDRIVE, PARASITE, SACRIFICE, SHOTGUN MESSIAH, SILVER MOUNTAIN, SPELLBOUND, STEELWINGS, STILLBORN, SWEDISH EROTICA, TALK OF THE TOWN, TORCH, TREAT, 220 VOLT, UNIVERSE.
Special Thanks to the following musicians. A-Z: Magnus Axx (Swedish Erotica), Pete Blakk (Geisha, Mercyful Fate, Totem), Conny Bloom (Electric Boys, Roadrats), Ulf Christiansson (Jerusalem), Harry Cody (Shotgun Messiah, Kingpin, Tom Waits), Håkan Frisk (1 Way Street), Christ First (Torch, Crystal Pride), Hasse Fröberg (Spellbound, The Flower Kings), Marianne Flynner (Clown), Ian Greg (Torch), Gert-Inge Gustavsson (Steelwings), Christer Göransson (Mindless Sinner), Jonas Hansson (Silver Mountain), Ingemar Scott Henning (Stillborn), Kari Hokkanen (Stillborn, Dobermanns), Anders Holmström (Parasite), Morgan Lefay Jensen (Swedish Erotica), Jim Jidhed (Alien), Mats Karlsson (220 Volt), Sonny Larsson (Motherlode, XT), Bosse Lindmark (Dalton, RAW), Joakim Lundholm (220 Volt), Eddy Malm (Heavy Load, Highbrow), Hal Marabel (Bad Habit), Kee Marcello (Easy Action, Europe), Christer Mentzer (Norden Light, Silver Mountain, Mentzer), Michael Moon Myllie (Madison, King Diamond), Bosse Nikolausson (Charizma), Göran Nikolausson (Charizma), Peo Pettersson (Axia, Leviticus, Peo), Jonas Petersson (Glorious Bankrobbers, Mental Hippie Blood), Magnus Rosén (Hammerfall, Von Rosen, Geisha, Billionaires Boys Club), Ken Sandin (Alien, Swedish Erotica), Tim Sköld (Shotgun Messiah, Marilyn Manson), Jeff Scott Soto (Yngwie Malmsteen, Talisman, Eyes), Janne Stark (Overdrive, Locomotive Breath), Björn Stigsson (Leviticus, XT), Anders String Strengberg (Sacrifice, Mercy, Crier), Peo Thyren (Easy Action, Sha-Boom, Noise), Thomas Vikström (Talk Of The Town, Therion, Candlemass), Ragne Wahlqvist (Heavy Load), Anders Wikström (Treat), Zinny J Zan (Shotgun Messiah, Easy Action, Kingpin, Zan Clan).
Disclaimer: This is a list by: Urban 'Wally' Wallstrom [email: urban 'at' rockunited.com /replace at with @] about The 100 Greatest 80's Hard Rock and Metal Songs from SWEDEN and that's including all? the different sub-genres and styles. We are merely talking about actual and official record label releases with Swedish bands/artists between the years of 1980 to 1989. In other words, demos, covers, private, self-releases, are NOT included. The same goes for music recorded in the 80s, but not released during the decade. Not enough of Thrash/Speed, Death? Most of the acts were still underground, unsigned and did not see the light of day until the early 90s. It came from the 80s! The horror story? We love the 80s! The decadance decade of divine hairspray, massive hairdos, spandex, and various dodgy outfits. Some of the acts only recorded the single or three before vanishing from the scene. So what? The songs are always great though.
As the old saying goes: A good song is a good song is a good song, no matter style or genre. You'll find everything from AOR to Doom, Heavy Metal, Sleaze, Melodic Hard Rock, NWOBHM, Black, Thrash, etc. Not to forget F.V.A.S.H.M (Första Vågen Av Svensk Heavy Metal) which translates to First Wave of Swedish Heavy Metal. (F.W.O.S.H.M.) as the logo appeared on various Metal fanzines to the more professional 'Rocket'. The biggest problem with including a lot of different genres and styles? I had to leave out plenty of songs to come up with my Top-100 of the 80's. It's a mixed bag and not to everybody's liking. Why not have a go at your own list or email the suggestion? Have I been listening to ALL of the eighties stuff? Probably not, since that's simply not possible? It could most definitely change if or rather when I discover the hidden gem. It's not written in stone. I'm typing this on my ancient old PC keyboard as I ran out of runestones and my hammer's gone missing.
The "Music Police" might as well turn around and walk away asap. Could not care less about which songs you're "supposed" to like and/or not. No person should ever pay that much attention to other peoples' opinion. Make your own mind up and remember to bend/break the rules. Do not follow them just because some old geezer told you so in the past. After all, this is the era of 'do-it-yourself', and not having to wait to read about it in magazines such as Kerrang or Metal Hammer. Back in the days, a couple of magazines could definitely make or kill your music career. They are no longer in control of artists/bands' future and success tho'. I can't find this or that band, or my favourite song, you say? Not quite the Top-100 track in my personal and very humble opinion and thus why they're not included in the list. I'm not the Almighty Swedish Metal Guru. Make sure to voice your own opinion on the web and show respect to the 80s musician. No matter if they were destroying the ozone layer with all that hairspray. People. Bands/artists are always welcome to give feedback or send in more information about the songs. Contact info: Urban Wally Wallstrom [email: urban 'at' rockunited.com /replace at with @ or simply search my name at facebook/messenger].
Let the countdown begin...
100. JOHN NORUM - Love Is Meant To Last Forever (1987)
The poppy tune from the debut solo album by John Norum (Europe). It was released in 1987, after John Norum left the band, following the release of The Final Countdown album. Norum complained about the Europe sound, "I didn't really like the direction the band was going in," Norum said, "We became this teeny-bopper, bubblegum band and I hated that whole image, the spandex, poodle-rock type of thing. I was more into the heavier, guitar-oriented stuff and it seemed like the keyboards were taking over more and more, and we were becoming more commercial. So I decided to leave. I just wanted to move on and do something else". This is however softer than most Europe tunes? Sung by Göran Edman (Madison, Yngwie Malmsteen, etc.) and darn poppy good in a similar style and mould as the final countdown. Strange, but it's meant to last forever. Neat!
https://www.youtube.com/watch?v=1QE65C2H4ew
99. 1 WAY STREET - Place In Your Heart (1988)
Yet another strange and obscure act with merely the one-off 7-single release. This is actually the flip/B-side of the rather wimpy ballad 'Can't Let Go'. Keyboard heavy AOR in the vein of Bad Habit, but with their own twist and sound. In the words of the world famous kitten on every single postcard of the 80s, 'hang in there', since you'll have to sit back and wait for the refrain to appear. It's well worth the wait though. This is a fun odd track that at times rocks its socks off, at times peels off into uncharted and unknown territory. They come from the town of Borlänge and vocalist Mats Frimodigs would later join the merry crew of Keen Hue. Read on to find out more about the song. Thanks to guitarist: Håkan Frisk.
https://www.youtube.com/watch?v=dI3P243mH54
Håkan Frisk: We wrote the song (myself, Urhlander, Frimodig) when the youth organization 'Unga Örnar' (Urban's note: Unga Örnar /Young Eagles - an non profit organization for children and youth, within the Swedish Labor Movement) asked if we could do it and there was also a video made in Leksand if I remember correctly. It's basically about vulnerable people who in one way or another have been damaged or hurt. Can probably imagine that Europe and Magnum were quite big influences at that time at least for me. Yeah, the music style was well characterized by power hard rock with grandiose pompous melodies etc. Do not really remember the process behind the song but I probably arranged the lyrics together with Frimodigs and melody in consultation with Urhlander. An absolutely fantastic time very fun memories! We have actually talked about the reunion for the first time in many years so we will see.
98. SHA-BOOM - Don't Steal My Heart Away (1988)
One of those songs with plenty of 'Na na na na na na' and the sticky/ catchy refrain. Very poppy and glammy AOR/Rock and the bass player is Peo Thyren (Noice, Easy Action, etc). Guitarist John Sandh was previously the Pop-rocker and their debut album R.O.C.K. was atcually produced by Andy Scott (Sweet) and they recorded the fun version of Fox On The Run. They never truly recovered from Norwegian vocalist Dag Finn's nude (bathtub) photo shooting at 'Okej' magazine and him lying to the press about the situation. Claiming the pics came from a private party and was stolen by Okej? Obviously not true and Finn had to set the story straight in a full page andpardon. Down the drain indeed. Got to enjoy the sheer glam/pop attitude of the debut and the nerdy, catchy, hook on this track. (Editor's shocking revelation: this song was actually written by two Norwegians, Dag Ingebritsen (TNT, Tindrum) and Torstein Flakne (Stage Dolls)!)
https://www.youtube.com/watch?v=ZdiQNmBgBlo
97. RETRACE - Love Will Rise (1988)
Obscure stuff from Jönköping and Småland. Formed in 1988 and the group released one very rare 7-single and some demos and the live recording. The band was fronted by vocalist/guitarist Samuel Waermö - later on the very successful international Swedish songwriter (Clay Aiken, etc.) and music producer also involved in the production of several songs on the Bon Jovi album Bounce. He's one of those 'Big In Asia/Japan' songwriters and responsible for many boy and girl-band hits. J-Pop. K-Pop. Any kind of 'letter' Pop. Atmospheric AOR, heavy on the keyboards, making the melodious track suitable for in car listening while driving down the highway to he... heaven. It's a big song for the mad Swede collector and the stuff nobody appears to care about these days? Catchy and obscure AOR with a rather unique CCM sound.
https://www.youtube.com/watch?v=4jcVt83ghho
96. VON ROSEN - Someone Like You (1987)
Powerful AOR tune and single from the year of 1987 featuring vocalist Pete Sandberg (Snake Charmer, Madison, Bewarp etc.) and bassist Magnus Von Rosen (Geisha, Hammerfall, Billionaires Boys Club, etc.). The duo was fiercely determined to rock n' roll all nite and party all day despite the rather glossy artcover and overall clean image and polite agenda. The band merely released two 7-singles before Sandberg first joined Madison and later became the new Alien singer when Jim Jidhed decided to leave in late 1988. Not that strange or 'Alien' considering the familiar sound of this very platter. The bassist moved on to bigger as well as louder acts such as the Viking friendly rockers of Hammerfall. Read on to find out more about the song. Thanks to bassist: Magnus Rosen.
https://www.youtube.com/watch?v=TP0uRPxB-FY
Magnus Rosén: It was a song that we did a long long time ago with Von Rosen band. I think Mats Olausson wrote this particular song, I can't remember, and it must be Pete Sandberg who wrote the lyrics. We also did a very nice song called 'Like a dream' a total of two singles with Von Rosen. Those years I think we were excited to grew up and all life had to offer, so I think it was all about that. It was more the 30 years ago, so its hard to remember everything, smile. It does not really capture our typical songwriting style, this was more pop rock and we played more rock music. But when we did this single we thought it was right to record this song. I think it was a modern sound at this time. Its hard to say about influences, but it was well produced and the new sound was going on. Def Leppard took this well produced rock music to the sky, so I think we was not alone with our sound. Yeah. Maybe the recording company helped us to make the choice of what songs we would record. I think it was like that. Long time ago, smile. Von Rosen was basically a duo: Magnus Rosén - bass and Pete Sandberg - voice, but we had a band when we did our concerts. One time we were the support to Samantha Fox, it was an experience, we also did concerts with Madison. It's nice memories I must say. Keep your dream alive!
www.magnusrosen.com
95. MANINNYA BLADE - Live Life At Speed (1986)
Originally formed in the northern town of Boden in 1981, the band moved to Stockholm and hired drummer Martin 'E-Type' Eriksson. The man would later have/find international success as the Techno/dance artist in the 90s and 2000. Football fans may still recall the Euro-2000 anthem, Campione? No? Nevermind. The rest of us have desperately been trying to forget. He sings like a robot, 'Come along, come along'. The band changed their monicker to Hexenhaus in 1987. This particular song from their only album, 'Merchants In Metal' (Killerwatt Records/UK) has clearly been inspired by Heavy Metal, early speed/thrash, and Motörhead. These metalheads ain't dishin out sloppy seconds when it comes to time changes and thrashing out familiar riffs. The vocals on the chorus are especially vicious and blunt. It's moshpit material served up with a true northern stomp and just a touch of hardcore. The vocalist handles the brutal stuff well, but strains a little when he has to belt out the high notes scream. Noisy to the extreme and each and every demented chord strike may hurt when played at high volume. So... Play it loud, mutha!
https://www.youtube.com/watch?v=ygpAVUahJro&t=0s
94. GEISHA - Gangland Sector 21 (1987)
Formed in Gothenburg in 1984 by guitarist Pete Blakk (King Diamond, EF Band, Totem, etc.), bassist Magnus Rosen (Hammerfall, Von Rosen), drummer Mikkey Dee (Motörhead, Scorpions) and Danish singer Yenz Cheyenne (The Brats, =Y=). Mikkey Dee joined King Diamond just prior to this very recording and was replaced by Tony Reno of Europe and Force fame. Their one and only album, 'Phantasmagoria', was released by English Heavy Metal Records, a division of FM/Revolver and a video for 'You Got What It Takes' was shot in Gothenburg. The excellent mix of Glam/Sleaze 'ala Shotgun Messiah, Wrathchild (UK), and more powerful Heavy Metal stuff 'ala Lizzy Borden and Loudness. Read on to find out more about the song. Thanks to guitarist: Pete Blakk.
https://www.youtube.com/watch?v=nSdJJRDhnV4&t=570s
Pete Blakk: It's nothing special really just a riff that I came up with at the time. I wrote all the music and the title in Yenz lyrics came about when I was telling him about where I lived during my childhood (Råslätt). Yenz was inspired by all the stories I told about growing up.... and put that in a perspective of the Rock n' roll rebelling youth. There's probably some Ritchie Blackmore (Deep Purple, Rainbow) and Randy Rhoades (Ozzy Osbourne, Quiet Riot) influences in there. It was a cool time in my music life, we moved to Copenhagen, Denmark, to break the band and hung out with the Mercyful Fate guys witch then lead to forming of King Diamond. Me and Mikkey Dee were offered the spots in King Diamond. I said no at the time Mikkey joined and the rest is history.
93. SIX FEET UNDER - Candle in the Dark (1984)
The Deep Purple as well as late sixties inspired Piano Ballad from the year of 1984, featuring the excellent powerhouse vocalist Björn Lodin (later: Baltimoore, Krokus), guitarist Tomas Larsson (later: Glenn Hughes, etc), bassist Kent Jansson (Keen Hue) and drummer Markus Källström (Sky High, Stonecake). Not to be confused with the... ehh, brutal US Metal act. Formed in 1982, broke-up in 1985, the debut was an album that combined classic seventies hard rock and eighties ditto. This song taken from their second and last album 'Eruption' display the poppy keyboard sound to its fullest effect. The slick product of its time and the excellent synthesis between seventies hard rock and the ultra smooth sound of AOR. One of very few ballads on the list and it may sound predictable at first spin, but it's ever so 'Moody Blues' and fun. I believe that Mr Lodin is not a fan of the song? Doesn't matter? We're not doing this for the musician(s). It's all about the music.
https://www.youtube.com/watch?v=4LxkB5tD6gs
92. SKY HIGH - I Ain't Beggin' (1985)
Straight out of Dalarna and Formed in 1978, Vocalist/guitarist Clas Yngström is the mad Hendrix and ZZ Top fan and you can definitely tell by listening to this track from 1985. It's been influenced by the hip ZZ Top sound of the era (Eliminator) as it's strangely retro yet high-tech? Like any good craftsman of its era, Yngström wrote economical songs, it's maximum Strato' and fuzz' in minimum time and effort. He could do this kind of blues/hard rock composition in his sleep and it's sure to keep you up all night. Husky vocals and the dusty sound of smokey bars and old fashioned cars. It's refreshing to hear an Swedish band trying to sound like Jimi/Top, but no one's done it quite like Yngström. It's a kind of obssesion and darn right spooky actually.
https://www.youtube.com/watch?v=d0AbYrcqQso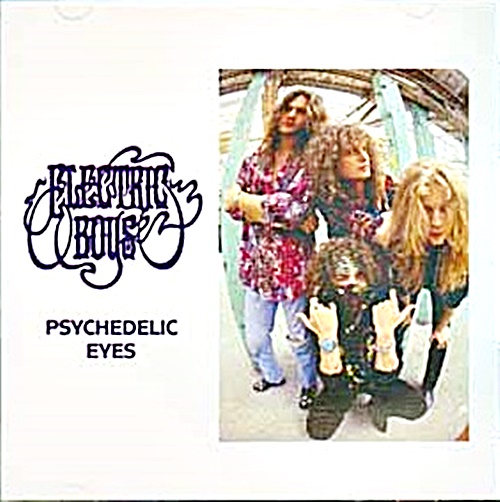 91. ELECTRIC BOYS - Psychedelic Eyes (1989)
The opening track from Funk O Metal Carpet Ride and the Electric Boys were a band in a league of there own, they had a real funky kind of groove but with a Aerosmith/Hendrix kind of twist. Not to mention psychedelica? This is the buzzing and humming kind of affair which gives an interesting take into what Swedes with no interest whatsoever in traditional heavy metal sound like. They are not NWOBHM or AOR nor are they "funky" as Prince or any weird sounding hippies. Originally formed in 1986 by the two former Rolene and Roadrats musicians' Conny Bloom (vocals/guitar) and Andy Christell (bass), the line-up was soon completed with guitarist Franco Santunione (Glory Bells Band) and drummer Niclas Sigewall. Groovus maximus...
https://www.youtube.com/watch?v=DdJ_69VhQa0
90. GOTHAM CITY - Swords and Chains (1984)
FVASHM or if you simply prefer Heavy Metal from way up North in Sweden (Kiruna and Umeå), with the groovy bassist, melodic, yet rather average production (their weakest point), neat guitar harmonies and the excellent solo on this opening track, Swords and Chains, from their one and only album 'The Unknown'. You may expect some semi cool rhythms and the NWOBHM comparison might just be staying around for a long time afterwards. The odd blue note and definitely far from perfect, you're never going to enjoy the 'City' if you expect the perfect display. However, there is a point to Gotham City that should be applauded. It's the nice example of the UK influenced heavy metal by the following musicians: Vocalist Anders Zachariasson (later: Noctural Rites). Bassist Björn Melander (later: Mogg, Glory North, Neptune) and drummer Jonas Östman (later: Mogg, Glory, Mental Hippie Blood). https://youtu.be/ioCr5hIawc0
89. AXIA - On My Way (1988)
Formed in 1984 and featuring powerhouse vocalist Peo Pettersson (Leviticus, Peo), this AOR rocker sits nicely in with the sound of Bad Habit and Madison. The very ambitious and slick number drop the pace enough for those without the restless legs syndrome to be in with a chance to keeping up with the band. One of many rock solid tracks from their self-titled debut. There are undeniably some echoes here of mainstream rock and pop's manner of taking the catchy hook and turning it into the deluxe version of posh melodic metal. We like it and the album has been re-issued by the MTM label. Peo would later re-work/write some of the lyrics (verse) for the song 'Messiah' on the Leviticus release 'Knights of Heaven' in 1989. Read on to find out more about the song. Thanks to Peo Pettersson.
https://www.youtube.com/watch?v=vC5dST50WWI
Peo Pettersson: When you are young, texts can often be very pathetic, but most of the time they are very honest and self-experienced. This text is just about a young man who dreams of moving forward in his life. The text is about a love relationship that never worked. Despite many many attempts. A bittersweet memory. During this time we worked with 24 channel tape and recorded live in the studio. We recorded most of the material within a week and we had to do as much as possible live! There were not the same editing possibilities as today. I had 2 wonderful Neumann U-47 Microphones that we used most of the time. I worked with these mics for almost 30 years but sold them in 2002. I cry when I think about it. I could have paid my house if I had sold them today!
There was nothing special about the songwriting itself, but I remember that I had gotten my first real apartment and experienced a great feeling of freedom. We knew we wanted to make an album and we tried to include all the elements. Some really heavy songs and some more uptempo. But also a ballad. Quite common for its time. We listened to about the same music in the band and I think our material was just a great mix of everything we liked and were impressed by. We never shared any opinions with any label. We wrote and played the music we liked. Completely uncompromising. From what I remember, we rarely had any arguments about songs we just played and rehearsed. We did quite a lot of live gigs during this period as well. A spectacular memory is when we had sold out the first edition of the album. We ordered 1000 new ones and they arrived after a few weeks. When I opened the box I thought I was drunk? The album had 2 A sides the vinyl press had done something seriously wrong ha ha!
Unfortunately there are none left because we sent back the edition, but it would have been fun to have a copy. Of course, there are 1000 stories to tell from the tours but it will have to wait until in the memoirs! Rock on!
88. TROUBLE - Warrior (1985)
Obsucre and sought after item to any mad Swedish Metal collector. You'll have to pay approx 100€ or more if you'd like a copy of the original vinyl. Not to be confused with the US Doom-metal act. These lads from Skara and Skövde released their one and only album entitled "Warrior" in 1985. It's the typical raw power and sheer energy of the hungry young band. This very title track sounds a lot like this other band from Skövde, namely: Leviticus. Add merely the hint of Lizzy and you're close to the core of the band. Simply have a go at this if you enjoy 'I Shall Conquer' or 'The Strongest Power', you know, old skool Heavy Metal with Håkan Andersson as lead vocalist. The lyric actually speak of the King of Kings and it's ever so FWOSHM! Bless you?
https://www.youtube.com/watch?v=v08bROpuQsM
87. OVERDRIVE - Living In Sin (1984)
Powerful number in the style of NWOBHM only with the typical Swenglish singer. The song is straightforward and raw and it does, however, fall into the unusually large category of FVASHM. Excellent twin guitars in the vein of Scorpions, Priest, Lizzy, etc. The totally natural and unthinking way in which they approached music and songwriting, may surprise the reader and listener. Simply read on to find out what the band told me about 'Living In Sin'. Guitarist Janne Stark would later expose himself in other bands, albums, and magazines for that matter. Not to mention the excellent work on 'The encyclopedia of Swedish Hard Rock & Heavy Metal' - the perfect book to find out information and data about Swedish hard rock releases. Formed in 1980, this is a cracking track from their second album, 'Swords and Axes'. Read on to find out more about the song. Thanks to guitarist: Janne Stark and drummer: Kenta Svensson.
https://www.youtube.com/watch?v=9ulhjiHBIsE
Janne Stark: "Living In Sin" was featured on our second Overdrive album "Swords And Axes". All the songs on that album were written between the first and second album (during 1983). "Living In Sin" was one of the few songs where the music was written by our drummer Kenta. Now, Kenta doesn't play any instruments besides drums and harmonica (he plays a mean blues harmonica), so when he has a song idea he hums it and I try to capture what he tries to convey on guitar.
Kenta Svensson: Whenever I come up with a song idea, I usually hum it in to a tape recorder, even sometimes when I would wake up in the middle of the night. This one, I remember I didn't record, but I had the idea in my head and hummed it to Janne and he tried to play on the guitar what I hummed. Musically I was at the time listening to bands like Priest and Maiden, but also Y&T and more odd bands like Goddo. I wanted it to be a bit heavier and I did intentionally write it for me to do all the cool drum stuff in the verses as well. I also had an idea about the lyrical theme which I explained to Janne. This was actually a bit different from our other material. Sure, we did have heavier songs like "Burn In Hell", but "Living In Sin" was both heavy and groovy.
Janne: So, once we had gotten the basic musical idea down, we I wanted to incorporate some harmony guitars (Thin Lizzy have always been a big influence) and I came up with the solo section, where I remember Kenta also came up with the stops in the solo. The kind of tri-tone things I'm playing in the solo came straight from the song "Crazy" by Stray Dog, which was one of my big influences together with bands like Montrose, Thin Lizzy and also contemporary bands at the time such as Angel Witch, Iron Maiden, Judas Priest, Y&T, Witchfynde etc. Then I tried to come up with the lyrics that would go with the mood of the song and what Kenta had in mind. So, why not a song about the son of a witch? Back then I wrote more or less all the lyrics for the band (despite not being a singer) and the subjects all came from movies, the news etc. On this album I think there was a lot of horror movies considering I also wrote lyrics such as "Burn In Hell", "Mission of destruction" and "Black Revenge" for this album. We have also played this song live now and then through the years. We were supposed to play our 40th anniversary shows last year, but Covid put a stop to that, so we'll regroup and either play the shows this fall, or possibly next year depending on how things evolve. Also, Regain Records are currently planning a CD re-issue of "Metal Attack" and "Swords And Axes" for later this year. Check out: www.overdrive.se
86. MOTHERLODE - Line of Thought (1986)
Their debut album 'The Sanctuary' MOTHERLODE - Line of Thought has the Magnum (UK) connection as it was produced by Kit Woolven (Magnum). The art-cover is the work of Rodney Matthews and you'll find keyboardist Mark Stanway at the ivory. The sublime CCM release and the vocals by Sonny Larsson (XT, Kings Of Modern Swing, Björn Stigsson) - out of this world, his performance is one of the most memorable of all the Swedish acts of the decade. Melodic yet complex songs with great interludes. Sonny Larsson: "I would pick this as my favorite track on The Sanctuary because I like the choir part. I think we had 48 voices all made by guitarist Tom Nilsson, Kit and myself. And I remember when we were listen to the choirs without the music and it was almost a religious feeling".
https://www.youtube.com/watch?v=Mm74LTiHeG8
85. AXEWITCH - Heading For A Storm (1984)
Speedy Heavy Metal from Linköping, founded in 1981 and the legend goes that their Swedish label (Fingerprint Records) got offers from the likes of Neat records and Roadrunner for international release, but without informing the band about their arrangement, resulting in a considerable money loss for the band. Not to mention the anger of betryal? This is a song from their second album, 'Visions of The Past' and it's actually not quite as uptempo as their overall material. It's the moody build up and could be a retroactive special moment that'll be kicking big for them on this top-100 list. It ain't nerdy poppy, but it's got character and charm. Close to epic sounding as they're heading for a storm. They are still underground enough and it's still sort of cool to be the fan of Axewitch.
https://www.youtube.com/watch?v=GZhBHcctcuo&list=OLAK5uy_kwopIjcOpHqmL_lbbQv-Fth_zMncEwHuM&index=6
84. GLORY - Feel The Fire (1989)
Originally formed in 1985 by Haparanda guitarist Jan Granwick (Grave, Glory North) and Mats 'Driver' Förare (Neptune, Glory North), "Feel The Fire" was the second single release from their debut album 'Danger In This Game'. This moody song immediately sets the scene. It's a brooding semi ballad with a killer refrain and fluid soloing and riffing from guitar hero Granwick. Unfortunately, Granwick doesn't appreciate when other people talk about or enjoy his music? I believe it's got something to do with the "general" opinion about what's cool and not cool about eighties music? Never pay attention to the 'music police', they are so full of you know what. Flashy guitar work and majestic keyboards are all over the place and it's bound to impact with yer sad and horrid little face. Have a go at this if you're into Scandi-Rock and smooth guitar driven music.
https://www.youtube.com/watch?v=i9G5VU2JtdY
83. GLORIOUS BANKROBBERS - Dynamite Sex Dose (1989)
They are Glorious and they are Bankrobbers, end of story? Nah. They are also Sleaze and pretty darn good at it. From Stockholm and the Robbers' recorded their self-titled debut album in 1984. It would take another five years until 'Dynamite Sex Dose' and the title track from the 1989 album will most certainly remind you of "Cowgirl" by Norwegian act, Sons Of Angels, as well as, "Cherry Pie" by Warrant. Keep in mind that both mentioned acts recorded their songs post 1989. They are right now in the studio recording songs for a new album. Several of those songs actually date back to 1990. Read on to find out more about the song. Thanks to guitarist: Jonas Petersson.
https://www.youtube.com/watch?v=Q_MS0CHpf0o
Jonas Petersson: It's basically a party song about some chick our singer had a crush on. Aerosmith was a big influence at the time. I wrote the music and our singer (Olle Hillborg) wrote the lyrics, but the song was later stolen by both Warrant ( Cherry pie) and the 'Norwegians' of Sons of Angels (Cowgirl). I still like it though and we wanted to file a lawsuit against Warrant and Sons of Angels, but our record company did not have the guts.
82. CLOWN - Night On The Town (1981)
Clown! Clown? Hey, don't you dare to laugh! Clearly you've never seen 'IT' featuring Pennywise as performed by the Swedish actor Skarsgård? Marianne Flynner is no Bozo or Crusty for that matter. Their one and only album was released in 1981 by EMI and feature great female fronted rock in the vein of Teri DeSario and Pat Benatar. Flynner would later record several pop solo albums, but nothing would ever rock as much as this little treasure from the early eighties. Guitarist Staffan Astner has toured and recorded with Sting, Ray Charles, Celine Dion, Richard Page, Eric Bibb, Jerry Williams, Marie Fredriksson, Frida(Abba), Martha and the Vandellas, Barbara Hendricks, Tommy Nilsson, Jim Jidhed, Ian Hunter, James Ingram, Roxette, Carola, Joey Tempest, etc. One of few female fronted acts on the Top-100 list and that's a shame really. Afrodite? No. Ice Age? Merely demos. Excellent vocals, but Flynner was happy to reinvent herself as the traditional singer/ songwriter in a tiny, tiny, car. Send in the...
https://www.youtube.com/watch?v=VGqzMi41oi0
Marianne Flynner: It's now been a long time since my band Clown recorded "Night on the town". We we're signed by EMI Records in the beginning of the 80's. The band was initiated by the late bass player Janne Hallberg and he and I co-wrote Night on the town. It's really just a silly little song about partying on a Friday night. In Sweden at the time, there were few Female heavy metal singers and I was often refered to as Sweden's Pat Benatar. Which is kind of funny since my real voice is soft and in more of a singer songwriter style. But when you are young you gotta try everything
Other band members were guitarist Staffan Astner and drummer John Donelly. I made three albums as a solo artist in the nineties and I am now active as a song writer.
81. BAM BAM BOYS - Let Me Touch Your Skin (1988)
Their one and only official 7 release in the eighties. Featuring vocalist Matti Alfonzetti (Jagged Edge, Skintrade), bassist Gunnar Hallin (Neon Rose), and drummer Fredrik von Gerber (Easy Action, Noise, Rat Bat Blue, etc.). It's the ultra smooth and sort of kind of creepy semi-ballad about some perv with the desire to touch skin from the inside? Matti moved to UK and joined Jagged Edge and the BBB album was shelved until 1999 when Riverside Records finally released the recording. Several songs had already been re-recorded by Bai Bang on their Cop To Con album in 1991 though. It's all about the bass-line, cruisin', and keeping things smooth. One of many, many, acts featuring Mats Olausson on keyboards (RIP).
https://www.youtube.com/watch?v=nbv4s8qFI2E
80. MINDLESS SINNER - Master of Evil (1983)
Formed in Linköping in the early eighties, the FVOSHM band recorded two full albums. However, they dropped the "Sinner" part of the name for their 1989 release 'Missin Pieces'. Something went missing all right as they decided to split up at the end of the decade. That was all she wrote and world wide success eluded them in the eighties. Nonetheless. This is the smashing title track from their debut 4-track MLP in the year of 1983 (Fingerprint). The raw edges and aggressive delivery of metal focusing on solid drumming, great leads, and hi-pitched vocals. The band sound indestrucible and ready for anything that life can throw at them. They have delivered a fine metal/hard rock tune that should appeal to the vivid FWOSHM fans and should also impress those who may not have heard about the first Swedish wave of metal. Read on to find out more about the song. Thanks to vocalist: Christer Göransson.
https://www.youtube.com/watch?v=c8XW4o1WowA
Christer Göransson: Well thanx for the interest in Mindless Sinner and the Master of evil. Hey, no not really. We were just happy to be able to record in a studio and the the only inspiration that we had was all of the bands we were listening to such as Judas Priest, Iron Maiden, Black Sabbath, Dio, Saxon, etc. etc. The lyrics was original from another song called "Too Many Women and Too Many Nights" but that song didn't do anything for us. In the spring of 1983 our second guitarist Jerker Edman joined the band and he had the riff for 'Master of Evil'. We took the lyrics and added the chorus and there we had it. Master of evil. I guess the songwriting changed a bit from being a 4 piece band adding a fifth member and becoming a 5 piece band. So the 4 tracks on Master of Evil was a little different from our previous written songs. We were influenced by so many bands so I guess it's a mix of everything from Priest to Sabbath and all of the nwobhm. The record label didn't have any input in the songwriting but of course every member of the band had their own input to the song. 'Master of evil' was one of the songs that we wrote together as a band.
79. TONE NORUM - Stranded (1986)
Tone Norum is the sister to John Norum who is the guitarist in the hardrock band Europe (earlier called Force). This song, the second single from her debut album was written by Joey Tempest and originally recorded (demo) by Europe and intended to be on their album, but considered too soft by the group. Thus given to Norum to kick-start her solo career. Drenched in squeeky casio keyboards, you know you've heard them before and you would hear them again throughout the eighties. Tone have recorded something which could argueable be described as a full on reverb and juvenile energy 'song and dance number'. Norum hasn't been too keen on talking about her music(al) past to the press and especially not about Erdtman (also Europe's mad dictator manager). Really catchy refrain and those keys, very eighties!
https://www.youtube.com/watch?v=axkKkGpsne0
78. SILVER MOUNTAIN - Universe (1985)
Stabbing keys, pounding drums, driving bass, strong vocals, and on top of everything the singing guitar work by Jonas Hansson. The winning concept in the mid eighties as Silver Mountain recorded their by far best effort of the decade. 'Universe' from the album ehem... Universe? Indeed. It's totally made by excellent neo-classical licks and tricks and the use of stabbing keys in the background, and far from destracting from the returning main guitar melody, they actually enchance the song and its pure 'Viking' mode. Mentzer at the top of his game and powerful singing is the name. They were rather Big In Japan and recorded the live album of the 1985 tour in the land of the rising sun. At home they did the triple heavy metal mayhem tour and show with Axewitch and Torch, but never quite managed to convince the average Swede about the greatness of Silver Mountain. It's a shame really since they combined power and melody with ease. Try it, you'll like it!
https://www.youtube.com/watch?v=hO28PQy9WpQ&t=246s
77. STEELWINGS - Bad Boys (1988)
Formed in Laholm in 1982 by guitarist Gert-Inge Gustavsson after returning from a music trip to England. The band participated in the UK compilation album 'Metal Plated' at Ebony records in 1984 and recorded several demos. They recorded their first 7-single in 1988 and this particular song ended up on the flip/ B-side? Strange considering that 'I Wanna Hear You Screaming' (A-side), not nearly as great as this little ripper! It is faster by a fair bit, and there are some excellent riffs and lead vocals by Tommy Söderström to be found. The verse may actually remind you of You've Got Another Thing Coming by Judas Priest while the refrain is pure Swedish FVOSHM and melodic hard rock. It would however take another year until the release of their self-titled debut at AirMusic. The band had been at it for a long time, but their ride had been bumpier than most. This is a great fun track. Steelwings recorded the comeback album "Back" in 2019 and they're still 'On The Run'. Read on to find out more about the song. Thanks to guitarist: Gert-Inge Gustavsson.
https://www.youtube.com/watch?v=GbT2A00Lic8&list=PL6XEVYz_cTyobHWKlYzZcJjrY8IR4QTWI
Gert-Inge Gustafsson: Hello Urban at RockUnited and thanks for having STEELWINGS and the song Bad Boys (On the Run) on this list. It's an honor. The main part of Bad Boys was written by Micheal Lindman in the mid eighties. He also wrote the lyrics. During this time STEELWINGS was rehearsing a lot and writing new songs all the time. In that time when writing songs, the whole band was involved. As I remember it, Michael had this great main riff and the chorus and than we took it from there and together completed the song. At this time Hard Rock / Heavy Metal was rather commercial and selling a lot of records and of course we wanted to be a part of that. Bad Boys was/is a great mid tempo song with a fantastic hook and chorus that we thought could do the job.
There is no deeper meaning behind the lyrics. Kind of typical rock'n roll lyrics. Some young boys on wheels having a great time that got a bit out of control. STEELWINGS have always played straightforward hard rock'n roll in the style of AC/DC, Krokus, Judas Priest etc. When I listen back to Bad Boys I can hear quite a bit of Krokus in it. Bad Boys was released 1988 as promo single together with the song I Wanna Hear You Screaming. This has a mix that was done in London and is different (better I think) then the mix that ended up on the record STEELWINGS released 1989. You can find this version and some nice information about the band on Youtube. Once again. Thanks for writing about STEELWINGS and doing this great work. Best Rockin' Regards, Gert-Inge Gustafsson.
http://steelwings.se/
steelwings FB

76. NORDEN LIGHT - No Escape (1987)
"Run for your life". Former Silver Mountain vocalist Chris Mentzer fronted the band and drummer Mikael Von Knorring (Yngwie Malmsteen) at the back of the stage. This is the storming track in the vein of Silver/Yngwie and was also included on the 'Opera' (Terror at the Opera) soundtrack, the Italian giallo horror film directed and co-written by Dario Argento. The film features music by Brian Eno, Claudio Simonetti, Bill Wyman, classic Verdi, Bellini, Puccini, and the one-off album track from 'Shadows from The Wilderness (Sonet) by Norden Light. Pretty cool actually. Mentzer' pacing the song like a raged buffalo on a rampage, has taken the essence of what made Silver Mountain so good and refined it to suit himself and the Norden band. The song will collide with your innerself and hit you like a comet from outer space. Powerful stuff. Read on to find out more about the song. Thanks to vocalist: Christer Mentzer.
https://www.youtube.com/watch?v=lhakZQZfaZA
Christer Mentzer: The song you're talking about is actually a true story. A Swedish nurse who was in Italy and was badly hurt and affected. Happened around 1981? So 'No Escape' is not a typical Norden song. We were heavier and kept us mostly around mid-tempo. If it was something really important, we poured in at a pace and uptempo mode. The whole group was involved in putting songs together into one whole. But Herlogsson (Urban's note: guitarist, Jonas) and I stood for the main ideas ourselves. All song/vocals arrangements I made as well as lyrics. Sometimes Herlog had to help when I got stuck, but our music was a reflection of what happened and what will happen. We had free rein. Italian Horror master Dario Argento called one day and had heard it. Was caught by it. It fit precisely into the scene he had for the horror film 'Opera'. An honest rawness. Unfortunately, I was not there to meet him. Boss Forsberg (Urban's note: The father of Quarthon /Bathory) took care of it as I was away working with Silver Mountain during that time.
QUICK LINKS: [ 100 - 76 ] [ 75 - 51 ] [ 50 - 26 ] [ 25 - 1 ]