ALAN: 1980 is, for anyone with the remotest clue about how time works, bloody ages ago. Nearly thirty years, in fact, and I can't believe I've just typed that, as it makes me feel older that God, or Dio (whichever came first). I'll always have a special fondness for 1980, And not because both JR & John Lennon got shot, or that CNN was launched, but because 1980 was the year I got into rock music.

I was a pretty normal kid, musically, inasmuch as I followed blindly whatever my older brother liked. This was because he was older than me, and therefore I craved his approval, and also because when he was out I
could play his records. That's good old vinyl, by the way. Phillips released the first ever CD player in 1980, but it was pretty much a novelty item, and you saw plenty of news items featuring presenters
smearing jam on the discs of wiping their bottoms with them to show how 'indestructible' they were. Oh, how little they knew…

So throughout the late Seventies I liked Ska music, then punk music, then Heavy Metal, with me and my brother adorning our denim jackets with patches sewn on by our Mum. He would later go on to discover the greatness of Madonna, but I obviously stuck with metal, partly because Madonna is shit, but mainly because rock music, well, rocks.

1980 was brilliant, really, because we were in the grip of NWOBHM, possibly the world's most unwieldy acronym. The New Wave Of British Heavy Metal was quite frankly a silly name for some of the hungry young Brit metal acts that had taken over from the likes of Zeppelin and brought loud, guitar orientated music up to date and in your face.
Iron Maiden released their self titled debut, deservedly cracking the UK top 5 and
performing 'Running Free' live on perennial shit fest 'Top of The Pops'. This was a rarity, as miming was the order of the day, but Maiden refused
to go on unless they were allowed to play live, and so play live they did, and they sounded great, even though the single only got to number 34.

Maiden weren't the only British band to make waves in 1980, as throughout Europe long haired oiks handed over their dole money for albums that would no doubt turn them all into Satan worshipping child molesters who did a bit of murder on weekends and bank holidays. Judas Priest upped their game with the mighty 'British Steel', accompanied by the hilariously naff video for 'Breaking the Law'.
Ozzy Osbourne was still talented, a factdemonstrated by 'Blizzard of Ozz', an album that will forever be known as
Randy Rhodes finest hour or so, partially ruined by some mad old Brummie whining along to some great guitar. Mind you, Sabbath weren't slouching, trumping Ozzy's brilliant guitarist by recruiting a proper vocalist by the name of Ronnie James Dio and releasing the cracking 'Heaven & Hell'. Personally, I prefer 'Mob Rules', but you can't listen to the likes of 'Neon Nights' and 'Children Of the Sea' without feeling a small glow of admiration for the band. Elsewhere, Motorhead thundered on without giving any sort of a toss with their seminal 'Ace Of Spades' album, which
followed Maiden's lead by making the top five.
Finally, we had Saxon, another band releasing an utter classic album with 'Wheels Of Steel', an album so British it came with a free plate of egg and bacon and a pamphlet boasting about the fact we won 'Two world wars and one world cup'. Notable for the unique style of front man Biff 'Fookin' Byford, Saxon may not have been pretty boys but they were first rate, head down metal for the masses, infused with enough melody to catch the eye of the charts. Fookin' brill.

Although all of the above mentioned albums managed to crack the UK top ten, and in most cases the top five, another band released their debut to about as much acclaim as Joseph Frtizl's babysitting service. Sheffield
wannabes Def Leppard were included by the blanket of NWOBHM, but although 'On Through The Night' made it into the top twenty, many believed they were trying a bit hard to appeal to foreign shores with the likes of 'Hello America'.
This accusation was fuelled perhaps by the fact that the album went platinum in both the US and Canada, places known for containing
far too many foreigners than is deemed necessary. In fact, it took until 'Hysteria' in 1987 for us to forgive them, with even 'Pyromania' failing
to reach our top 10 whilst in the US and Canada it sold more than that picture of a cat dangling from a branch with the caption 'Hang In There'. And that's a LOT.

Even though the Brits were ruling the airwaves as far as rock was concerned, we let Johnny Foreigner have a go sometimes, which meant that
AC/DC were allowed to release 'Back In Black', and that my brother got to see them in Bristol. I will forever hate him for this, as I was too young to go. As I was quite unaffected by fashion at 12, I got my Mum to knit me a black jumper with the AC/DC logo on it in red. I loved that jumper, but
can now appreciate that I probably looked dafter than Tom Cruise on Oprah.
The album saw the introduction of Geordie growler Brian Johnson, and
unsurprisingly shot to the top in Australia and New Zealand, as well as the UK and Canada. Everyone was amazed at how good the band were without Bon Scott, although no one realised that this would be the last album full of decent tracks they would make for twenty eight years. I don't want any arguments here, because I'm right, and anyone who disagrees is a liar and a communist.

Germany had a good go at world domination (not for the first time) with The Scorpions' 7th album 'Animal Magnetism', which featured a cover that
had a woman and a dog suggestively looking at a man's crotch. Still, it was about fifty billion times more subtle than the paedophilic 'Virgin Killer', so we didn't mind. It sold reasonably well, riding almost as high in the UK charts than their big breakthrough 'Love At First Sting' would four years later. Mind you, it wasn't a great album, although I still have a soft spot for 'Make It Real', but 'The Zoo' still makes me want to saw my head off with a spoon. Oh, and MSG appeared as well, so that was nice.

America, as ever, was not to be left behind as a new decade was entered. Europe didn't hate them too much yet, as Reagan was still a year away and the nice, smiley Jimmy Carter was in charge. Whilst Europe was all
slobbery over proper metal, America happily embraced wimp rock, which isn't a bad thing because even back then they were doing it bloody well.
'Hi Infidelity' made REO Speedwagon into household names, and Journey's 'Departure' inched them ever closer to being at the top of their game, with their mega breakthrough 'Escape' only a year away. Slightly north, Triumph came up trumps with 'Progressions Of Power', Rush trundled on with 'Permanent Waves', and even Loverboy made a splash with their self titled debut.

Sure, it's hard to completely wibble on about such a seminal year in this short a space, but hopefully this article will have encouraged some of you to get into your metal time machine ('catch you later, Bill and Ted') and revisit some of the superb music that turned me into a metalhead and kept me that way.

And I didn't even mention Whitesnake's 'Ready And Willing'. Oops.…
URBAN: The year of the 'original' and first 'black album'. I'm obviously talking about AC/DC and their magical comeback release merely months after the tragic death of their frontman on Febuary 20, 1980. Bon Scott, a notorious drinker was found dead after yet another heavy drinking session and a night spent asleep in a friend's car. It didn't stop Acca Dacca from finding a new vocalist (Brian Johnson) and recording their most successful album, 'Back In Black'.

This was also the year of the first and original 'Monsters of Rock' at Castle Donington, U.K. Argh, one should only have been older or rather 'born earlier' as it must have been a blast watching the rather ill-matched line-up of: Touch, Riot, Saxon, April Wine, Scorpions, Judas Priest and headliners, Rainbow. The latter being 'top of the bill' was a rather strange choice in my opinion.
However, the first 'Monsters' was actually the creation of promoter Paul Loadsby who was also responsible for organising Rainbow's summer UK tour of-80 and Donington was merely to be the final show of the tour plus special guests.
Thus why the "obvious" choice of Rainbow. Opening act, US pomp group, Touch, and bassist/vocalist Doug Howard (Stun Leer) managed to swollow a bee on stage while performing and had to be rushed to hospital for treatment and that's pretty much their legacy and place in the history of hard rock. The little bugger stung Howard inside the throat and poor Dougie was puking all over the place. Not a laughing matter (even though it may sound like "fun") as it could quickly turn ugly and fatal.
Check out what Howard had to say about the matter in a much later interview by yours truly at RockUnited. " What happened was I picked up a beer with a bee inside of it and the little fucker stung me in the throat on the way down. I'm allergic to insect bites to begin with so I started puking all over the back stage area and then my throat closed up so I couldn't breathe.
Having someone shove a plastic tube down your throat in an ambulance is a pretty crappy way to celebrate a great show like that. So any over the hill publicity starved has been who thinks that was staged should suggest that directly to my face and I'll gladly hand them their teeth in a bag. Believe me... it may have been funny afterwards.... but when it happened it was horrid".

Another weird Donington story is the one about Cozy Powell's firework. Not sure if it had something to do with Cozy leaving after the show (the first 'Monsters' was the last Rainbow gig for Cozy), however, the PA was damaged by an explosion caused by the crew who were testing drummer Cozy Powell's pyrotechnics and fireworks the day prior to the gig. £18,000 down the sink and the stage set-up was damaged beyond repair.
Did someone say Spinal Tap? Exploding drummers? You betcha'!!!

[ 1980 ]
Choose a year:
[1980] [1981]
[1982] [1983]
[1984] [1985]
[1986] [1987]
[1988] [1989]
Alan, Bandi, Kimmo, Martien, & yours truly, Urban of RockUnited.Com have been spending weeks, months, wading through a bunch of weird looking artcovers and albums of the eighties! Indeed, not an easy task, tracking back in space and time, especially since some of us were almost still in diapers (sticky) at the early days of this era of grand and fantastic music. Check out the left-side border for our yearly write-up in 'black', and this is RockUnited's official 'Best-Of-Album Chart of 1980', calculated from the individual charts. No live-ones, EP's or compilations are included, merely studio albums. You can find them all and complain about our personal taste (or rather the complete lack of it) further down this page! This is merely our humble and tiny celebration of the hairmetal days or daze for that matter. Enjoy or not - this is the eighties: 1980.

THE ALBUMS OF THE YEAR: 1980
40. Girl - Sheer Greed
39. Witchfynde - Give 'Em Hell
38. Kansas - Audio Visions
37. Accept - I'm A Rebel
36. Blackfoot - Tomcattin'
35. The Baby's - Union Jacks
34. Diamond Head - Lightning To The Nations
33. Frank Marino - What's Next
32. Van Halen - Women And Children First
31. Pat Benatar - Crimes Of Passion
30. Rory Gallagher - Stage Stuck
29. Triumph - Progressions Of Power
28. Budgie - Power Supply
27. Loverboy - Loverboy
26. Angel Witch - Angel Witch
25. Heart - Babe Le Strange
24. MSG - Michael Schenker Group
23. Stiff Little Fingers - Nobodys Heroes
22. Krokus - Metal Rendez-Vous
21. Def Leppard - On Through The Night
20. Saga - Silent Knight
Pompous, Prog Rock, from Canada and Saga. Very artsy-fartsy as some would say. Music defined by staccato guitar riffs, often in harmony with a synthesizer, and complex keyboard arrangements, frequently featuring three players. Vocalist Sadler would often double on bass and keys. Two of the songs are part of the series 'Chapters', the story of Einstein.

19. Queen - The Game
Another One Bites The Dust - Indeed, they're giving the game away as Queen decided to turn their backs on rock and focus more on pop from this point on. Forgive us if we don't think of Queen as 'hard rock' in the 80's, but it's difficult to say otherwise. This one had stabs at pop and disco, but it's still a decent platter no matter what.

18. Bryan Adams - Bryan Adams


The debut didn't make a lot of waves across the pond, or anywhere else for that matter. Adams' would however quickly learn how to master the art of songwriting, together with his partner in crime, Jim Vallance. This was merely a testrun for much better things to come throughout the entire eighties and early nineties. Not too shabby really.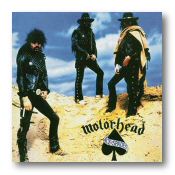 17. Motorhead - Ace Of Spades


Ian 'Lemmy' Kilminster, 'Fast' Eddie Clarke, Philthy 'Animal' Taylor - the ugliest, loudest, heavy metal trio of their time, and they certainly proved it all on 1980's Ace Of Spades. You couldn't find a heavier platter at the weightwatchers headquarters and the title track will forever be recognized as one of the most influencial metal anthems. Respect!

16. Saxon - Strong Arm Of The Law
Merely the second best studio release by Saxon in this bugger old year of 1980. Barnsley's pride and joy, at the mercy of the 'Strong Arm Of The Law'. Not quite as impressive as 'Wheels Of Steel', but impressive enough to end up at #16 at the RockUnited chart. Tracks like ' Heavy Metal Thunder' & 'Dallas 1 PM', are classic tunes, if ever.

15. Ozzy Osbourne - Blizzard Of Ozz
Let's go fuc*ing crazy!!! Indeed, heavy metal doesn't get any crazier than Ozzy in '80 (or any other year for that matter). The daughter of Don Arden (Jet Rec) managed to restart Ozzy's career by picking up the pieces and convince 'dad to sign him to Jet. Ozzy repayed 'em both by finding Randy Rhoades and record a smashing debut. All hail Sharon! not.

14. Scorpions - Animal Magnetism
What the hell? Is he seriously thinking about getting a bj from the dog in favor of the woman? Well, I suppose that's porn made in Germany after all? Featuring the soundtrack to 'saw your head of with a spoon', The Zoo (I quite like the hypnotic beat of the song). Quite a disappointment following the excellent 'Lovedrive'. Better efforts to come in the 80's.

13. G-Force - G-Force
Gary Moore got sacked by Phil Lynott during the U.S. tour of '79 (allegendly due to speaking up against the band's heavy drug abuse) and decided to form another band project in late '79. Their one and only effort is a fine example of poppy hard rock tunes. 'You Kissed Me Sweetly' is so syrup, you could use it on your pancakes. Nice!

12. Thin Lizzy - Chinatown
One of the least brightest moments in their discography. The fact it still ended up at #11, should give you a insight about their other releases. Lynott recorded a solo album and had problems finding the replacement to Gary Moore. Midge Ure (Ultravox) didn't work out. The single 'Killer On The Loose' didn't go down too well due to the Yorkshire Ripper.

11. Journey - Departure
The 1980 effort by the Gods of AOR included the smashing hit, 'Anyway You Want It'. What about the rest? Hardly worth the trouble if you ask me, especially considering the songs on next years' mega success (Escape). That one hit the US number one spot, and ended up selling a ship load of copies. Steve Perry sings incrediable well on this platter tho'.

10. Whitesnake - Ready 'An Willing
'Ere's a new song for ya'. Featuring the original version of, 'Fool For Your Loving', also included on 1989's 'Slip Of The Tongue'. This is, according to a bunch of old geezers, the real sound of Whitesnake. Featuring the blues and ugly lookin' men, not too bothered about image and fluffy hair (Marsden, Moody). 'Sweet Talker', etc. = old skool hard rock.

9. Black Sabbath - Heaven And Hell
The first of two great Sabbath albums to feature the vocals of the little, old, elf, Ronnie James Dio (they would later record a third, not so great reunion album). The prince of fuc*in' darkness had been replaced by a much superior vocalist and a new Sab' era and style was born. An instant hit on the other side of the pond and a milestone in/of metal.

8. Saxon - Wheels Of Steel


To quote Alan in our left-side story "an album so British it came with a free plate of egg and bacon" end quote. I'd throw in some fish & chips as well as poor dental work, but hey, that's just me. Smashing NWOBHM or whatever you'd like to name it. Hi-pitched vocals by Biff and tracks like: 747, Motorcycle Man, Street Fighting Man, Suzie Hold On, etc. = classic.

7. Judas Priest - British Steel
One thing's for sure, they had absolutely no idea about how to make british steel last for another decade. The 1980's marks the end of industrial England and merely this platter would sort of stand the test of time. Priest managed to combine heaviness and melody with great effect and it's difficult to resist headbanging along to the likes of 'Breaking The Law !!!

6. Rush - Permanent Waves
This was a real turning point in the history of Rush' music. It's basically their first platter to feature "simplier", shorter, arrangements and songs. Sure enough, it still featured the odd epic (Natural Science). However, Permanent Waves is overall more easy accessible and dare I say, catchier, than their seventies material. Pretty brilliant schtuff.

5. KISS - Unmasked


Nope, they didn't unmask themselves. You had to wait until 1983 for that tragic moment in history. This platter is however filled with catchy pop metal which sadly didn't please their fan base at the time. Stanley as always came up with the best songs: Is That You, What Makes The, Tomorrow, Easy As It Seems. But, even Frehley and Simmons did good.

4. Touch - Touch
Formed from the ashes of American Tears, Touch set out to create an all-time classic Pomp/AOR record of the year. Soaring synthesizers and marvelous vocal harmonies by all members is their trademark. First band ever to play Monsters Of Rock (left-side story). Mangold & Drive She Said recorded 'Don't You Know What Love Is' once again in 89.

3. REO Speedwagon - High Infidelity


'I heard it from a friend, who heard it from a friend, who heard it from another you've been messin' around'. Believe it or not, I didn't hear this from a friend as I discovered the music of REO in the late 90's. This was a smash hit album for the band as it worked magic as a cross-over between pop, rock, and wimpy hardrock. Did someone say yacht music?

2. Iron Maiden - Iron Maiden
The real starting point for this thing called New Wave Of British Heavy Metal. Acts like Saxon & Samson had started to make waves. However, noone made such a impact as West Ham fanatic Steve Harris and co. Vocalist Paul Di'Anno sort of had the attitude and performa of a punk rocker and thus why you can pick up some punky vibes on the occasional track.

1. AC/DC - Back In Black
Talk about classic schtuff and sadly also the last (?) of the r-e-a-l-l-y classic albums by the ozzies. Songs like 'Hells Bells', 'Shoot To Thrill', Given The Dog A Bone', Back In Black', You Shook Me All Night Long' and 'Rock And Roll Ain't Noise Pollution', gets you in the heart every time. Air guitar heroes unite. This one's for all the rockers out there to get (all album comment nonsense by: Urban)




INDIVIDUAL LISTS OF 1980 *Personal Stuff*

Urban (Wally):


Albums Top 30:

1. JUDAS PRIEST - British Steel
2. KISS - Unmasked
3. AC/DC - Back In Black
4. OZZY OSBOURNE - Blizzard Of Ozz
5. IRON MAIDEN - Iron Maiden
6. SAGA - Silent Knight
7. KROKUS - Metal Rendez Vous
8. WHITESNAKE - Ready 'An Willing
9. SAXON - Wheels Of Steel
10. ANGEL WITCH - Angel Witch

11. BLACK SABBATH - Heaven & Hell
12. MOTORHEAD - Ace Of Spades
13. RUSH - Permanent Waves
14. G-FORCE - G-Force
15. TOUCH - Touch
16. SCORPIONS - Animal Magnetism
17. REO SPEEDWAGON - Hi Infidelity
18. SAXON - Strong Arm Of The Law
19. DIAMOND HEAD - Lightning To The...
20. THIN LIZZY - China Town

21. DEF LEPPARD - On Through The Night
22. KANSAS - Audio Visions
23. ACCEPT - I'm A Rebel
24. MSG - Michel Schenker Group
25. JOURNEY - Departure
26. HEART - Babe Le Strange
27. TRIUMPH - Progressions of Power
28. WITCHFYNDE - Give 'Em Hell
29. VAN HALEN - Women & Children First
30. GIRL - Sheer Greed





Alan:


Albums Top 20:

1. AC/DC - Black In Black
2. Iron Maiden - Iron Maiden
3. REO Speedwagon - Hi Infidelity
4. Saxon - Strong Arm Of The Law
5. Stiff Little Fingers - Nobody's Heroes
6. Queen - The Game
7. Touch - Touch
8. Thin Lizzy - Chinatown
9. Saxon - Wheels Of Steel"
10. Journey - Departure

11.Whitesnake - Ready & Willing
12. Rush - Permanent Waves
13. Pat Benater - Crimes Of Passion
14. Def Leppard - On Through the Night
15. Motorhead - Ace Of Spades
16. Black Sabbath - Heaven & Hell
17. Ozzy Osbourne - Blizzard Of Ozz
18. Triumph - Progressions Of Power
19. Scorpions - Animal Magnetism
20. The Babys - Union Jacks





Martien:

Albums Top 20:

1. RUSH - Permanent Waves
2. G-FORCE - G-Force
3. THIN LIZZY - Chinatown
4. BLACK SABBATH - Heaven And Hell
5. AC/DC - Back In Black
6. JOURNEY - DEPARTURE
7. MSG - MSG
8. JUDAS PRIEST - British Steel
9. HEART - Bebe Le Strange
10.BUDGIE - Power Supply

11.IRON MAIDEN - Iron Maiden
12.RORY GALLAGHER - Stage Struck
13.SAXON - Wheels Of Steel
14.TRIUMPH - Progression Of Power
15.VAN HALEN - Women & Children First
16.FRANK MARINO - What's Next?
17.REO SPEEDWAGON - High Infidelity
18.OZZY OSBOURNE - Blizzard of Oz
19.MOTORHEAD - Ace Of Spades
20.BLACKFOOT - Tomcattin"


Kimmo:

Albums Top 20:

1. TOUCH - Touch
2. REO SPEEDWAGON - Hi Infidelity
3. SCORPIONS - Animal Magnetism
4. Kiss - Unmasked
5. Bryan Adams - st

Bandi:

Albums Top 20:

1. Queen - The Game
2. REO Speedwagon - Hi Infidelity
3. Whitesnake - Ready n' Willing
4. AC/DC - Back in Black
5. Def Leppard - On Through The Night
6. Bryan Adams - Bryan Adams
7. Touch - Touch
8. Journey - Departure
9. Loverboy - Loverboy
10.Kiss - Unmasked

1980:



Songs of the year:

Judas Priest - Breaking The Law
AC/DC - You Shook Me All Night Long
KISS - Shandi
Krokus - Bedside Radio
Ozzy Osbourne - Mr Crowley
Black Sabbath - Heaven & Hell
Saxon - 747 (Strangers In The Night)
Pat Benatar - Hit Me With Your Best Shot
Whitesnake - Fool For Your Loving
Iron Maiden - Running Free
Saga - Don't Be Late
Motörhead - Ace Of Spades
G-Force - You Kissed Me Sweetly
Ian Gillan - No Laughing In Heaven
Queen - Another One Bites The Dust
MSG - Armed And Ready
Scorpions - The Zoo
Styx - Too Much Time On My Hands
Journey - Anyway You Want It
Accept - I'm A Rebel
Thin Lizzy - Chinatown
Kansas - Hold On
Diamond Head - Em I Evil
Angel Witch - Angel Witch
Touch - Don't You Know What Love Is
City Boy - Heads Are Rolling
REO Speedwagon - Keep On Loving You
Loverboy - Turn Me Loose


Urban (Wally):


POP/Rock albums of the year:

Christopher Cross - S/T
U2 - Boy
Hall & Oates - Voices
Kate Bush - Never For Ever
Dire Straits - Making Movies
Bruce Springsteen - The River
The Jam - Sound Affects
Cars - Panorama
Joy Division - Closer
Police - Zenyatta Mondatta
Ultravox - Vienna
Japan - Gentlemen Take Polaroids
Cure - Seventeen Seconds
Abba - Super Trouper
Leo Sayer - Living In A Fantasy
Blondie - Autoamerican
Huey Lewis & The News - S/T
Bob Marley - Uprising
Roxy Music - Flesh And Blood
Visage - S/T
Madness - Absolutely
Adam& the Ants - Kings of the Wild Frontier
David Bowie - Scary Monsters
Peter Gabriel - S/T
Manfred Mann's Earth Band - Chance
John Lennon - Double Fantasy
Billy Joel - Glass Houses
Stevie Wonder - Hotter Than July
Buggles - The Age of Plastic
Elvis Costello - Get Happy
Genesis - Duke
Pretenders - S/T
The Cure - Boys Don't Cry
The Clash - Sandinista
O.M.D. - O.M.D.
Steve Winwood - Arc Of A Diver, etc.