URBAN: SMF's! Do you recall being harassed by a mad, vein popping, teacher, for drawing the Twisted Sister logo on your fancy school book? Did you ever hear the words 'what kind of a man desecrates a defenseless textbook?! I've got a good mind to slap your fat face'.
Have you ever been questioned 'what do you wanna do with your life' - and did your reply come just as naturally and witty as 'I WANNA ROCK'?
Anyhow, welcome to 1984, the year of mindblowing music and slapstick-ing comedy (or vice versa for that matter). The year when the only ever decent comedian from Wales (Tommy Cooper) suffers a massive heart attack and dies while live on TV (now that's metal! fez and everything).

Let's once and for all end the discussion about Van Halen's 1984. Yes, it clearly reads '1983' on the backcover. Thus being the year of printing, the record being shipped to factory in late -83. However, it wasn't officially released in stores until January 9, '84. Not to mention, it'd make no bloody sense naming it '1984' for a '1983' release.
The title is obviously connected to the classic dystopian novel by posh English author, George 'I scared the shit outta kids with my Animal Farm' Orwell. Published already in 1949, it is set in the eponymous year and focuses on a repressive, totalitarian regime. Hint the birth of the original term and concept, "Big Brother" (mind you, blonde kids all over the world, not the awful reality show you've been watching lately).

Ehem, not that David Lee Roth and co. could care or were even remotely influenced lyric-wise by George Orwell. Nah, they just wanted to 'Jump', reach, 'Panama', and were at the same time 'Hot For The Teacher'.
"the credibility of Van Halen would probably mean 'nada' today, if not for the unbelievable guitar work".
Blimey, it's not exactly rocket science and the credibility of Van Halen would probably mean 'nada' today, if not for the unbelievable guitar work by Eddie.
He also proved to be a smashing keyboard player and managed at the same time to devide the hard rock fans in two camps. You either found synths as something for the likes of Depeche Mode and Ultravox to play around with... or you looked upon 'Jump' as something fresh and new.
Me? I had not heard a single note prior to 'Jump' and thought of the song as their natural and original wimp pop metal sound. It's a decent platter, but hardly among the best ones of the year.
Ehem, meanwhile, Bobby Ewing found himself in the crossfire as a rival tries to gun down his brother J.R. on the season finale of Dallas.

'Are We There yet, Are We There Yet?' car trips as a kid could frankly just end up in disaster and ululation. Especially when you're desperately waiting to arrive at the new zoo... miles and miles away from home. It was pissing down for the entire trip (cats & dogs) and we ended up at the local mall instead of outside and the real animals.
"at the threat of throwing a massive tantrum".
At the threat of throwing a massive tantrum I managed somehow to convince my folks to buy Whitesnake's 'Slide It In' and Iron Maiden's 'Powerslave' on original cassette. I had my sturdy sony walkman ready for some headbanging action (again, blonde kids, nevermind, we're talkin' about the original cassette player model, not the mobile phone of today) and cranked up the volume.
How can I recite this moment so clearly? Would you not recall the day you heard two of the all-time best hard rock releases during the same awful trip? I rest my case. 'Slide It In', killer material from start to finish and David Coverdale at his vocal best. Every single track from 'Gambler' to 'Guilty Of Love' will get your blood boiling in no time.

And 'Powerslave', where do I begin? Egypt was actually a pretty darn popular concept idea in the year of -84. The tiny pharaoh, Dio, did a fine attempt to awaken osiris with 'The Last In Line', but had to give in for the mighty folks of Maiden.
'Day after day, day after day, We stuck, nor breath nor motion. As idle as a painted ship Upon a painted ocean. Water, water, everywhere, And all the boards did shrink. Water, water, everywhere, Nor any drop to drink'.
The Rime of the Ancient Mariner is basically a poem straight from the pen of the English poet, Samuel Taylor Coleridge, written in 1797/98 and considered as a shift to modern poetry and the beginning of British Romantic literature. The Mariner's tale is based upon superstitious nature and the killing of an albatross at sea. Bad luck would occur in other words.

Only good things happened to Iron Maiden this year though as they conquered America and managed to create an all-time classic album.
Speaking of conquerer and US. President Ronald Reagan, f**ked up during a voice check for a radio broadcast, 'My fellow Americans, I'm pleased to tell you today that I've signed legislation that will outlaw Russia forever. We begin bombing in five minutes'.
"don't push the red button! don't drop the a-bomb (still alive in '85, had the t-shirt)".
Gulp! kids all over the world had nightmares for weeks. Please sirs, don't push the red button, don't drop the a-bomb (still alive in 85', had the t-shirt). U.K. pop musicians gathered in Notting Hill years before that awful movie to form Band Aid and record "Do They Know It's Christmas".
Why? I dunno... in order to raise money for famine relief, Ethiopia. One million of them dies of starvation during '84 though (Ethiopians, not band-aid musicians), and it's all Bob Geldolf's fault. Damn you, Bob! Damn you!

Not that I cared much. Too busy being a kid and enjoyed doing all the juvenile things you do when you're riding a 'DBS Apache' bike, and thought of brand new movies such as: 'Gremlins' and 'Ghostbusters' as instant classics.
In hardrock related news, the month of December turned out to be rather bleak that year. Hanoi Rocks drummer Razzle is killed in an car accident on December 9. The driver of the vehicle, a certain Vince Neil of Motley Crue. Def Leppard's drummer Rick 'I can still beat the crap outta the wife with my right arm' Allen, loses his left arm in a car accident on Dec 31.
"raw meat, blood, exploding codpieces, and of course, the everlasting curse of Tipper 'fookin' Gore".
Yup, Satan Claus brought us gifts and Blackie Lawless introduced us to horror and terror in the form of raw meat, blood, exploding codpieces, and of course, the everlasting curse of Tipper 'fookin' Gore.

W.A.S.P. quickly became the talk of the schoolyard that year due to their image. It's easy to forget that their debut is an all-time classic as well as the best record by Blackie & co.
Another major talkie of the year, the return of dino rockers, Deep Purple. I knew absolutely nuthin' about Purple and didn't bother finding out, since they were all a bunch of old farts anyhow. Ian Gillan quickly distanced himself as far as possible from the Sabbath fiasco a year earlier, which included a huge stonehenge set, too big to fit indoor venues (Spinal Tap).
Sweden finally managed to produce some quality LP's with the ones from Europe, 'Wings Of Tomorrow' and Yngwie Malmsteen's Rising Force. The latter is still regarded as one of the most influencial hard rock guitarists. Clearly not the great artist anylonger. However, all credit to the donut lovin' weirdo for not selling out to trends and styles.
"the kids were headbanging along to 'Rock You Like An Hurricane', from the beach of Miami to checkpoint charlie".

Scorpions conquered America that year too, and ended up touring all over the place. Finally German world domination! The kids were headbanging along to 'Rock You Like An Hurricane', from the beach of Miami to checkpoint charlie in Berlin. Mind you, poor bastards at the wrong side of the Wall didn't have much to cheer about in another five years or so.
Maiden and Scorps' would record their tours of America and release two all-time classics the following year (Live After Death & World Wide Live). Live albums never sounded better or were regarded as important from that point on.
The summer of '69 happened in '84 as Canada's best export since, Ice Hockey, scored big time with a slap shot from the blue line. The dodgy DJ at your 3rd grade elementary school disco insisted on playing 'Heaven' every fifth minute, while you kept staring down the floor or grabbing the wall. Yup, we boys sure hated Bryan Adams! It took years until I appreciated 'Reckless' for what it is (a great record).

KISS had a huge hit with 'Heaven's On Fire', one of those songs I simply can't stand anylonger. I much rather prefer 'It's My Life' recorded by Wendy O'Williams on her Gene Simmons' produced album, 'WOW'. Metallica released 'Ride The Lightning', which I completely ignored, hey, I was just a tiny kid and they scared the crap outta me. It's a top-10 record of the year tho'.
"RATT's came 'Out Of The Cellar' and ran mostly 'Round And Round'... due to some 'Lack Of Communication".
Cult heroes 'Icon' released their debut and Mercyful Fate told us to 'Don't Break The Oath'. RATT's came 'Out Of The Cellar' and ran mostly 'Round And Round'... due to some 'Lack Of Communication'.
Bozo The Clown told us to 'Turn Up The Radio', nah, merely Autograph and Bozo look alike, Steve Plunkett. Smashing debut no matter what. They toured with Van Halen even before they had a record contract. I discovered the ehem, very metal music of Judas Priest and 'Defenders Of The Faith'.
This strange US act, 'Bon Jovi', released their ultra catchy and slightly corny debut and went out on tour with KISS. By the way, is that a girl on the cover? [ouch!].

Anthrax had a 'Fistful Of Metal', The Rods 'Let Them Eat Metal', Lee Aaron, the one and only, 'Metal Queen'. What a little ripper! Survivor (blonde kids, nevermind) didn't take place on a desert island after all as they showed 'Vital Signs'.
Hands down, this will probably go down in history as the best hard rock and heavy metal year ever. Yes, No?
Well... just remember that propaganda is pervasive - 'Big Brother Is Watching You'
- 1984.
KIMMO: Random memories of 1984... Like someone sang, "the summer seemed to last forever", and it was one of those summer evenings, when I was listening to radio with the tape deck ready to record anything that might be interesting. The radio DJ said something to the effect of "the next two artists are both card-holding members of the Melodic Heavy Rock Union of New York", and I rushed to the deck and pressed "record" - melodic and heavy rock - this could be good! The songs he played were "Two Silhuettes" by Russ Ballard and "Runaway" by Bon Jovi. Never mind that there's no such thing as the Melodic Heavy Rock Union of New York, I was hooked. And I still am.
The video age was creeping into my neigbourhood, and every now and then one of the kids got a tape with one of those rock shows of the era, "Power Hour" or whatever they were called. Someone discovered how to copy those tapes using two VCR's, and soon we all had copies of those videos on very own tapes. We watched those funny Twisted Sister videos, the Crüe and the Kiss ones, but among the "usual stuff" there were some great unknowns, which were favourites of mine. Lionheart combined a weird storyline with a killer melodic rock song in "Die For Love", as did Y&T in "Don't Stop Runnin'". Let's not talk about the video for Bon Jovi's "Runaway"... The king of Kool however was Little Steven, who strutted in his gypsy rocker attire in the "Out Of The Darkness" video - that song will forever be one of my all time favourites.

[ 1984 ]
Choose a year:
[1980] [1981]
[1982] [1983]
[1984] [1985]
[1986] [1987]
[1988] [1989]
Alan, Bandi, Kimmo, Martien, & yours truly, Urban of RockUnited.Com have been spending weeks, months, wading through a bunch of weird looking artcovers and albums of the eighties! Indeed, not an easy task, tracking back in space and time, especially since some of us were almost still in diapers (sticky) at the early days of this era of grand and fantastic music. Check out the left-side border for our yearly write-up in 'black', and this is RockUnited's official 'Best-Of-Album Chart of 1984', calculated from the individual charts. No live-ones, EP's or compilations are included, merely studio albums. You can find them all and complain about our personal taste (or rather the complete lack of it) further down this page! This is merely our humble and tiny celebration of the hairmetal days or daze for that matter. Enjoy or not - this is the eighties: 1984.

THE ALBUMS OF THE YEAR: 1984
60. Quiet Riot - Condition Critical
59. Exciter - Violence & Force
58. Running Wild - Gates To Purgatory
57. Steve Perry - Street Talk
56. Kiss - Animalize
55. Black 'N Blue - Black 'N Blue
54. Triumph - Thunder Seven
53. Armored Saint - March Of The Saint
52. Airrace - Shaft Of Light
51. Strangeways - Strangeways
50. Spinal Tap - This Is Spinal Tap
49. Mercyful Fate - Don't Break The Oath
48. The Rods - Let Them Eat Metal
47. Franke & The Knockouts - Makin' The Point
46. Lee Aaron - Metal Queen
45. Steve Vai - Flexable
44. Mad Max - Rollin' Thunder
43. Camel - Stationary Traveller
42. Russ Ballard - Russ Ballard
41. Great White - Great White
40. Ratt - Out Of The Cellar
39. Manowar - Sign Of The Hammer
38. Wendy O Williams - Wow
37. Anthrax - Fistful Of Metal
36. Manowar - Hail To England
35. Toto - Isolation
34. Marillion - Fugazi
33. Robin George - Dangerous Music
32. Mama's Boys - Mama's Boys
31. REO Speedwagon - Wheels Are Turnin'
30. Hanoi Rocks - Two Steps From The Move
29. Fates Warning - Nights On Broken
28. Chicago - 17
27. Rush - Grace Under Pressure
26. Y&T - In Rock We Trust
25. Giuffria - Giuffria
24. Dokken - Tooth And Nail
23. Lionheart - Hot Tonight
22. Deep Purple - Perfect Strangers
21. Saxon - Crusader

20. White Sister - White Sister
Pompous rock debut by the California rockers and heavily inspired by Angel. White Sister are the natural successors of the late seventies pomp sound with flowing keyboards and vocal harmonies. Angel, Giuffria, House Of Lords keyboardist, Gregg Giuffria, produced the rather dodgy sounding LP. The songs are nice, the sound, so-so.

19. Icon - Icon
Mike Varney discovered them under the monicker, The Schoolboys. Capitol Records signed them up as Icon and released their debut in '84. It's rampaging metal with the image and lyrics of Mad Max (the movie, not the band). Excellent twin-guitars and ditto vocals by Stephen Clifford. Their 2nd release would drop the metal and add on melody.

18. W.A.S.P. - Wasp


'We Are Sexual Perverts' or 'We Are Satans People' - neither as the initials are never as important as the actual music. However, they omitted 'Animal' (F**k Like A Beast) to prevent the album from being banned in US stores. Blackie ruled and Tipper Gore loved'em from day one. Contains the classic 'I Wanna Be Somebody'.

17. Judas Priest - Defenders Of The Faith


'Rising from darkness where hell hath no mercy and the screams for vengeance echo on forever. Only those who keep the faith shall escape the wrath of the Metallian - Master of all metal'. Contains the song which ended up as #3 on the 'filthy fifteen', a list PMRC founder Tipper Gore found most objectionable. Priest were an unstoppable force...

16. Honeymoon Suite - Honeymoon Suite
Their self-titled debut, which led them to have four major hits in Canada: 'Burning In Love', 'Stay In The Light', 'Wave Babies', 'New Girl Now'. The latter managed just to reach Top-50 in the states. They had a kind of New-Wave tinged AOR sound on their first platter. Very catchy, and they got progressively heavier with each new effort.

15. Twisted Sister - Stay Hungry
'Play It Loud, Mutha!'. MTV turned a bunch of SMF's into mega-stars in '84. The public enemy #1 award of the year goes to: Dee 'SMF' Snider. Mr.Sister himself - no ordinary jackass. Testified before a Senate comittee due to violent and wicked behaviour? All hail Tipper! We're Not Gonna Take It. 'Burn In Hell' and 'The Beast' are the real hits.

14. Queensryche - The Warning
The biggest metal act from Seattle (until the grunge age) with their debut full length album, 'The Warning'. The band wasn't happy with producer James Guthrie (Pink Floyd) as he had not really made a metal sound of it. Sure, it contains strings and several slow tracks, but it's an otherwise beautiful and attractive kind of Maiden, Prog-ish, album.

13. Yngwie Malmsteen's - Rising Force
Nominated for a Grammy for 'Best Rock Instrumental' and it reached top-60 on the US billboard. 'Rising Force' was a marvelous start for the solo career of the nutty Swede. The creator of the term 'Neo-classical' rock as well as one of the biggest guitar heroes of the eighties, only second to Eddie Van Halen of course. Widdly-widdly.

12. Survivor - Vital Signs
The reality show of 1984? Nope, it's a proper band and everything. Original vocalist Dave Bickler had been replaced by Jimi Jamision (ex-Cobra, tipped to join Rainbow). He proudly proclaimed 'It's The Singer Not The Song', I'd say it's the other way around. LP peaked at #16. 'The Search is Over (#4), 'High On You (#8), top-10 singles.

11. Autograph - Sign In Please
Bozo The Clown look-a-like, Steve Plunkett, chose the name Autograph after hearing Def Leppard's 'Photograph' on the radio. They were invited by D.L.Roth to play support act on Van Halen's US tour, before they had a record deal. 'Turn Up The Radio' became a top-30 hit and the song was featured in 'Miami Vice' and everything. Catchy!

10. Dio - The Last In Line
Merely the second best Egyptian themed album of the year (Iron Maiden's 'Powerslave' being the real winner). The big voice, tiny Pharaoh, Ronnie James Dio, tried his very best to awaken Osiris though. Unfortunately, each new Dio album from this point on, became more and more repetitive and frankly put boring. The last of the Dio classics.

9. Scorpions - Love At First Sting
'Here I am - Rock You Like A Hurricane'. Scorpions recorded their ninth and most successful studio album this year. It peaked at #6 on the Billboard 200 and went triple platinum in the states. Not bad, considering the ultra thick accent and dodgy managment. Rudy Schenker, a riff-master and you can find plenty of magical moments.

8. Van Halen - 1984


A cherub smoking a cigarette? The cover of a smoking hot platter. Voilá - the winning concept for Van Halen in 1984. Any real metal fan would obviously think of this as a complete and utter sell-out. "Jump" had more keyboards than all the synth-bands put together. The song reached #1 and the album #2 on the billboard list. $$$

7. Iron Maiden - Powerslave
Iron Maiden's (as well as Dio's) release of the year displayed the Egyptian theme and colour. No doubt, 'Powerslave' and the 'World Slavery Tour', are the real champions and pharaoh's of '84. Notable as the first Maiden album to feature the same line-up as the previous one. Classics such as: 'The Rime', "Ace's High', '2 Minutes To Midnight', etc.

6. Europe - Wings of Tomorrow
'Ride, ride, ride, on the wings of tomorrow. Ride, ride, ride, to change the world'. Europe were about to change the world in a couple of years time with the 'fanfare' song. This is their 2nd release, featuring the only song co-written by former bassist Marcel Jacob (R.I.P.) as well as the original version of 'Open Your Heart'. Scandi-Rock at its best.

5. Foreigner - Agent Provocateur


Wait for it, wait for it... contains their biggest selling single, 'I Want To Know What Love Is'. Well, you had it coming. The utterly cheesy, yet strangely great, smash-hit, reached the number one spot in USA, UK, Sweden, Australia, Norway, etc. All together now: 'In my life there's been heartache and pain. I don't know if I can face it again'...

4. Metallica - Ride The Lightning
'Flash before my eyes. Now it's time to die. Burning in my brain. I can feel the flame'. The sophomore release by Metallica, 'Ride The lightning', a vast improvement in both sound and style. The main difference since their debut, the longer, more symphonically arranged tracks, 'Fade To Black', and the Cliff Burton masterpiece, 'The Call Of Ktulu'.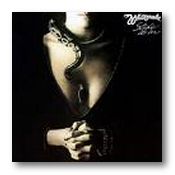 3. Whitesnake - Slide It In


The US version of 'Slide It In' feature additional guitars by John Sykes and was remixed to fit the 'American' market and sound. Not sure what they have against a proper bass and keyboard sound? Especially as the latter is the work of Jon 'The Walrus' Lord. Their best overall release? a perfect mix of the old and new Whitesnake.

2. Bon Jovi - Bon Jovi
Best newcomers of 1984. Originally titled, 'Tough Talk', the self-titled debut album by Bon Jovi was produced by Jon's cousin, Tony (co-owner of Power Station Studios where Jon worked), and Lance Quinn. It's very much AOR in the vein of cult Jersey act, Franke & The Knockouts, and Aldo Nova. Bigger, but not always, better, things to come.

1. Bryan Adams - Reckless
The 'Reckless' behaviour of Bryan Adams was awarded in 1984 with a number one album in the states. Six (6) singles (Heaven, It's Only Love, One Night Love Affair, Run To You, Somebody, Summer of 69) made the top-15 on the US Billboard, something which only Michael Jackson had accomplished earlier. (all album comment nonsense by: Urban)




INDIVIDUAL LISTS OF 1984 *Personal Stuff*

Urban:


Albums Top 30:

1. Iron Maiden - Powerslave
2. Metallica - Ride The Lightning
3. Whitesnake - Slide It In
4. Scorpions - Love at First Sting
5. Judas Priest - Defenders of the Faith
6. Bon Jovi - Bon Jovi
7. Bryan Adams - Reckless
8. W.A.S.P. - Wasp
9. Manowar - Hail To England
10. Twisted Sister - Stay Hungry

11. Wendy O Williams - Wow
12. Europe - Wings of Tomorrow
13. Autograph - Sign In Please
14. Queensryche - The Warning
15. Icon - Icon
16. Deep Purple - Perfect Strangers
17. Dio - The Last In Line
18. The Rods - Let Them Eat Metal
19. Mercyful Fate - Don't Break the Oath
20. Survivor - Vital Signs

21. Y&T - In Rock We Trust
22. Anthrax - Fistful of Metal
23. Honeymoon Suite - s/t
24. Kiss - Animalize
25. Dokken - Tooth and Nail
26. Manowar - Sign Of The Hammer
27. Running Wild - Gates to Purgatory
28. Ratt - Out of the Cellar
29. Van Halen - 1984
30. White Sister - White Sister





Alan:


Albums Top 20:

1. Bryan Adams - Reckless
2. Iron Maiden - Powerslave
3. Metallica - Ride The Lightning
4. Dio - The Last In Line
5. Van Halen - 1984
6. Mama's Boys - Mama's Boys
7. Robin George - Dangerous Music
8. Lionheart - Hot Tonight
9. Scorpions - Love At First Sting
10.Survivor - Vital Signs

11.Saxon - Crusader
12.Foreigner - Agent Provocateur
13.Bon Jovi - Bon Jovi
14.Queen - The Works
15.Don Henley - Building the Perfect
16.Autograph - Sign In Please
17.Whitesnake - Slide It In
18.White Sister - White Sister
19.Giuffria - Giuffria
20.Hanoi Rocks - Two Steps From the





Martien:

Albums Top 20:

1. Rush - Grace Under Pressure
2. Metallica - Ride The Lightning
3. Queensryche - The Warning
4. Dio - The Last In Line
5. Fates Warning - Night On Broken
6. Yngwie Malmsteen's Rising Force
7. Marillion - Fugazi
8. Van Halen - 1984
9. Iron Maiden - Powerslave
10.Foreigner - Agent Provocateur

11.Europe - Wings Of Tomorrow
12.Deep Purple - Perfect Strangers
13.Camel - Stationary Traveller
14.Steve Vai - Flex-able
15.Saxon - Crusader
16.Manowar - Sign Of The Hammer
17.Bon Jovi - Bon Jovi
18.Judas Priest - Defenders OfThe Faith
19.Anthrax - Fistful Of Metal
20.Armored Saint - March Of The Saint
21.Bryan Adams - Reckless


Kimmo:

Albums Top 25:

1. Bon Jovi - Bon Jovi
2. Bryan Adams - Reckless
3. Scorpions - Love At First Sting
4. Survivor - Vital Signs
5. Dokken - Tooth and Nail
6. Europe - Wings Of Tomorrw
7. Toto - Isolation
8. Foreigner - Agent Provocatuer
9. White Sister - White Sister
10.Whitesnake - Slide It In

11.Y & T - In Rock We Trust
12.Autograph - Sign In Please
13.Russ Ballard - Russ Ballard
14.Giuffria - Giuffria
15.Honeymoon Suite - s/t
16.Bruce Springsteen - Born in the USA
17.W.A.S.P. - Wasp
18.Franke &The Knockouts - Makin' The Point
19.Hanoi Rocks - 2Steps From The Move
20.Lionheart - Hot Tonight

21.Airrace - Shaft Of Light
22.Triumph - Thunder Seven
23.Black 'N Blue - Black 'N Blue
24.Twisted Sister - Stay Hungry
25.Steve Perry - Street Talk

Bandi:

Albums Top 20:

1. Queen - The Works
2. Van Halen - 1984
3. Bon Jovi - Bon Jovi
4. Chicago - 17
5. Whitesnake - Slide It In
6. Yngwie Malmsteen - Rising Force
7. REO Speedwagon - Wheels Are Turnin'
8. Bryan Adams - Reckless
9. Foreigner - Agent Provocateur
10.Icon - Icon

11.Europe - Wings of Tomorrow
12.Great White - Great White
13.Honeymoon Suite - s/t
14.Mad Max - Rollin' Thunder
15.Ratt - Out of the Cellar
16.Twisted Sister - Stay Hungry
17.Lee Aaron - Metal Queen
18.Autograph - Sign in Please
19.Spinal Tap - This is Spinal Tap
20.Strangeways - Strangeway

1984:



Songs of the year:

Queen - Radio Gaga
Bruce Springsteen - Dancing In The Dark
Metallica - Creeping Death
KISS - Heaven's On Fire
Scorpions - Rock You Like An Hurricane
Motorhead - Killed By Death
Helix - Rock You
WASP - I Wanna Be Somebody
Whitesnake - Love Ain't No Stranger
Deep Purple - Knocking At Your Backdoor
Judas Priest - Freewheel Burning
Foreigner - I Wanna Know What Love Is
Iron Maiden - Ace's High
Wendy O'Williams - It's My Life
Twisted Sister - We're Not Gonna Take It
Dio - We Rock
Europe - Open Your Heart
Y&T - Lipstick & Leather
Little Steven - Out Of The Darkness
Van Halen - Jump
Sammy Hagar - I Can't Drive 55
Gary Moore - Victims Of The Future
King Kobra - Hunger
Autograph - Send Her To Me
Robin George - Heartline
John Waite - Missing You
Manowar - Army Of Immortals
Quiet Riot - Condition Critical
Dokken - Into The Fire
Bon Jovi - Runaway
Bryan Adams - Summer Of 69
Lee Aaron - Metal Queen
Russ Ballard - Two Silhuettes
Mercyful Fate - Come To The Sabbath
Ratt - Round And Round
Billy Satellite - I Wanna Go Back
Lionheart - Die For Love
Chicago - Stay The Night
The Rods - Nuclear Skies
Laura Branigan - Self Control
Alphaville - Forever Young
U2 - Pride
Prince - When Doves Cry
Hall & Oates - Out Of Touch
Ultravox - Dancing With Tears In My Eyes
The Cars - Drive
Corey Hart - Sunglasses At Night
Talk Talk - It's My Life
Tina Turner - What's Love Got ToDo With It
etc, etc, etc.



Urban (Wally):


POP/Rock albums of the year:

1. Prince - Purple Rain
2. Laura Branigan - Self Control
3. Alphaville - Forever Young
4. U2 - The Unforgettable Fire
5. Queen - The Works
6. Bruce Springsteen - Born In The USA
7. The Cure - The Top
8. Hall & Oates - Big Bam Boom
9. Tina Turner - Private Dancer
10.Depeche Mode - Some Great Reward

11.Ultravox - Lament
12.The Smiths - The Smiths
13.Talk Talk - It's My Life
14.Don Henley – Building The Perfect Beast
15.The Cars - Heartbeat City
16.Billy Idol - Vital Idol
17.David Gilmour - About Face
18.Corey Hart - First Offense
19.Madonna - Like A Virgin
20.Kim Wilde - Teases & Dares

21.Nik Kershaw - Human Racing
22.Sade - Diamond Life
23.Wham - Make It Big
24.Talking Heads - Stop Making Sense
25.Chaka Khan - I Feel For You
26.Frankie GoesTo Hollywood - Pleasuredome
27.Lords Of The New Church - S/T
28.Eurythmics - 1984
29.Thomas Dolby - The Flat Earth
30.Jacksons - Victory