URBAN: On the 200th anniversary of the French revolution, the communist parties of East Germany, Bulgaria, Czechoslovakia, Romania, etc, cease to exist. The latter ending abrupt when dictator Nicolae Ceausescu is executed after being found guilty of crimes
against humanity.
East Germany opens checkpoints in the Berlin Wall, allowing its citizens to travel freely to West Germany
for the first time in decades as they began tearing the wall down. Yeah, it all happened this historical year of 1989.
'the real children of the revolution'.

The Eastern Europeans of the 80's are the real 'children of the revolution'. What the feck did a bunch of hippies do in the late 60's. The Summer of love? The fantasy monster of hippie journos of the time. A more suitable title, "The Summer Of Acid". To dance naked at the mud of Woodstock, stoned beyond belief, not exactly material worthy of a place in the history books.
At least Bob 'twat' Geldolf had the common sense to help out folks in Africa with his band aid projects of the 80's.

Millions of people were killed and tortured behind the iron curtain and the cold war lasted from the end of the world war 2 to the year of 1989. No thanks to western culture and U.S. (shame on us all!), the eastern bloc finally had the chance to
travel and perhaps watch Bad English as they performed the 1989, #1 U.S. hit, 'When I See You Smile'.
I leave it up to you to decide if it was worth the price (Price Of Love - another hit from the band, #5 in the U.S. singles chart).
'a bunch of old farts and a massive clash of egos'.

Bad English, a bunch of old farts and a massive clash of egos. John Waite and Neal Schon managed to create some lovely music inbetween all that bitching though. The whispering singing voice of Waite (speak up, geezer!) and the singing guitar of Schon made a perfect match in '89.
Too bad about the whole 'ego' situation though. They simply couldn't get along and the band would split-up after the recording of their second, just as great, if not better, album, 'Backlash'.

Skid Row came from out of nowhere and produced a 5X platinum album. New Jersey actually (except for their mad Canadian vocalist: Seb Bach) and guitarist Dave 'Snake' Sabo grew up with Jon Bon Jovi as his childhood friend. 'Snake' played on the
'Runaway' demo and was briefly a member of "Bon Jovi" prior to Sambora.
Sure enough, Jon "helped" out his old friend to receive a recording deal. What a nice person, huh? And in return Jon merely asked for the Skid Row boys to enter a publishing deal with his newly established music company.

Skid Row had to give up their rights to all publishing royalties. All money was paid to Jon Bon Jovi and Richie Sambora. After a big public dispute where Bach promised to kick Jon's arse, Sambora gave his share of the money back to Skid Row though.
'not even Gene $immons would steal ALL of your money'.
Hell, not even Gene $immons would steal ALL of your money. He'd bang your girlfriend and eat up all the cakes and cookies in your
house (or vice versa). But there's a limit even for an assh#le. I guess not if you're name is Jon Bon Jovi?

Sebastian Bach on the other hand - the most arrogant, obnoxious, loudmouth, the hard rock world had witnessed since... ehh...
Axl Rose. A real powerhouse of a vocalist though. And there was of course the famous 'Bottle incident'.
Sure, he was hit by a
bottle trown onstage from someone in the crowd. However, to throw the bottle back and hit a innocent girl in the face... well, that's just not "quite" right. And on top of everything, he jumped out in the crowd to beat the person he missed with
the bottle. I'm sure he missed again and the girl took another punch or two.

German Pirate Metal sailed onto European stages in '89, under the direction of the husky vocalist and captain, Rock N' Rolf. Yeah, you may laugh at Running Wild's dodgy pirate image and the equally dodgy artist names (seriously, go ahead!).
'one of the most underrated metal albums ever'.
Nevertheless, you shouldn't let this scare you away as you'll be missing out on excellent Speed/Power Metal. Their album of the year, 'Death Or Glory', could possible be one of the most underrated metal albums ever (seriously, try it out for size).

Whitesnake's 'Slip Of The Tongue' sounded a bit too much like Led Zeppelin and featured yet another re-recording (Fool For
Your Loving). Coverdale marries Tawny 'Kitten' Kitaen, the woman from the '1987' videos, and announced that he would be putting the band on ice for a while. It would take sixteen years for the ice to melt and the comeback of the band.

The Grammy award 'Song of the Year - 1989'. Bobby McFerrin for "Don't Worry, Be Happy". Christ oh mighty! That's the worst song during the entire eighties and perhaps even in the history of music. It's so unbelievable bad, not even McFerrin's
mother would care to recognize him after the awards.
'Bobby? He's no son of mine. Hell, he's not even black. Only a white-azz, no good, cracker-jack, could write and perform such a lame-azz tune. Believe me, Bobby's not black'... or back for that matter. That song killed his career...
'The poor bugger was destined for cult appeal and bargain bins only'.

The 'white elefante' of the year. The sadly underrated debut album from World Trade. The poor bugger was destined for cult appeal and bargain bins only. It's basically a perfect high-tech Prog release in the vein of Yes (90125), Rush, and Peter Gabriel (Genesis). Perfect melodies and smashing vocals by Billy Sherwood.
He was later invitied by Yes as Jon Anderson's replacement. It didn't work out though. The World Trade album is way much better than '90125' as it featured a bunch of catchy melodies by Sherwood & Gowdy. Bruce Gowdy (ex-Stone Fury) and Guy Allison would later team up with Mark Free in 'Unruly Child' and Sherwood
did his solo thing.

Meanwhile, Sue Ellen plans to reveal a tell-all movie on J.R. Ewing, and hopes to make him the laughingstock of Texas, in the season finale of Dallas.
'A band so nice they had to name it twice?'

'Danger Danger', a catch phrase years prior to the series of the Crocodile Hunter (R.I.P.). A band so nice they had to name it twice? Strangely enough, their song titles were also repeated twice. 'Bang Bang' and 'Naughty Naughty'.
Seriously, what's up with that. Bad hearing, too much booze, lack of imagination, or perhaps a combination of all three?

The Moscow Music Peace Festival takes place on August 12 & August 13, 1989. The event is put together by junkie manager Doc McGhee and the Make a Wish Foundation and headline acts include Bon Jovi, Ozzy Osbourne, Motley Crue, Skid Row, Cinderella, Scorpions, and Gorky Park. They did this compilation album too. Just say no to drugs or whatever.
KIMMO:
1989. My favourite year of all time, when it comes to music. There seemed to be a bunch of interesting new releases every week and new bands arrived to the scene at steady rate. A quick look at my own list reveals that over 15 of the 50 albums on it are first albums! Even the album covers seemed better looking - Danger Danger, Giant, Drive She Said, Rush... okay, the White Lion cover is pretty horrible. The album itself isn't quite as bad, even though Kerrang! gave it one "K" out of five.
Since their 1987 release "Fire Works", Bonfire had become my favourite band. I waited for "Point Blank" to arrive with bated breath, and on the day of its' release I purchased in on cassette (remember them), because it had two bonustracks. I didn't have a CD player so that wasn't an option back then. The album was every bit as good as I hoped it to be, and those bonustracks were both killer - I couldn't believe they left the Desmond Child-penned "The Price Of Loving You" off the vinyl version.
Mr. Child was probably the busiest man of the year, producing and writing songs for Alice Cooper, Robin Beck, FM, Bonfire, Cher, Kiss and a lot of others. I loved most of his songs, although they all sounded a bit similar. Why change a winning formula... Whoa-oh-oh.
At number 47 on my list is good little album from an artist called Alexa. It's not a classic, but has a few really good songs, and Alexa's deep vocals are great. Some people were convinced that producer Paul Sabu was actually the singer, electronically modified to pass as a woman... Anyway, in 2007 we got a baby daughter, and while thinking of a name for her, I threw around these crazy "rock" suggestions like Fiona, Alexa, Lita... nothing much came out of that, but on a subconscious level, Mira picked up one of them, and later suggested it to me. That was it, it was easy for a Finn, yet a bit international and quite unique. That's how she got her name - Alexa Christina.

[ 1989 ]
Choose a year:
[1980] [1981]
[1982] [1983]
[1984] [1985]
[1986] [1987]
[1988] [1989]
Alan, Bandi, Kimmo, Martien, & yours truly, Urban (Wally) of RockUnited.Com have been spending weeks, months, wading through a bunch of weird looking artcovers and albums of the eighties! Indeed, not an easy task, tracking back in space and time, especially since some of us were almost still in diapers (sticky) at the early days of this era of grand and fantastic music. Check out the left-side border for our yearly write-up in 'black', and this is RockUnited's official 'Best-Of-Album Chart of 1989', calculated from the individual charts. No live-ones, EP's or compilations are included, merely studio albums. You can find them all and complain about our personal taste (or rather the complete lack of it) further down this page! This is merely our humble and tiny celebration of the hairmetal days or daze for that matter. Enjoy or not - this is the eighties: 1989.

THE ALBUMS OF THE YEAR: 1989
100. Kreator - Extreme Aggression
99. Blind Guardian - Follow The Blind
98. Sepultura - Beneath The Remains
97. Tindrum - How About This?
96. 220 Volt - Eye To Eye
95. Voodoo X - Vol:1 The Awakening
94. Stu Hamm - Kings Of Sleep
93. Alexa - Alexa
92. Artch - Another Return to Church Hill
91. Bonham - The Disregard Of Timekeeping

90. Barren Cross - State Of Control
89. Lou Gramm - Long Hard Look
88. Great White - Twice Shy
87. Silent Rage - Don't Touch Me There
86. Sodom - Agent Orange
85. Pseudo Echo - Race
84. Accept - Eat The Heat
83. Fiona - Heart Like a Gun
82. Benny Mardones - Benny Mardones
81. Dalton - Injection

80. Nirvana - Bleach
79. John Eddie- The Hard Cold Truth
78. King Diamond - Conspiracy
77. MSG - Save Yourself
76. Testament - Practice What You Preach
75. Swedish Erotica - Swedish Erotica
74. Victory - Culture Killed The Native
73. Mass - Voices In The Night
72. KISS - Hot in the Shade
71. Sacred Warrior - Master's Command

70. China - Sign In The Sky
69. Craaft - Second Honeymoon
68. Banshee - Race Against Time
67. Gorky Park - Gorky Park
66. Bad Habit - After Hours
65. Melidian - Lost In The Wild
64. X-Sinner - Get It
63. Diving For Pearls - Diving For Pearls
62. W.A.S.P. - The Headless Children
61. Babylon A.D. - Babylon A.D.

60. Danny Wilde - Danny Wilde
59. Icon - Right Between The Eyes
58. Pandora's Box - Original Sin
57. Strangeways - Walk in the Fire
56. Badlands - Badlands
55. Savatage - Gutter Ballet
54. Da Vinci - Back In Business
53. Howe II - High Gear
52. XYZ - XYZ
51. Fifth Angel - Time Will Tell

50. Joe Satriani - Flying in a Blue Dream
49. Little Angels - Don't Pray For Me
48. World Trade - World Trade
47. Lillian Axe - Love And War
46. Alannah Myles - Alannah Myles
45. Shotgun Messiah - Shotgun Messiah
44. Starship - Love Among The Cannibals
43. Marillion - Season's End
42. Leatherwolf - Street Ready
41. Shark Island - Law of the Order

40. Gun - Taking On the World
39. Faith No More - The Real Thing
38. Extreme - Extreme
37. Kingdom Come - In Your Face
36. Pretty Boy Floyd - Leather Boyz with Electric Toyz
35. Richard Marx - Repeat Offender
34. Vain - No Respect
33. Black Sabbath - Headless Cross
32. Saraya - Saraya
31. Michael Morales - Michael Morales

30. Soundgarden - Louder Than Love
29. Running Wild - Death or Glory
28. Robin Beck - Trouble Or Nothin'
27. Bonfire - Point Blank
26. The Cult - Sonic Temple
25. Pink Cream 69 - Pink Cream 69
24. Fates Warning - Perfect Symmetry
23. Drive She Said - Drive She Said
22. King's X - Gretchen Goes To Nebraska
21. Blue Murder - Blue Murder
20. Dream Theater - When Dream and Day Unite
Dream Theater's debut album at the Mechanic Records label went largerly unnoticed by most people. Ehem, the promotional tour consisted of merely five local concerts in the N.Y. area. It's still a pretty fantastic aggressive prog album though. Bigger, but not always better things to come. The only album to feature vocalist Charlie Dominici.

19. Annihilator - Alice In Hell
'Alice, Alice, Who The F**k Is Alice'. Living next door, perhaps? Annihilator's debut album and the brainchild of guitarist extraordinaire Jeff Waters. They're from Canada and precise and skillfully schizoid Thrash Metal is the game. Also featuring the known alcoholic and former DOA vocalist, Randy Rampage. Sadly underrated in most countries...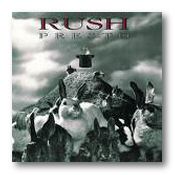 18. Rush - Presto
'Presto' was more of a singer's album, were the arrangements musically support vocal and the lyrics are more heartfelt. Die-hard fans think of this as the beginning of a transition period, not quite as much synthesizers. It's yet another prog album in other words. Check out the complex drum pattern of 'Scars'. 'Show Don't Tell' - what a song.

17. White Lion - Big Game
The follow-up to the excellent and very successful 1987 effort, 'Pride'. Unfortunately, a real mess and considered utterly lame in comparison. 'Big Game' was supposed to be the foundation of their future legacy. They failed miserable and it sort of marks the end of their creative flame. Mane Attraction was a great album, but few people wanted to know.

16. Cher - Heart of Stone
Huh? Cher? Wait a minute... don't let the name scare you away. Believe it or not, but Cher did (melodic) hard rock albums in the late eighties. Most songs are the work of Desmond Child, Jon Bon Jovi, Diane Warren, Michael Bolton, and even Jonathan Cain (Journey). 'If I Could Turn Back Time', a fave vid due to her fishnet outfit [:-)]. Catchy.

15. TNT - Intuition
The sky-high vocals of their American singer Tony Harnell contrasted beautifully with the guitar work of Ronnie LeTekro. Ronnie The Hippie' came up with some marvelous licks and a rather unique tone on this platter. Obviously inspired by Eddie Van Halen but with his own approach. A disappointment re:sales considering the hype.

14. Signal - Loud & Clear
Former King Kobra vocalist Mark Free, guitarist Danny Jacob (Sheena Easton), bassist Erik Scott (Alice Cooper), and drummer Jan Uvena (Alcatrazz). The four of them created an all-time classic AOR platter under the monicker of Signal. Quite laidback material, but oh-so catchy. Free proved to be a top-notch AOR singer.

13. Treat - Organized Crime
Overall, the most underrated melodic hardrock band of the eighties according to RockUnited. At least if you have a look at all our lists and years. The Swedes fought against bad luck, bad managment, and the massive success of Europe (the band). In reality, Treat were almost as good of a band. Brilliantly crafted melodies with plenty of hooks.

12. Mr.Big - Mr.Big
The new band project of virtuoso bassist Billy Sheehan (Talas, David Lee Roth). He recruited the soul/blues inspired AOR vocalist Eric Martin, guitarist Paul Gilbert (Racer X), and seasoned session drummer, Pat Torpey. Originally formed with the intention of being a 80's version of 70's UK acts such as Free, Cream, Bad Company. So-so.

11. Whitesnake - Slip Of The Tongue
Contains yet another reworked, re-recording of an old Whitesnake favourite, 'Fool For Your Loving'. Viv Campbell was out of the band and Adi Vandenberg suffered from a hand injury and was unable to play. Ex-Alcatrazz, David Lee Roth guitarist Steve Vai was called in to record the album. The beginning of the end... until the comeback of course.

10. Aerosmith - Pump
'Pump' earned the band their first ever Grammy in best rock performance with vocal, for 'Janie's Got A Gun'. The tragic song about a abused girl was a #4 hit on the Billboard singles chart in U.S. The album was a critical and commerical success and reached #5 on the US charts. 'Love In A Elevator' was yet another major hit (#5).

9. Motley Crue - Dr.Feelgood
'Kickstart My Heart' - Nikki Sixx o.d. on Dec.21, 87 and was declared legally dead on the way to hospital. The medic managed to restart his heart after being "dead" for two minutes. 'Dr Feelgood' contains lyric about this and various drug problems. The album topped the US Billboard chart and the title track became a #6 singles hit.

8. Tesla - The Great Radio Controversy
'The Great Radio Controversy' was the band's second album. It peaked at #18 on the US Billboard chart. The title is about the true identity of the inventor of radio. It is believed that Nikola Tesla (whom the band is named after) is the real inventor, while Guglielmo Marconi took credit. The single, 'Love Song', reached #10 in the states.

7. Dan Reed Network - Slam
Slam dunks the funk. Probably the best U.S. rock band to never make it big in America. Seriously, they were just too fookin' brilliant for America anyhow as they went straight over most heads. A rather strong European following as they toured with the Rolling Stones. 'Rainbow Child' was the hit single over here. Fantastic funk!

6. FM - Tough It Out
Poor UK bastards. FM desperatly believed in the American dream and went over there to write material with Des Child. Not a bad idea as they returned with a couple of cracking tunes. It's just that each and every US acts had already been there, done that, and bought the t-shirt. It didn't stop FM from recording a splendid album tho'.

5. Danger Danger - Danger Danger
'Bang Bang - what's that sound? I gave you my love and you shot me down'. Merely the first of 4 debut albums in RockUnited's Top-5 of '89. Quite remarkable actually. Ex-Prophet drummer Ted Poley on vocals and lyrics in the tradition of Kiss. The album peaked at #88 on the billboard list. The single, 'Bang Bang', reached #49.

4. Skid Row - Skid Row
'Youth Gone Wild', probably the best example of an anthem song to the late 80s/early 90s hard rock generation. Power vocals by Sebastian Bach and lyrics that really matters to a young, angry, early teenager. The debut album reached #6 in the US and the singles, "18 and Life" and ' I Remember You', peaked at #4 and #6. Kikk-azz metal.

3. Alice Cooper - Trash
The comeback album of the seventies shock-rocker. And yes, this is the Coop' version we prefer at RockUnited.com. Alice came up with a dozen of great songs with the assistance of Desmond Child of course. 'Bed Of Nails', 'House Of Fire', 'Only My Heart Talkin', etc. The album: #2 in the UK, #20 in US, the single 'Poison' peaked at #7.

2. Bad English - Bad English
Two former (Neil Schon, Jonathan Cain) and one future (Dean Castronova) member of Journey. The U.K. geezers John 'Missing You' Waite and Ricky Phillips (ex-The Babys) and at least half a dozen too many egos. They made some perfect music together though. The single 'When I See You Smile', a #1 hit in US and 'Price Of Love' peaked at #5.

1. Giant - Last Of The Runaways
Classy and polished arena rock featuring a guitar sound inspired by The Edge of U2. The project of long-time studio session musicians and former Whiteheart guitarist, Dann Huff. He sings like Steve Overland/Lou Gramm and plays guitar like the best of them. Talent payed off big time for once in '89. The ballad, 'I'll See You In MY Dreams', peaked at #20 on the billboard chart. A real gem of (melodic) hard rock. (all album comment nonsense by: Urban)




INDIVIDUAL LISTS OF 1989 *Personal Stuff*

Urban (Wally):


Albums Top 50:

1. Running Wild - Death or Glory
2. Giant - Last Of The Runaways
3. Bad English - Bad English
4. Skid Row - Skid Row
5. Motley Crue - Dr.Feelgood
6. Dan Reed Network - Slam
7. Signal - Loud & Clear
8. World Trade - World Trade
9. Alice Cooper - Trash
10. Annihilator - Alice In Hell

11. Rush - Presto
12. Michael Morales - Michael Morales
13. The Cult - Sonic Temple
14. Dream Theater - When Dream and Day Unite
15. Treat - Organized Crime
16. Fates Warning - Perfect Symmentry
17. Whitesnake - Slip Of The Tongue
18. King's X - Gretchen Goes To Nebraska
19. FM - Tough It Out
20. Soundgarden - Louder Than Love

21. Shotgun Messiah - Shotgun Messiah
22. Blue Murder - Blue Murder
23. Badlands - Badlands
24. X-Sinner - Get It
25. Tesla - The Great Radio...
26. Banshee - Race Against Time
27. Gun - Taking On The World
28. Strangeways - Walk In The Fire
29. Sacred Warrior - Master's Command
30. Kiss - Hot In The Shade

31. Faith No More - The Real Thing
32. Danger Danger - Danger Danger
33. Black Sabbath - Headless Cross
34. Robin Beck - Trouble or Nothin
35. Kingdom Come - In Your Face
36. Testament - Practice What You...
37. Aerosmith - Pump
38. Pretty Boy Floyd - Leather Boyz...
39. King Diamond - Conspiracy
40. Nirvana - Bleach

41. Starship - Love among the Cannibals
42. Accept - Eat The Heat
43. Sodom - Agent Orange
44. Leatherwolf - Street Ready
45. Barren Cross - State Of Control
46. W.A.S.P. - The Headless Children
47. Artch - Another Return To Church Hill
48. Marillion - Season's End
49. Cher - Heart Of Stone
50. Tindrum - How About This?





Kimmo:


Albums Top 50:

1. Bonfire - Point Blank
2. Signal - Loud & Clear
3. FM - Tough It Out
4. Danger Danger - Danger Danger
5. Robin Beck - Trouble Or Nothing
6. Lillian Axe - Love And War
7. Bad English - Bad English
8. Alice Cooper - Trash
9. Treat - Organized Crime
10.Giant - Last Of The Runaways

11.Fifth Angel - Time Will Tell
12.Pink Cream 69 - Pink Cream 69
13.Da Vinci - Back In Business
14.Skid Row - Skid Row
15.Starship - Love Among The Cannibals
16.TNT - Intuition
17.Pretty Boy Floyd - Leather Boyz With Electric
18.Tesla - The Great Radio Controversy
19.Pandora's Box - Original Sin
20.Danny Wilde - Danny Wilde

21.Babylon A.D. - Babylon A.D.
22.Shark Island - Law Of The Order
23.Cher - Heart of Stone
24.Melidian - Lost In The Wild
25.Bad Habit - After Hours
26.Craaft - Second Honeymoon
27.Vain - No Respect
28.Belinda Carlisle - Runaway Horses
29.China - Sign In The Sky
30.White Lion - Big Game

31.Dan Reed Network - Slam
32.Mass - Voices In The Night
33.Victory - Culture Killed The Native
34.Marx, Richard - Repeat Offender
35.Leatherwolf - Street Ready
36.Whitesnake - Slip Of The Tongue
37.MSG - Save Yourself
38.Eddie John - The Hard Cold Truth
39.Michael Morales - Michael Morales

40.Dalton - Injection
41.Benny Mardones - Benny Mardones
42.Pseudo Echo - Race
43.Silent Rage - Don't Touch Me There
44.XYZ - Xyz
45.Lou Gramm - Long Hard Look
46.Diving For Pearls - Diving For Pearls
47.Alexa - Alexa
48.Fiona - Heart Like A Gun
49.Voodoo X - Vol:1 The Awakening
50.220 Volt - Eye To Eye





Martien:

Albums Top 20:

1. Rush - Presto
2. Dream Theater - When Dream And Day Unite
3. King's X - Gretchen Goes To Nebraska
4. Marillion - Season's End
5. Annihilator - Alice In Hell
6. Aerosmith - Pump
7. Black Sabbath - Headless Cross
8. Tesla - The Great Radio Controversy
9. Fates Warning - Perfect Symmetry
10.Blue Murder - Blue Murder

11.White Lion - Big Game
12.Kingdom Come - In Your Face
13.Giant - Last Of The Runaways
14.Faith No More - The Real Thing
15.The Cult - Sonic Temple
16.Bad English - Bad English
17.Soundgarden - Louder Than Love
18.Skid Row - Skid Row
19.Mr Big - Mr. Big
20.Alice Cooper - Trash



Alan:

Albums Top 20:

1. F.M - Tough It Out
2. Danger Danger - Danger Danger
3. It Bites - Eat Me In St Louis
4. Dan Reed Network - Slam
5. Bad English - Bad English
6. Alannah Myles - Alannah Myles
7. Mr Big - Mr Big
8. Giant - Last of The Runaways
9. Cher - Heart of Stone
10.Richard Marx - Repeat Offender

11.Motley Crue - Dr Feelgood
12.TNT - Intuition
13.Vain - No Respect
14.Extreme - Extreme
15.Drive, She Said - Drive, She Said
16.Saraya - Saraya
17.Aerosmith - Pump
18.Whitesnake - Slip of The Tongue
19.Gun - Taking On the World
20.Icon - Right Between The Eyes



Bandi:

Albums Top 50:

1. Danger Danger - Danger Danger
2. Alice Cooper - Trash
3. Skid Row - Skid Row
4. Mr. Big - Mr. Big
5. TNT - Intuition
6. Treat - Organized Crime
7. Drive She Said - Drive She Said
8. Giant - Last of the Runaways
9. Little Angels - Don't Pray For Me
10.Joe Satriani - Flying in a Blue Dream

11.Queen - The Miracle
12.Howe II - High Gear
13.Whitesnake - Slip of the Tongue
14.Motley Crue - Dr. Feelgood
15.Cher - Heart of Stone
16.Pink Cream 69 - Pink Cream 69
17.White Lion - Big Game
18.Savatage - Gutter Ballet
19.Bad English - Bad English
20.XYZ - XYZ

21.Leatherwolf - Street Ready
22.Aerosmith - Pump
23.Saraya - Saraya
24.Signal - Loud & Clear
25.Shark Island - Law of the Order
26.Gorky Park - Gorky Park
27.WASP - The Headless Children
28.Tesla - The Great Radio Controversy
29.Bonfire - Point Blank
30.Diving For Pearls - Diving For Pearls

31.Extreme - Extreme
32.Dan Reed Network - Slam
33.Swedish Erotica - Swedish Erotica
34.FM - Tough It Out
35.Shotgun Messiah - Shotgun Messiah
36.Running Wild - Death or Glory
37.Blue Murder - Blue Murder
38.Stage Dolls - Stage Dolls
39.Michael Morales - Michael Morales
40.Pretty Boy Floyd - Leather Boyz with Electric Toyz

41.Skagarack - A Slice of Heaven
42.Strangeways - Walk in the Fire
43.Robin Beck - Trouble or Nothin'
44.Great White - Twice Shy
45.Fiona - Heart Like a Gun
46.Bonham - The Disregard of Timekeeping
47.Badlands - Badlands
48.Stu Hamm - Kings of Sleep
49.Kingdom Come - In Your Face
50.Black Sabbath - Headless Cross

1989:



Songs of the year:

FM - Bad Luck
Aerosmith - Love In A Elevator
Skid Row - Youth Gone Wild
Alannah Myles - Black Velvet
Motley Crue - Dr.Feelgood
Giant - I'll See You In My Dreams
KISS - Hide Your Heart
Bad English - When I See You Smile
Running Wild - Riding The Storm
Gun - Inside Out
Dan Reed Network - Rainbow Child
Robin Beck - First time
Whitesnake - Now You're Gone
Alice Cooper - Poison
Starship - It's Not Enough
Swedish Erotica - Wild Young & Free
Badlands - Dreams In The Dark
Electric Boys - All Lips'n Hips
Leatherwolf - Thunder
Michael Morales - Who Do You Give Your Love To
Bonfire - Hard On Me
Tesla - Love Song
Barren Cross - State Of Control
Beau Nasty - Paradise In The Sand
Faster Pussycat - House Of Pain
Lillian Axe - All's Fair In Love & War
Alexa - We Don't Remember Why
Shotgun Messiah - Don't Care About Nuthin
Queen - I Want It All
Signal - Does It Feel Like Love
WASP - Forever Free

Janet Jackson - Black Cat
Madonna - Like A Prayer
Phil Collins - Another Day In Paradise
Tears For Fears - Sowing The Seeds of Love
Mike & The Mechanics - Living Years
Living In A Box - Room In Your Heart
Belinda Carlisle - Leave A Light On For Me
Daryl Braithwaite - One Summer
Money Talks - In A Trance
The Hooters - 500 Miles
Depeche Mode - Personal Jesus
Pandora's Box - It's All Coming Back To Me
Don Henley - End Of The Innocence
Chris Rea - The Road To Hell
Tina Turner - The Best
The Cure - Lullaby
Richard Marx - Right Here Waiting
Sam Brown - Stop
Billy Joel - We Didn't Start The Fire
Ankie Bagger - Where Were You Last Night
Cher - If I Could Turn Back Time

Urban (Wally):


POP/Rock albums of the year:

Janet Jackson - Rhythm Nation 1814
Belinda Carlisle - Runaway Horses
Hooters - Zig Zag
Tears For Fears - The Seeds Of Love
Kate Bush - The Sensual World
The Cure - Disintegration
Simple Minds - Street Fighting Years
Don Henley - The End of the Innocence
The Alarm - Change
Tom Petty - Full Moon Fever
Spandau Ballet - Heart Like A Sky
Simply Red - A New Flame
Phil Collins - But Seriously
Madonna - Like A Prayer
Fine Young Cannibals - The Raw And The Cooked
Tina Turner - Foreign Affair
Chris Rea - The Road To Hell
Thompson Twins - Big Trash
Depeche Mode - 101
Living in a Box - Gatecrashing
Billy Joel - Storm Front
Cutting Crew - The scattering
Del Amitri Waking Hours